Our Official Cocktail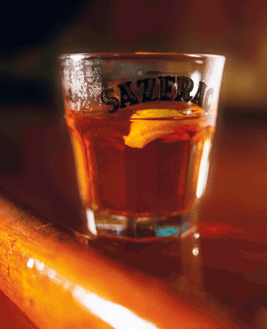 Don't bother, Louisiana Legislature. You had your chance last year to declare the Sazerac to be the official cocktail of Louisiana. Instead, your attention got diverted by such matters as the budget. We'll save you the trouble and declare the Sazerac to be THE OFFICIAL COCKTAIL OF LOUISIANA LIFE. This year the designation is especially appropriate because it is the 150th anniversary of Louisiana's most famous cocktail.
To understand what happened in 1859, you have to first understand what was happening prior to that –– New Orleans was going bonkers over imbibing. Folks there were talking about a concoction that a Royal Street pharmacist, A. A. Peychaud, had created. To a shot of brandy, Peychaud had begun adding his family formula for bitters, a tonic compound that was offered as a cure for various maladies. The bitters, when added to the brandy, gave a kick to the drink.
In a city happy over brandy with bitters, next came John B. Schiller, a local agent for a French cognac importer who had an idea. The brand he imported was manufactured by the firm of Sazerac-de-Forge et Fils of Limoges, France. In 1859, Schiller opened a place on Exchange Alley in the French Quarter and called it the Sazerac Coffeehouse. He was the exclusive purveyor of the Sazerac brand cognac (remember, cognac is a form of brandy), which he also served with bitters to create the world's first Sazerac cocktail.
Schiller had a hit on his hands, not that it took much to convince cocktail-crazy New Orleans to try another drink. But as the city became more American and less French, tastes shifted. In 1870, Schiller's bookkeeper, Thomas Handy, bought the business and changed its name to the Sazerac House. That's not all he changed. He kept the bitters but replaced the cognac with rye whiskey. As Stanley Clisby Arthur explained in his book, Famous New Orleans Drinks and How to Mix 'Em, the change was to "please the tastes of Americans who preferred 'redlikker' to any palefaced brandy." As the Sazerac was reinvented, no longer was its namesake hooch part of the recipe. Around that same time, Leon Lamothe, a bartender at Pina's Restaurant on Burgundy Street, began adding a splash of absinthe (a licorice-tasting spirit) to the drink. It became a standard ingredient.
Like boudin and bread pudding, the exact formula for preparing a Sazerac differs from place to place, but Arthur's book codified an acceptable standardized list of ingredients: 1 lump sugar, 2 drops Peychaud's Bitters, 1 dash Angostura bitters, 1 jigger of rye whiskey, 1 dash absinthe substitute, 1 slice lemon peel.
Most of the better bars and restaurants in town served the drink that was best-known as the house specialty at the Sazerac Bar in the (soon-to-reopen) Roosevelt Hotel.
Peychaud's Bitters are now marketed commercially. The Sazerac name is also used by a Kentucky company that makes its version of a rye whiskey.
A Sazerac is my favorite mixed drink just because it is so authentically Louisiana and so authentically a cocktail. Like the state, the drink is a mixture of French and American influences. Even some of the ingredients — sugar and lemon — can come from Louisiana soil. And who knows, A.A. Peychaud could have been right: Those bitters might just help cure most anything that ails us.