Outdoorsy Escape
Wilderness-themed resort in Memphis is an easy weekend getaway from New Orleans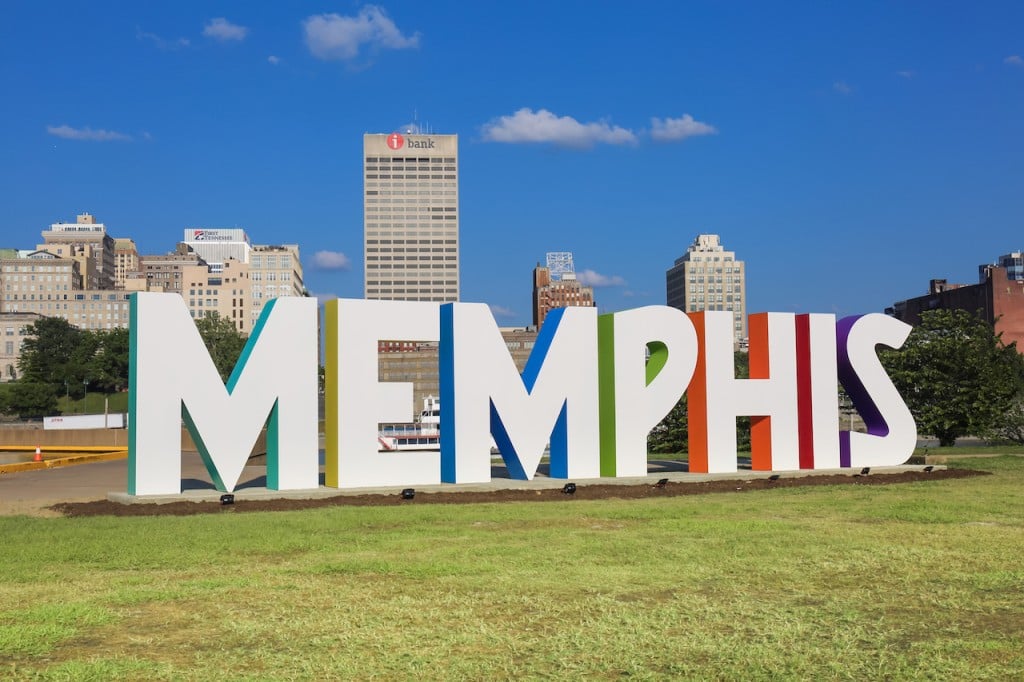 On a recent visit to Memphis, I had the pleasure of exploring not only the music scene in Blues City but also top-notch accommodations, decadent restaurants and other fun attractions. Just a short flight from New Orleans (or a six-hour drive), Memphis is a special weekend getaway option for friends, families or even solo trips.
Upon arriving at my hotel, Big Cypress Lodge, I was awestruck by the size of the 535,000-square-foot Memphis Pyramid (now known as Bass Pro Shops at the Pyramid). Johnny Morris, founder of Bass Pro Shops and owner of Big Cedar Lodge in Missouri's Ozark Mountains, opened the wilderness-themed resort (on the second and third floors) alongside a Bass Pro Shops (on the ground floor and half of the second floor) in 2015.
Big Cypress Lodge features 103 rustic-yet-luxe guest rooms and suites (think chandeliers made from antlers, tree branches from which to hang towels and gorgeous stained-glass accents). Choose from treehouse rooms, duck cabins, fly-fishing lodges, junior suites and a Governor's Suite. All rooms and suites overlook Bass Pro Shops, which is home to a huge assortment of hunting equipment and sporting gear, live fire pistol and archery ranges and the cypress swamp (an environment with a collection of ponds and aquariums filled with 36 varietals of fish and even a section for alligators).
All rooms feature spacious, spa-like bathrooms with a deep, jetted soaking tub and separate walk-in shower; handcrafted furniture (including a super comfy bed); and an electric fireplace—all of which make snuggling up at night that much better. Most of the rooms and suites have a screened-in porch with rocking chairs, and I highly recommend booking one of these so you can overlook all of the activity on the ground level at Bass Pro Shops.
Bass Pro Shops at the Pyramid also features several top-notch restaurants. A new addition is Wahlburgers Wild — the first of its kind — serving menu items like gator bites, venison chili and a bison burger. A private elevator in the restaurant will take you right back you to your room. Another fun option is The Fishbowl at the Pyramid, an ocean-themed bar complete with 13 bowling alley lanes and an enormous saltwater aquarium, that serves the full Wahlburgers Wild menu.
My favorite option, however, was taking the "Sky High Ride" (a 300-foot-tall, free-standing elevator) to The Lookout at the Pyramid. This restaurant offers a full bar and menu items like crab cakes, jumbo seared scallops, Genny Morris' fried chicken and a bevy of steaks. Be sure to check out the glass observation deck, which offers two vantage points overlooking downtown Memphis and the Mississippi River. This is the perfect spot from which to get a selfie in front of the Mighty Lights LED light show that illuminates the Hernando de Soto and Big River Crossing bridges at night.
For a bit of education, stop by the Duck's Unlimited Waterfowling and Heritage Museum, also located within Bass Pro Shops at the Pyramid. This interactive wetlands-education museum showcases the history of water-fowling and information about wetlands conservation. Here, you can learn how to identify waterfowl species, chat with experts and discover the largest collection of waterfowl decoys.
Another fantastic offering is the Big Cypress Lodge Spa by Gould's (the oldest family-owned salon and spa company in the United States). Choose from deluxe facials; 30-, 60- and 90-minute massages; and signature Pure Fiji Spa manicure and pedicures. There's also a state-of-the-art fitness center — complete with locker rooms and showers — for those who want to get in a good workout.
While you can easily spend an entire weekend just at Bass Pro Shops at the Pyramid, there are some great area attractions that are not-to-be-missed. In addition to the well-known Beale Street Historic District, Elvis Presley's Graceland and Sun Studio, there's also The Memphis Zoo, Stax Museum of American Soul Music and the National Civil Rights Museum. During my visit, I thoroughly enjoyed the private tour offered through A Tour of Possibilities. The company offers customizable tours, during which guests learn about the impact of African Americans on the city. big-cypress.com