page turner in covington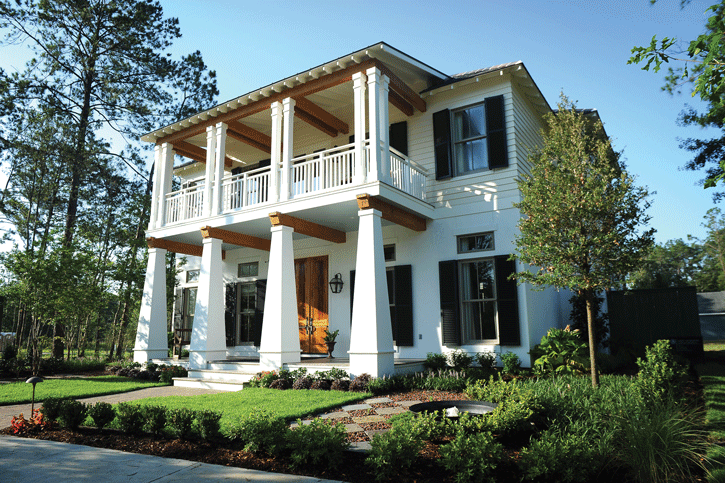 When Southern Living magazine comes calling with an offer to create an Idea House in your neighborhood, you quickly say, "Yes." It's a big deal for the magazine to showcase an interesting home that is filled with the very latest in ideas. (Louisiana Life also featured the 2005 Southern Living Idea House in Choudrant, near Ruston,
in its Spring 2007 issue.)
Contractors Wayne and Chance Miller of Miller Building Co. in Metairie didn't hesitate for a moment to sign on to the project. "We have been building fine homes in Louisiana for four generations," Wayne Miller says proudly.
"While most of our houses have been in the New Orleans area, we couldn't pass up the opportunity."
Mandeville architect Michael Piazza of Piazza Architecture Planning was tapped to design the house. "The design is a unique mixture of Creole and craftsman styles that draws its inspiration from turn-of- the-century period homes found throughout Louisiana," Piazza says. "The two-level house contains 3,589 square feet of living area and 629 square feet of lower porches and an upper balcony."
Designed to take advantage of the open floor plan that has become the most popular style for new homes today, the first floor features family, dining, kitchen and breakfast nook areas that are all continuous from the front to the back of the house. "We are very proud of the cypress beams we used from the front porch to the back door," Chance Miller says. "The custom millwork in the house is outstanding. It looks more like fine furniture than anything you see in home-building today."
Yes, the house does offer a long list of new ideas: the unique posts on the front of the house, the triple posts on either corner, the pair of dual posts in the center of the balcony and the outdoor fireplace on the rear patio. "We found the perfect sunken cypress for the pair of front doors, thus adding another fresh idea to the structure," Wayne Miller says.
Even the landscape design by Daly-Sublette Landscape Architects incorporates interesting ideas, including using an iron sugar kettle as the base for a fountain.
Grace Kaynor and Vesta Forte were the interior decorators for the project. "Comfortable living was our watchword for the entire house," Kaynor says. "We think the lifestyle of today lends itself to casual living without sacrificing elegance."
TerraBella in Covington was selected as the site of the 2010 Idea House because of its convenient location near Interstate 12 and downtown Covington. "We feel TerraBella is a place where people want to live," explains Randy Meyer, one of the development's managing partners.
The Idea House is open until Sept. 12. Proceeds will go to the Children's Museum of St. Tammany, the signature project of the Junior League of Greater Covington in partnership with St. Tammany Parish.