Palmetto Island a Great Fall Getaway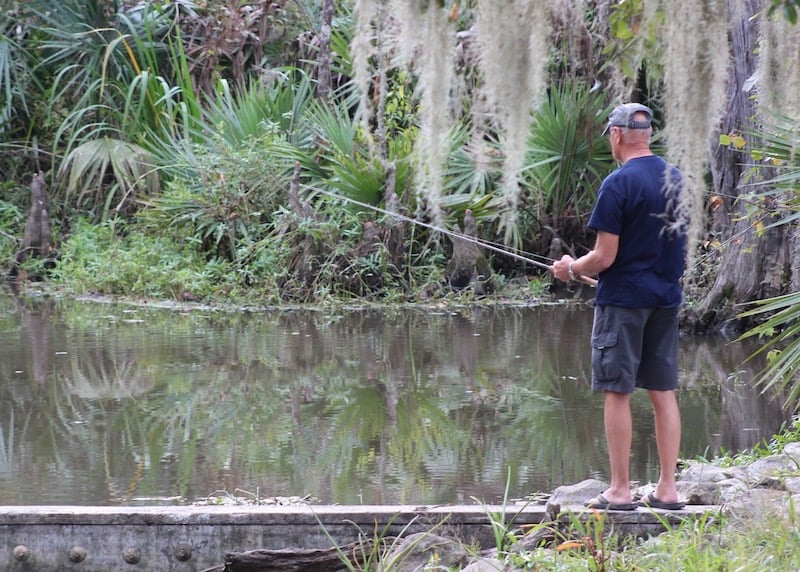 The week's forecast called for rain, then a dip below freezing, but Monday's weather was warm and inviting. We decided to get outdoors and enjoy Louisiana's autumn before winter arrived, driving south past the quaint town of Abbeville and vacant rice fields now filled with blackbirds and migratory foul. Our ultimate destination — Palmetto Island State Park.
We encountered no crowds since we visited on a Monday, making a trek through the park's wetlands, forests and Vermilion River banks a true natural getaway, joined only by armadillos, songbirds and a lone alligator basking on a downed tree trunk.
The park received its name because it appears as an island of palmetto forest, native growth beneath cypress, tupelo and live oak trees. Resident and migratory songbirds sing along the river bank, plus ducks and turkey vultures sail by overhead. Squirrels made their presence known with vibrating calls and a snake broke the pond's glass-like surface when it fell from an overhanging bush. Overall, though, the experience provided us a peaceful respite from the hurried world.
There are three interior ponds at Palmetto, plus a boat launch on the Vermilion, so canoeing, kayaking and boating are popular. The Visitor's Center also features a nature center, boardwalk through cypress and tupelo swamps and hiking trails.
Palmetto Island offers six deluxe cabins featuring two bedrooms, one with a double bed and the other with two bunk beds, and a kitchen and living room area with sleeping sofa and wood-burning fireplace. The cabins are located near a wide stretch of the Vermilion River while their back porches face woods, so visitors may enjoy fishing and boating on the nearby river or savor nature at its best through the screened porch. A handicapped cabin is also available with oversized bathroom and conveniently lowered kitchen cabinetry and appliances.
For more information on Palmetto Island or any Louisiana State Parks cabins, and to make reservations, visit crt.state.la.us/louisiana-state-parks.