Parallel Worlds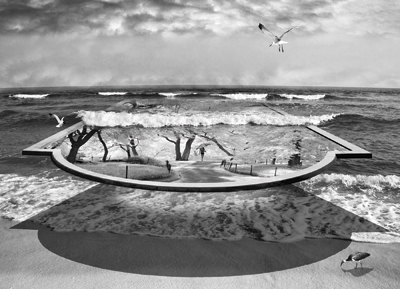 The Post-World War I French poet André Breton once described surrealism as an artistic expression that fuses the subconscious with the conscious to form a "new reality." Alexandria photographers Michael Elliot-Smith and Leslie Elliottsmith — Michael hyphenates their joined names, she doesn't — have fused their long careers in science, art and education to produce the dreamlike realities that exist in their imaginations and in their photographs.
In recent years, the husband and wife photographers have enjoyed considerable success. Both have received Louisiana Visual Artists Fellowships and both have exhibited and sold their work across the nation. More importantly, both have created in their photographs a visual poetry of light, shadows and objects from the world around them, scripted only by the camera lens and their subconscious. Their photographs are not typical documentary pictures of objects or landscapes. They seem familiar but only in the sense of Breton's "new reality" or, as Michael describes them, "constructed realities." Like faint memories, they are montages of collected photographs of places, animals and cloud formations taken during their travels across Louisiana, the nation and even in their backyard. Back in their studios, they use computer software to layer those digital images to create single compositions. Layering unrelated images to create surreal effects is a concept introduced in the late 1960s by the surrealist photographers Jerry Uelsmann and his wife, Maggie Taylor. It is an influence Michael readily acknowledges. In fact, the four of them lunched together in 2002.
"It is a style that sets your mind free to explore thoughts, ideas and imagination," Michael says. Like Uelsmann and Taylor, Michael and Leslie's images are illusions. In Michael's photographic montage, "A Day at the Beach," for example, a bird in the image is in Louisiana, the beach is Florida, the hovering concrete structure is a pool in the Brooklyn Botanical Gardens, inside the structure is a scene in Central Park in Manhattan and their daughter, Megan, who looks like she is strolling in the park, is actually walking on a beach.
"These constructed places only exist in my imagination fueled by dreams, personal emotions, and life experience," Michael says. "Whether the final print is composed of one image or several, I am simply presenting my vision of the world around me. Sometimes my work is dark. Other times it's humorous. Sometimes the images don't work, so I just play with them and they just morph. Sometimes, one gets in a show and I realize it has more growing to do. Some pieces spin off into other works."
Leslie has different influences in her work.
"In our mass media consumer culture we are bombarded with easily disregarded images," she says. "It is my goal to make the viewer stop, suspend reality and become aware of the vision I have created. I want the viewer to be mindful of the narrative presented, but also to be free to interpret the message. The story, however, is the key player in my work. I write myself notes on the thought process for each piece, so that I can write a statement about my work and the story. Some people get it and some people don't like it. If you are an artist, you better have thick skin."
Unlike Michael, who shoots mostly black-and-white infrared photographs for their spectral effects, Leslie prefers color. She likes the contrast color gives to the image. Because she works with digital photographs, she is able to add color in her computer, much like she would use brushes and a palette when painting with watercolors. Prior to taking up art photography in 2010, she worked as a painter and printmaker.
"My paintings look like my photo-graphs," Leslie says. "I'm just painting with images. In composing the final photograph, I use layers of images, trying to create depth of color and texture, while building a personal world of symbolism and iconography. Sometimes the final image comes really fast. Sometimes they are not exactly what I want."

---
---
Both Leslie and Michael, who met in 1983 and married four years later, came to art photography from different backgrounds. Leslie was born in St. Louis but grew up in the New Orleans suburb of River Ridge. She received bachelor and master's degrees in art education and printmaking from Louisiana State University before going on to teach at the University of New Orleans and LSU. In 1983, she moved to Alexandria to become curator of education at the Alexandria Museum of Art. She later served as an artist-in-residence at several parish school districts before launching her 25-year career teaching online art survey and art history courses through the Natchitoches-based Louisiana School for Math, Science and the Arts as well as the Louisiana Department of Education. She retired in 2015.
Michael, on the other had, was born in Natchez but grew up in the little river community of New Era in Concordia Parish. After high school, he studied agronomy at Northeast Louisiana University, now the University of Louisiana at Monroe, where he says he traded in his "cowboy boots and jeans for bell-bottoms and long hair." After graduation in 1974, he spent the next 32 years as a soil scientist for the U.S. Forest Service's Southern Research Station in Pineville. Shortly after starting his new job, his superiors handed him a camera to document research studies. He then signed up for darkroom classes at nearby Louisiana College.
"That changed my life," says Michael. Then in 2004, thanks to a grant from the Louisiana Division of the Arts, he switched to digital photography, a move he had long resisted. "Once I understood the power of the digital darkroom it opened up a new world to explore and this has taken me into the surreal."
Michael and Leslie work in parallel art worlds. They keep separate studios at opposite ends of their home and rarely critique or even look at the other's work until it's finished or when asked.
"We are both equals in the art world," Michael says. "We both have won awards, and one is not stronger than the other. That helps."
For more information, visit artelliottsmith.com and michaelelliottsmith.com.