Passing it On
Master palmetto basket maker Janie Verret Luster of Terrebone Parish teaches a tribal craft nearly lost to the people of the United Houma Nation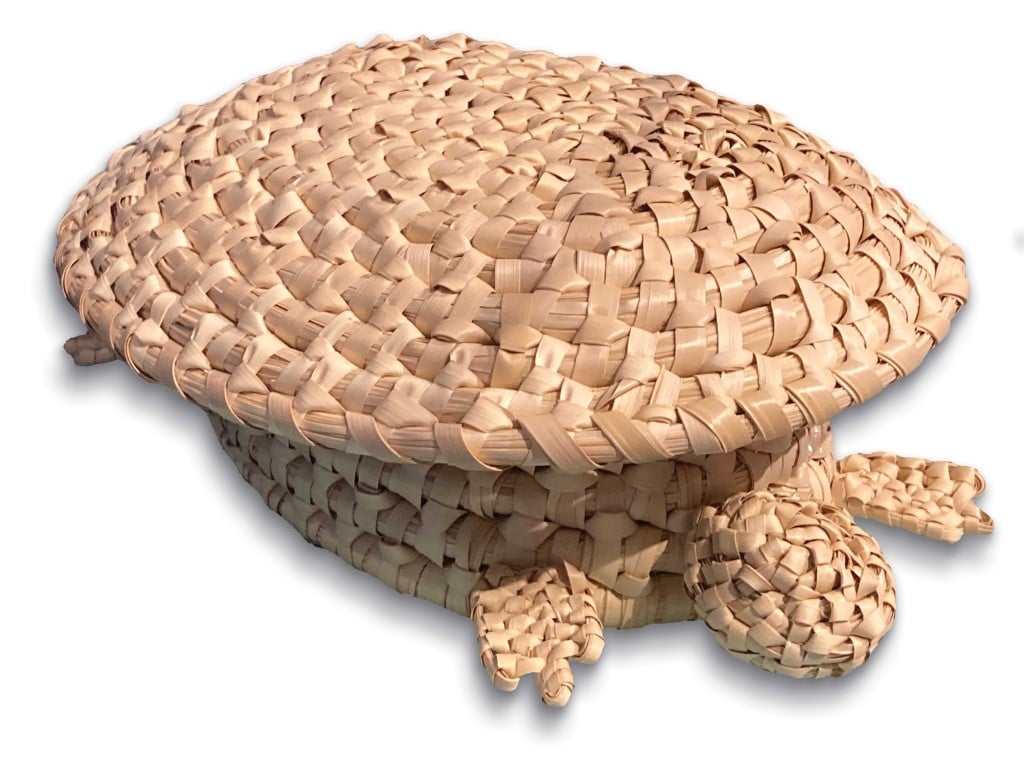 With assimilation and time many of Louisiana's Native American folkways faded into history. Handmade tribal crafts gave way to mass-produced items purchased at local box stores. But somewhere deep in the DNA of tribal members, the old ways remain and now an ancient but long-forgotten method of basket weaving among South Louisiana's Houma Indians has been revived and now flourishes.
Weaving baskets from ubiquitous palmetto leaves was once commonplace among Louisiana's Houma Indians, who have lived in Terrebonne and Lafourche parishes since the early 1800s. These baskets were used for almost every daily household activity, including carrying babies. In the early 1940s the practice disappeared. Though some members of the tribe continued to make baskets from river cane and cypress, the once popular palmetto baskets with their unusual half-hitch knotting construction were unique to the Houmas.
Now, thanks to Janie Verret Luster, teacher, healer, practitioner of tribal ways and member of the United Houma Nation, the half-hitch basket tradition of her people lives on. Fluent in the Houma French dialect, she credits that renaissance to Oradel Morris, the Colorado-born educator who taught French as part of a revival effort by Louisiana's Council for the Development of French in Louisiana (CODOFIL). Morris's 1993 bilingual book "I Hear the Song of the Houmas" (or "J'Entends La Chanson Des Houmas") triggered interest in half-hitch palmetto baskets among local Houmas, including Luster.
Morris introduced Luster and others to Richard Conn, curator of American Indian Art at the Denver Art Museum. The museum had several Houma baskets in its collection, one of which was unraveling. In late 1992, Conn brought it to Louisiana where he gave Luster and others, including her mother, grandmother and daughters, a one-day workshop on the half-hitch weaving method. She hoped fellow attendees would continue on, but they thought it too difficult and gave up.
"I said we have to bring this back for our people," says Luster, who was born in New Orleans in 1952 but grew up and still resides among the Houmas along Bayou Dularge in Terrebonne Parish. "So, I tried my hand at it and I put it down, saying I couldn't do this. My good friend Corrine said, 'But Janie.' But Janie always gets me. So I went back and tried my hand again and got so stressed out I had this come to Jesus moment with palmetto. I had to sit down with palmetto, listen to it and feel it. When I did that, I was able to figure it out. Once I figured that out it works a whole lot better."
Listening to palmetto first requires going out into the marshes and swamps to harvest it, which has become more difficult. In some areas the palmetto is disappearing due to climate change, the coming of a new levee system in Terrebonne Parish, hurricanes, saltwater intrusion and development.
"Where my dad use to harvest palmetto, that's all gone," she says. "It's a loss. I even tried transplanting palmetto. When the levee system was coming through, I saw the palmetto being cut down. I stopped and asked the workers if I could get some of those palmettos and transplant them. I still have two of them. The saltwater driven by the winds coming from the southeast pushes the water into the yard. And the Gulf is getting closer to us and the saltwater is right there."
With the tribal spirits of her ancestors coursing through her fingers, she demonstrated how to process the raw palmetto leaves to a finished half-hitched basket. Fixed on the motion of her fingers as the basket took shape, her students witnessed the rebirth of an almost forgotten Houma tradition.
That revival has brought Luster considerable recognition. Luster is now a master palmetto basket maker whose work has been shown at the New Orleans Museum of Art, New Orleans Jazz & Heritage Festival, the Louisiana Art & Folk Festival, and the Natchitoches-Northwestern State University Folk Festival. In 2011 she was inducted into the Louisiana Hall of Master Folk Artists. She is helping to keep the tradition alive by teaching "Passing It On" workshops sponsored by the Louisiana Folklife Program's Division of the Arts and the Bayou Culture Collaborative.
In addition to many others, her three daughters and two granddaughters now weave baskets.
"It assures it will not die again," she says. "The Houma people have always been identified with palmetto. Our people made hats, fans, blowguns and even their houses with palmetto. My father lived in a palmetto house the first seven years of his life. It was a struggle for me, but I knew the importance of it to my people."
Exhibits
Cajun
Little Things: Drawings and Photographs by Fred Packard
Works by founder of the University of Louisiana at Lafayette's photography program, through April 1, 2023. Paul and Lulu Hilliard University Art Museum, Lafayette. hilliardmuseum.org
Central
35th September Competition
Annual juried competition, July 8 through Oct. 8. Alexandria Museum of Art. themuseum.org
Plantation
Blurring Boundaries: The Women of American Abstract Artists, 1936-Present.
Celebration of intergenerational women abstract artists, through Oct. 23. LSU Museum of Art, Baton Rouge. lsumoa.org
NOLA
Louisiana Contemporary.
Statewide, juried contemporary art exhibition, through Jan. 8, 2023. Ogden Museum of Southern Art. ogdenmuseum.org
North
Joey Slaughter
Abstract works by Ruston, La., artist Joey Slaughter, through Nov. 5, Masur Museum of Art, Monroe. masurmuseum.org