Pelican Briefs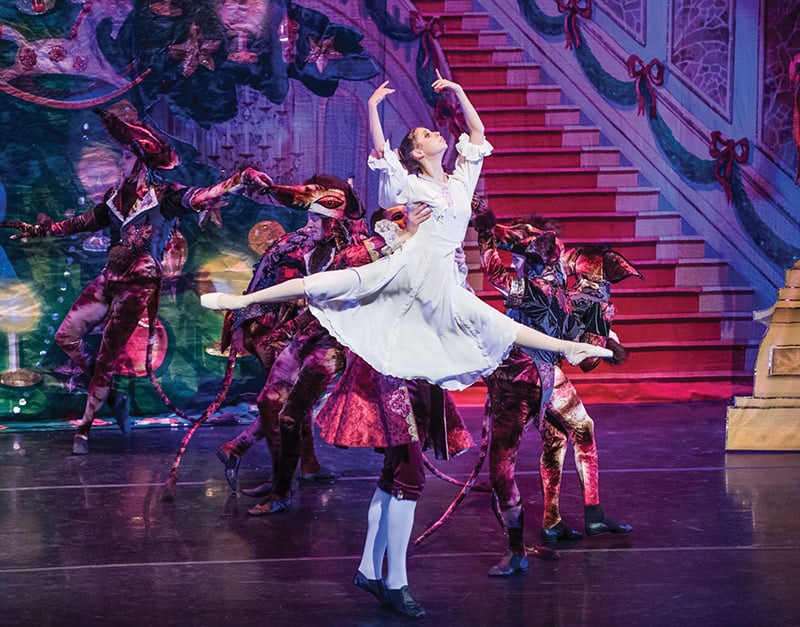 MONROE, BATON ROUGE, NEW ORLEANS, SHREVEPORT, LAKE CHARLES
Prancing and Pirouettes
Now on a national tour that includes five Louisiana cities (Nov. 10-Dec. 30), the Moscow Ballet's Great Russian Nutcracker (rated by the New York Times as a "hot ticket") brings a brand new, over-the-top production and world-class Russian artists in over 200 glittering hand-crafted costumes with stunning sets and towering puppets to Baton Rouge's Union Theatre, Monroe Civic Center, Shreveport's Strand Theatre, New Orleans' Saenger Theatre and the Rosa Hart Theatre in Lake Charles (nutcracker.com/buy-tickets/louisiana).
---
ALEXANDRIA
Holiday Zoo Safaris
Bundle up and stroll through the Alexandria Zoo's dazzling Holiday Lights Safari (Thursdays-Saturdays in December) featuring hundreds of thousands of lights, rides on the Holiday Train Express, whimsical lighted animal displays, winter treats and hot chocolate at Palm Café, cookie decorating activities at Atwood Bakery and visits with Santa through Dec. 23 (thealexandriazoo.com/HolidayLightSafari.html).
---
BATON ROUGE
More of Dis and Dat
If you have between $992,000 and $2.8 million to invest, then consider this: Dat Dog, the New Orleans gourmet hot dog franchise, has announced it is revitalizing efforts to expand its footprint with two new locations in Baton Rouge. The announcement (seeking new local franchisees) comes more than two years after Dat Dog announced it was considering Baton Rouge. There are currently five locations in New Orleans, Lafayette and College Station, Texas; further expansion throughout the South is underway (datdog.com).
---
LAKE CHARLES
Pastors on Patrol
A unique, innovative program that allows pastors to be called out to a crime scene to comfort families and aid law enforcement, Pastors on Patrol is back at the Lake Charles Police Department. Revived in September, the program is a "way to bring back compassion to the city," says Police Chief Shawn Caldwell. Contact Sgt. Franklin Lewis at 337-491-1311 for further info.
---
NEW ORLEANS
Learn from Top Kitchen Queens
A new national cooking TV series is coming to WYES-TV. "Kitchen Queens" spotlights 26 outstanding women chefs of New Orleans (dedicated to the late great Leah Chase). The series will include 26 episodes shot in New Orleans featuring an array of female chefs (ranging from James Beard award winners to rising stars) sharing their food tips and stories. Airing Spring 2020 (wyes.org).
---
SHREVEPORT
For the Love of Roses
The American Rose Center is transformed into a whimsical wonderland during Christmas in Roseland (from the day after Thanksgiving until the weekend before Christmas) featuring new lighted displays, special Santa in the Garden nights, thousands of twinkling lights and giant Christmas cards plus nightly entertainment (rose.org/christmas-in-roseland).
---
ST. FRANCISVILLE
Connoisseurs Convene at The Myrtles
The inaugural St. Francisville Food and Wine Festival brings notable regional chefs preparing progressive tastings of small plates paired with fine wines plus artisan cheeses and creative cocktails, live bands and lawn games to the grounds of The Myrtles Plantation, touted as one of America's most haunted homes (Nov. 17; hosted by Country Roads; facebook.com/events/387834258498199).
---
BATON ROUGE
Have a Jazzy Holiday
One of America's leading pops orchestra arrangers with more than 100 scores to his credit, virtuoso jazz bassist William Grimes performs a Bill Grimes Swings into the Holidays (Dec. 3) concert at Baton Rouge's Jazz Listening Room (Chorum Hall; artsbr.org). His latest recording project is "Bill Grimes and Friends – Christmas Remembered." The 10th annual Home for the Holidays concert held at the Manship Theatre (Dec. 26) features top Louisiana singer-songwriters residing in Nashville (manshiptheatre.org).
---