Pelican Briefs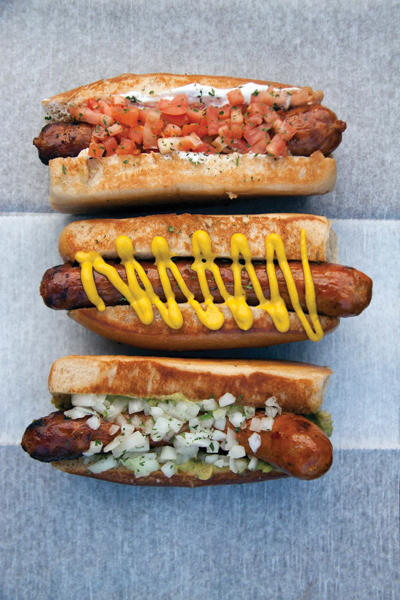 Lafayette
Hot Diggity Dog!
Dat Dog opens its first Lafayette restaurant at 201 Jefferson St. in September with an interior space dedicated to local artists and plans for live music in the rear of the restaurant, plus a Cajun country-inspired mural is in the works on the building's exterior. Louisiana Life asked Bill DiPaola, President and COO of Dat Dog Enterprises, why he selected Acadiana for their first expansion outside the New Orleans market. "There is something unique about the people in Lafayette that is both intimidating and inspiring," he says. "The food is incredible, and we want to work very hard to live up to that kind of quality. We feel very strongly that the people in Lafayette share the values of family, food and music that we hold dear here in New Orleans, and we hope to add another layer to that fabric that is Acadiana." The next Dat Dog location is slated for Baton Rouge in late 2017-early 2018.
North Louisiana
Soul in a Bowl
Designed to explore the local food and cocktail scene, Chef Hardette Harris introduces her Pure Louisiana Soul interactive culinary experience featuring cooking demos with guest chefs at various locations; transportation is provided in a private shuttle. "Straight from the red dirt and fresh waters of North Louisiana, we offer you our soul in a bowl," says the chef (known for creating the popular year-old Us Up North series). "You can get two chefs for the price of one."
foodlouisiana.com
Baton Rouge
A Call to Artists
Court 13 Arts presents its Inaugural Residency Program beginning September 24. It is designed to provide artists at all stages of their careers with an opportunity to create contextual work and interact with the New Orleans artistic community. Selected artists will be awarded a two-month residency stay culminating with a final exhibition November 17-19. court13arts.org
Be a Bartender with Style

Pass the Popcorn

Tales of the Cocktail debuts its first Bar InDepth seminar series at the 15th annual event held July 18-23, profiling some of the world's best bars in 90-minutes sessions. More than 200 seminars are held during this year's festival.
talesofthecocktail.com
The Louisiana-shot "Girl's Trip," which hits theatres July 21 depicts four lifelong friends (Regina Hall, Queen Latifah, Jada Pinkett Smith and Tiffany Haddish) traveling to New Orleans for the annual Essence Festival. Also shot in Louisiana is Sofia Coppola's Civil War horror-drama "The Beguiled" that opened June 23 (filmed primarily at Madewood Plantation in Napoleonville) and made a splash at the recent Cannes Film Festival. Coppola was named best director and Nicole Kidman won a special award heralding the festival's 70th anniversary.
Party like a VIP
Bossier City, Shreveport
A new luxury transportation service makes its debut in Bossier City on the evening of Paul McCartney's July 15 concert at CenturyLink Center featuring the former Beatle's 50-year retrospective amplified by lasers and fireworks. The new iShuttle VIP Champagne Experience is a five-hour luxury charter service that picks you up at your home for the McCartney extravaganza and for CenturyLink Center concerts going forward (this includes any locations in Caddo and Bossier Parish), providing champagne and gourmet snacks to and from the concerts, plus Wi-Fi, video screens and Bluetooth connection to the high-voltage sound system aboard. Tours are led by expert guides (318-872-2152 for information).
Natchitoches, Delcambre, Morgan City, Lake Charles
Of Fiddles, Food and Fun
The July 14-15 Natchitoches NSU Folk Festival features a fiddle championship and workshops, Cajun dance lessons, food demos and local crafts so grab your fiddle and head out. Shrimp lovers descend on the tiny town of Delcambre for the 67th annual Delcambre Shrimp Festival Aug. 16-20, highlighted by a foot-stomping fais do-do for all ages and the blessing of the fleet plus enough shrimp creations to make even Bubba Gump blush. Morgan City's Louisiana Shrimp and Petroleum Festival Aug. 31-Sept. 4 features live music, a children's area, a car show, fireworks and shrimp galore. The Lake Charles Cajun Food & Music Festival July 14-15 offers gumbo and jambalaya among the many dishes, plus Cajun waltz and two-step contests. The Arts and Crabs Fest in Lake Charles on Aug. 19 brings together regional roots music with local craft beers and crab dishes (tip: must be at least age 21 to enter).