Pelican Briefs: Festival International de Louisiane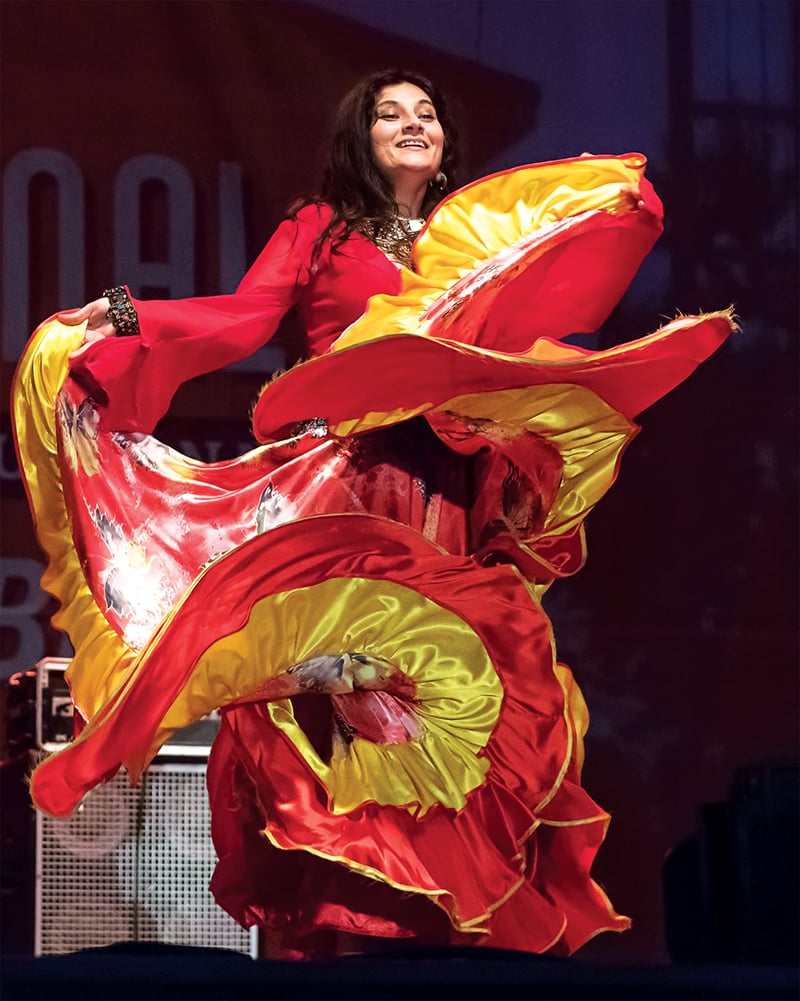 The 34th annual Festival International de Louisiane presents francophone music from 24 countries, including such headliners as Ayrad, a percussive Canadian group integrating gypsy funk with Moroccan gospel and desert rock. Lisa Stafford, the festival's revered programming director of 20 years, received the coveted Trouble Worldwide Award by globalFEST in January from the Association of Performing Arts Professionals in New York City (April 22-26; festivalinternational.org).
---
BATON ROUGE
Pick Up Tricks
Though disappointment prevails over Bayou Country Superfest's spring cancellation, music lovers and songwriters may do better learning how to become superstars during the Third Street Songwriter's Festival featuring local and national songwriters and an industry panel of Nashville professionals representing publishing companies and songwriter organizations. Participating songwriters perform and have their songs critiqued. Songwriters and national celebs are celebrated at Manship Theatre (March 20-22; thirdstreetsongwritersfestival.com).
---
NEW IBERIA
For Literary Leanings
The Books Along the Teche Literary Festival presents "The Best of Enemies" movie screening based on the racially-charged novel by the 2020 Great Southern Writer, Osha Davidson, with a symposium. Louisiana poet laureate emeritus, Darrell Bourque, showcases his latest book, "Migrare," Grammy-nominated Yvette Landry talks with Warren "Storm" (aka the Godfather of Swamp Pop) about his life and new book and the 2019 King of Louisiana Seafood, Chef Nathan Richard, stages the Great Southern Chefs Food Demo (April 3-5; booksalongtheteche.com).
---
BOSSIER CITY
Of Kegs and Corks
Mark your calendars for the second annual Kegs & Corks Craft Beer and Wine Festival presented by Flying Heart Brewing & Pub. Local and regional breweries and wineries will provide samples to participants, along with food from local eateries. Area homebrewers' original creations will be offered as lagniappe. Tickets: Eventbrite (May 9; flyingheartbrewing.com).
---
WINNSBORO
Got Catfish?
Fresh catfish creations bring more than 20,000 visitors to the old-fashioned Franklin Parish Catfish Festival. Antique cars, Christian bands, lumberjack and fiddling competitions, Wallenda's high wire act and celebrity tricycle races are among the April 4th perks (franklinparishcatfishfestival.com).
---
NEW ORLEANS
51st Jazz Fest's Joyful Noise
Fervent fans will be dubbing out to The Who's greatest hits, Lenny Kravitz retro rock, H.E.R.'s enchanting R&B vocals and Foo Fighters' electrifying riffs during the first weekend of Jazz Fest. The second weekend brings Lizzo, the pop sensation who collected 3 Grammys after her rousing Kobe Bryant tribute. Catch the all-star tributes to Art Neville and Dr. John, Stevie Nicks' romantic jam and R&B-funk improv by Tank and the Bangas, who recently toured Cuba with jazz-funk alchemist Trombone Shorty, Sunday's dance-compelling, joyful finale (April 23-May 3; nolajazzfest.com).
---
NEW ORLEANS
NOWFE's New Events
An expanded lineup of labs, tastings and new events brings record crowds to the 28th annual New Orleans Wine and Food Experience. A star-studded red carpet with actors precedes the New Orleans premiere of the award-winning Fine Food & Film. The new book, Wine Country Women of Sonoma County debuts and Broussard's celebrates its 100th anniversary with an elaborate champagne feast featuring famous dishes through the ages and a narrated history. The competitive Grand Tastings include 1,000 wines and delicacies by nearly 100 chefs, plus demos and awards (March 18-22; nowfe.com).
---
LAFAYETTE
Brighter Futures
The first-ever Montessori of Acadiana opened in February (908 La Neuville Road) featuring nature walks, a garden for growing food and a progressive curriculum based on the hands-on Montessori method. Now accepting applications for ages 3-6 (montessoriofacadiana.com).
---
FRANKLIN
Boats and Pirogues and Bears, Oh My!
Boat builders from afar arrive on the same April 17-18 weekend that bear enthusiasts land in Franklin for the 17th annual Bayou Teche Black Bear Festival, held in conjunction with the Bayou Teche Wooden Boat Festival. Craftsmen from throughout the U.S. showcase a diversity of skiffs, sailboats and cypress pirogues. Gumbo and jambalaya black pot cook-offs, a kids' carnival, kayak and canoe adventures and an interactive Bear-Y Patch attract families to St. Mary Parish (cajuncoast.com).
---
DEQUINCY
Just Like Yo' Mama
All aboard for the 37th annual Louisiana Railroad Days Festival in DeQuincy featuring frozen T-shirt and bizarre boxcar contests, a K-9 caboose pageant, a children's bicycle parade, gospel music and a talent show culminating with Mother/Daughter, Mother/Son, Father/Daughter, Father/Son look-alike contests, so bring your parental double and dazzle up to win a prize (Aril 9-11; louisianarailroaddayfestival.com).
---