Ponthieu's Grocery Store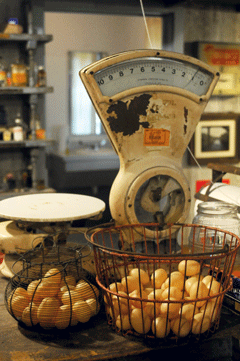 Flowing in a continuous stream of greenery fed by the loam of Avoyelles Parish, the Bayou des Glaises loop from Moreauville leading to the Adam Ponthieu Grocery Store in Big Bend is an exercise in enchantment. The white A-frame grocery store, rebuilt in 1927, is also the site of the Big Ben Post Office (established in 1847 and closed in 1994) Museum. It sits surrounded by green fields in the cool emerald shade of many trees. The American flag flutters atop the pole in the front yard, and a red Coca-Cola sign swings above the front porch.
Directly across Highway 451, the Sarto Old Iron Bridge of the swing truss variety spans the snaking Bayou des Glaises. The Sarto Bridge, completed in 1916, and grocery-post office stare almost eye to eye at each other. Both are on the National Register of Historic Places.
Inside, folk-life presenter Jimmie Bernard, a native of Big Bend, a loyal preservationist and a historian, conducts a fascinating tour that combines a showcase for the museum items and the history of his beloved Avoyelles Parish.
"I start by introducing myself and of course you telling me who you are and where you are from," he explains. The information of your origins has some bearing on the tour. Chances are you will find your family ancestors' names in the Gallery Room in the form of LaBorde, Bordelon, Rabalais, Lemoine or Normand – somehow in Louisiana, it seems almost all roads lead to Avoyelles.
Bernard guides visitors past the old bird, squirrel, coon and bear traps. The museum is filled with relics of the everyday life of the Avoyellian – cross-cut saws, a corn sheller and grinder, old drip coffee pots, a sausage stuffer (some of the best homemade sausage in America is made in Avoyelles Parish), an old crock pot used to salt meat. There's an old Coca-Cola box near weathered wooden crates that once held clinking soda pop bottles. Also displayed is a 1939 gasoline-powered Maytag washing machine propelled into activity with a kick-start, butter churns, canning jars with rubber gaskets and porcelain lids and old 78 vinyl records.
For 10 days each summer, Bernard holds folk-life workshops for children at the museum. Past workshops have taught youngsters how to make steppingstones, yard decorations in the form of beguiling painted hounds, pumpkins, sunflowers and grinning frogs. The art of soap-making, sawing firewood with a cross-cut saw, shelling and grinding corn, making cornhusk dolls and learning the appropriate way to milk a cow and make butter have also been part of the folksy curriculum. This past June, with the express permission of parents, the children were taken through the steps of a boucherie that also included a biological explanation of porcine organs as they were removed from the slaughtered hog. The locations of different cuts of pork were also explained. Children were taught how to fry cracklins and make a pork stew.
After a guided visit to a local farm with a petting zoo owned by Gerald Wayne, Bernard took the children on a hayride, complete with storytelling. And along Big Bend there are lots of stories to tell.
Adam Ponthieu Grocery Store, Big Bend Post Office Museum, Big Ben Museum/Old Iron Bridge, Big Bend Community, 8554 LA 451, Moreauville, (318) 997-2465 Tuesday-Friday, 8 a.m.- 4 p.m.; Monday and Saturday, by appointment only.