Powered by Alligator Fat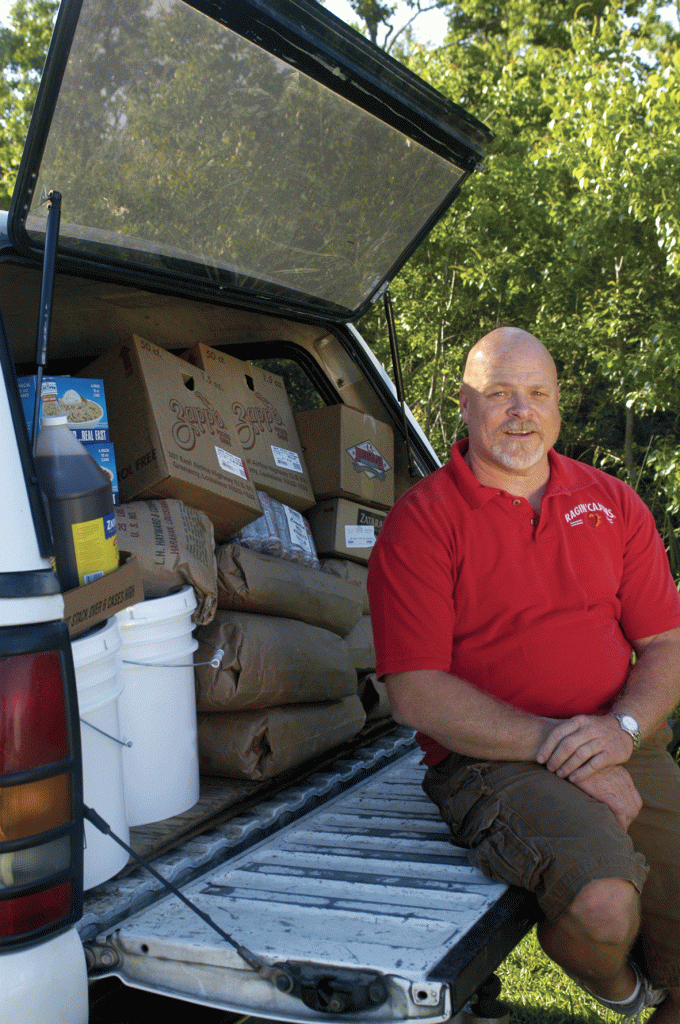 The Interstate 20 billboard that announces to Atlanta commuters that "soul is waterproof" lifts the spirits of displaced New Orleanians.

It is true that Atlanta, long New Orleans' bigger, newer, richer rival, has plenty of stuff that the Crescent City does not. The one thing that's missing is water. The city is landlocked, and worse, it's endured drought conditions for the past couple of years.
Enter Dean Stinson, a hero from parts southwest.
He's not a rainmaker, but his weekly appearance in Atlanta is about as welcome as a rare summer shower. When Stinson drives his big truck to town from Lafayette, he's carrying just-caught Louisiana seafood, freshly processed in towns including Abbeville, Delcambre and Henderson and highly prized among Atlanta restaurateurs.
"The crabmeat is peeled on Tuesday, delivered on Wednesday," he says. "I'm selling them the freshest product they can put their hands on. The oysters I bring them are shucked on Tuesday, delivered on Wednesday. They're one day old, so the shelf life is longer, and you know there are no additives put in there to preserve anything."
Stinson buys from Louisiana processors and sells to about 40 Atlanta-area restaurants, looping from his home just outside Lafayette into north Georgia once a week, with occasional forays into Charleston, S.C., and other cities for special occasions.
But is it environmentally correct to truck in seafood from 400-some miles away? It's a greener practice than shipping in frozen seafood from Asia, but go ahead –– ask people to give up their shrimp scampi, and see what happens.
But there's more to this story. Stinson is a player in the farm-to-table movement that's greening up more and more of America's restaurants. In other words, chefs love him because his seafood is freshly netted off the coast of the Bayou State (though Stinson does ship frozen seafood products, too).
"Creole is one of the most significant cuisines in the country, and we certainly like to pay homage to that cuisine," says David Larkworthy, chef/owner of the two 5 Seasons Brewing Co. restaurants in metro Atlanta, which feature "eclectic American" food. Larkworthy says he met Stinson through another restaurateur, and now he places a seafood order with him at least every week. Besides supporting Louisiana tradition, Larkworthy wants to support Louisiana entrepreneurs, especially those hard-hit by the 2005 hurricanes: "We like to contribute to local farms and local fishermen so they can continue to stay in business."
Stinson joined his brother in a fledgling seafood-supply business 17 years ago. His brother eventually left the partnership; Stinson himself, at one point, supervised five trucks and ran routes to Georgia, Tennessee, Arkansas and Missouri. But a heart attack at age 35 and the demands of a growing family convinced him to downsize to one truck and only one destination, Atlanta. Servicing metro Atlanta, with a population of about 5 million people, is like servicing 20 Lafayettes or five New Orleanses.
Asked if that same driving route ever gets old, he replies, "Five days a week, 8 to 5, in the office would get old to me real quick." By the way, he mentions, his late father retired at age 81; apparently the Stinsons don't care for too much sitting around.
Until recently, Stinson was regularly running his Chevrolet Duramax-engine truck on biodiesel fuel. That's enviro-speak for a petroleum alternative from a variety of sources, in this case alligator fat. His supplier is temporarily on hiatus.
Some years ago, Stinson says, a friend of his, Jack Montoucet, a retired fire chief and alligator farmer (and now a state representative from Scott), took some courses on converting vegetable oils and animal fats into biodiesel fuel. Stinson gave his buddy a hand with the labor and in exchange received all the alligator-fat fuel he needed to run his truck. Stinson's now a fan of biodiesel fuel.
"My truck gets 2 more miles per gallon with the bio-fuel, and it burns cleaner," he says. "You don't have to change your fuel filters as often, and the injectors on the truck that shoot the diesel into the cylinders, those injectors last longer, I believe, because they're better lubricated."
Reached by cell phone minutes before he was about to head into session, the congenial Rep. Montoucet says although he's stopped making biodiesel fuel for the moment, he's still an alligator farmer, and he hopes to resume biodiesel production soon. In the meantime, Stinson is considering forming partnerships with restaurant owners who want to convert their leftover oil into fuel.
That's good news: With more than 525,000 miles on his truck and apparetly no foreseeable end for the demand for Louisiana seafood ("The guys I deal with in South Carolina, they'll call me weeks in advance and tell me, 'Hey, I need 800 pounds of alligator meat' or 'I need 2,000 pounds of crawfish for a festival'"), Stinson will be busy for a while.
There's another benefit. "The only way you can tell you're running [biodiesel] is it smells like you're cooking french fries," Stinson adds.
Somehow there's poetry in that equation: The eagerly awaited seafood dealer rides in on a waft of grease, carrying with him the promise of deep-fried oysters and shrimp.
Louisiana, you have reason to feel lucky.