Quirky Places: Bayou Segnette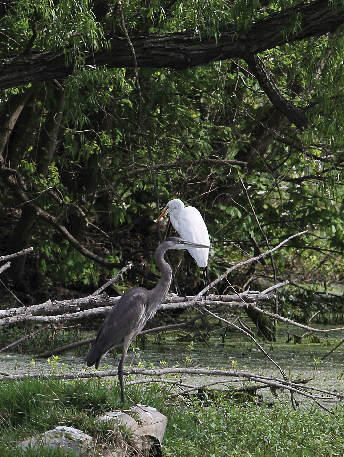 The murmur of a barred owl, a soft, breathy "h'Hoo h'Hoo h'Hoo." Steady deep-throated croaks from a bullfrog. The angry chirp of a distant blackbird disturbed from his sleep. The reality of nature 8 miles from Canal Street.
As you look to the south into the late-night sky above Bayou Segnette State Park, stars flicker in the skies, while on the horizon, in other directions, a red glow prevails. You are in Westwego on the west bank of Jefferson Parish near New Orleans.
A park, yes, with picnic sites for day use and campfires at night but oh-so-much-more value added to the mix for those who stay and relax for a spell – a weekend or longer. Bayou Segnette has an abundance of wildlife and vegetation in a setting carved from the marshlands of Westwego. Beyond that, it provides activities that even the most blasé youngsters can enjoy.
On our first drive into the park and toward the campground, a coyote crossed the road a hundred feet in front of us. Alligators lazed along the lakeshore. Egrets and great blue herons swooped in for graceful landings in the shallows of narrow waterways that define sections of the park. Nature! Real nature! (For those fearful of coyotes and alligators, be assured that they pose little threat to visitors by their very "nature.")

A Covey of Snowbirds
I hear you saying, "State parks are for those other folks, not me and my family." Who goes to Bayou Segnette? The answer is seasonally adjusted. During the warm months – the Memorial Day to Labor Day span – it's likely to be locals, with a few cross-region tourists. In the colder months, it's lots of "snowbirds," the hordes of travelers from the Snowbelt of the U.S., with a large number of Canadians escaping the harsh temperatures of their homeland for the six months they are allowed to be out-of-country without losing health benefits.
Add to the mix a strong representation of Europeans, many of whom want to see for themselves how their 17th-century countrymen became part of the area's Acadian heritage. That's a recurring theme throughout the state parks of South Louisiana: lots of Europeans spending their holidays – sometimes months or longer – in America. They feel comfortable in Louisiana with its strong Old World culture. We, as full-time travelers in our recreational vehicle, often strike up conversations with them.
In case the reality of the state of Louisiana state parks hasn't caught up with you, the parks are among the best in the nation. In the Cajun Belt, they boast beautiful settings, excellent facilities (clean, modern bathhouses and WiFi included) and a variety of activities designed to keep youngsters involved.
We have stayed in several – Lake Fausse Pointe, Palmetto Island and Grand Isle, all of which exceeded our expectations. Bayou Segnette, just 9 miles from Clearview Shopping Center over the expanded Huey P. Long Bridge, is among the best.
Beginning with the natural aspects of the park, driving in, you are surrounded by a vast palette of greens, from the bright to the somber, an array that lets you know immediately that, for the next few days, the city will stay far behind.
A microcosm of wildlife abounds: numerous species of birds indigenous to Louisiana's marshlands and numerous woodland types that perch in the cypress and other native trees of the area. At night, bats (again, not a menace to humans; they are there to feast on the bugs) whistle as they ply their erratic courses over the landscape. A fledging eagle glided above us near the campground entrance.
Throughout the year, rabbits and armadillos scurry over mowed grass seeking nourishment. In the spring, alligators and turtles awake from hibernation.
Less-than-stellar is the park's nature center. In comparison to those at other state parks, it's small and not what anyone would call a "wow," but for small kids, it has enough exhibits to fill their usually short attention spans. The on-site naturalist, Ben Ross, says he hopes to upgrade the center with the help of ecology-minded interns.
How can you avail yourself of this island in the authentic swamps? If you're a day-tripper, you can cross either bridge from the east bank and put 7777 Westbank Expressway in your GPS, pay the necessary fees at the registration desk and coast slowly toward the picnic and activities areas (the 15 mile per hour speed limit is very strictly enforced).
Hurricane Katrina took its toll on the 20 cabins that stood a few feet above Bayou Segnette. Don't wait for the rebuilding – according to Matt Vance, assistant park manager, in all probability it won't happen soon. For overnighters, that leaves camping – reservations strongly recommended – which means getting the tent down from the attic or buying, renting or borrowing an RV. If you haven't tent-camped in years, you'll be happy to know that today's tents are much roomier, better able to handle local weather and actually have come down in price. I'd also recommend air mattresses for all. Each site has water and electricity, and LED lighting is now an acceptable light source.
Travelers passing through the area appreciate the free laundry facilities and bathhouse.
Summertime in Bayou Segnette State Park offers all the usual activities: Frisbee-throwing, picnics, playgrounds, fishing and lounging. Or you can fill your day with bike-riding, canoeing for groups, hiking, training binoculars to find birds that rarely cross the river … or meditating along the banks of the lake or bayous.
A huge wave pool and a separate swimming pool are both open from Memorial Day to Labor Day. For groups, there is a hamlet of dormitories, which, like the cabins, is awaiting funding for renovation. Group shelters abound in the large picnicking area.
Along the Highway
Yet there are more features to attract visitors to the Westbank. Turn right when exiting the park, and within two blocks you arrive at one of the area's best fresh seafood outlets – about 20 individual stands compete for business selling crabs, crawfish, shrimp, fish and oysters right off the boats. This is not a haggling flea market operation but a place to find the biggest crabs or lowest-priced shrimp from the vendors. While they are customer-oriented, they know their business – don't expect them to back down from the price, although if the crabs are small, they may throw in lagniappe. Beyond that, both sides of the street-level part of the expressway are dotted with signs proclaiming the availability of seafood, raw and boiled.
The 142-year-old city of Westwego, proud of its heritage, has a quaint museum in the heart of town, worth a visit if for no other reason than to experience the depth of interest in local culture. It's across the expressway at 275 Sala St.
One final bit of advice about taking advantage of this pearl among the oyster fishing grounds of the area: Pick a day to visit now and "ink" it in, or pick a weekend now and go to reserveamerica.com to make reservations. That's the best way to make a weekend in the wilds into a reality.
The one-day fee for park entry is $1; it is free for seniors 62 and older and children 3 and younger. Campsites October through March are $18 per night and $26 per night April through September, plus a $6 one-time processing charge. Louisiana seniors with access cards get a discount. More fee information is available at www.crt.state.la.us/parks/ibyusegne.aspx.
---
Barry Zander is a New Orleans native who travels North America with his wife, Monique, in an RV. He is a monthly columnist for Travel Life Magazine.