Recipes for the Holidays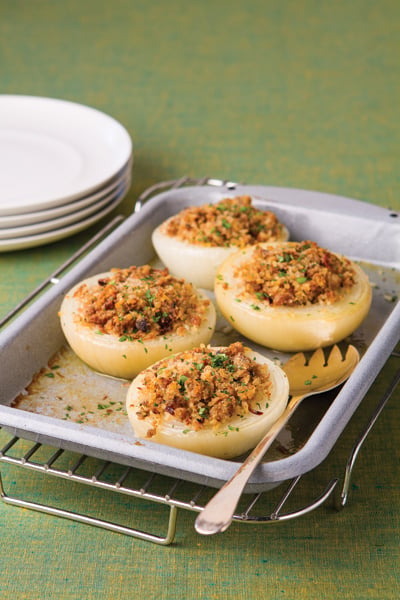 With the holidays almost here, thoughts naturally turn to Thanksgiving and Christmas dinners. The super-organized among us have already laid out their battle plans, but others still have plenty of decisions to make. Many families stick with turkey, ham or a roast for the holiday table, and often tradition dictates the entire menu. Taken to the extreme, that can become tedious and routine: If it's cranberry sauce and petit pois, it must be Thanksgiving. Sometimes, it's good to give tradition a well-earned break and go off in a different direction.
Brussels sprouts have acquired a bad rap primarily because they've often been boiled into submission. When overcooked, they give off a skunky smell and have all the appeal of something that's been sitting in a steam table for 12 hours. But if they're sliced and sautéed quickly in butter or olive oil, they retain their color and freshness of taste. Other ingredients can be included in the preparation to provide contrasting flavors and textures. In the accompanying recipe, dried cranberries and pecans add a holiday note and expand the dish's taste profile.
Boiled onions, often with a cream sauce, are a staple on many holiday tables. For a change, you might consider onions stuffed with boudin, which are bound to appeal to the carnivores in your family. Since you can buy the boudin already prepared from a local supermarket or boucherie, it's a very quick and simple dish to put together.
Wild rice is an expensive item often reserved for special occasions. It lends itself to many preparations, including a stuffing for poultry or game birds, as well as a salad. The recipe that follows is for a wild rice salad that includes diced seasoning vegetables, as well as pecans, golden raisins and dried cherries in honor of the holidays.
Culinary fads come and go, but the current demand for foods that contain no gluten seems to have staying power. More than one cook has been frustrated by trying to prepare dishes that are gluten-free. Pies, which traditionally adorn holiday tables, are a problem because the crusts are made with wheat flour which contains gluten. There are ways around this (such as using gluten-free, non-wheat flours), but the results are not always appreciated by those for whom gluten is not a perceived problem.
If sweet potato pie is one of your holiday favorites, and gluten is an issue in your family (or if you'd just like a change of pace), this month's recipe for sweet potato pudding with rum sauce and toasted pecans might be the answer.

recipes

Onions Stuffed With Boudin
2 large onions
Coarse salt
1 or 2 links boudin, depending on size
1 teaspoon bread crumbs
1 tablespoon butter

Place unpeeled onions in large pot, cover with water, bring to a boil and boil for 20 minutes. Drain in a colander and rinse under cold water.

Preheat oven to 375 degrees. Peel onions, then cut in half lengthwise. Remove center section of each onion, leaving a shell several layers thick. (Reserve removed sections for another use.) Sprinkle onion shells with salt and stuff with boudin. Place stuffed onions in a baking dish, top with bread crumbs and dot with butter. Pour ½ cup water in dish and bake in preheated oven until browned, about 30 minutes. Makes 4 servings.

---
Brussels Sprouts With Dried Cranberries & Pecans
1 pound Brussels sprouts
6 tablespoons butter
2⁄3 cup dried cranberries
1 cup pecans
Coarse salt and freshly ground black pepper, to taste

Trim stem ends of Brussels sprouts and slice lengthwise into 2-4 sections, depending on their size.

Melt butter in large skillet on medium-high heat. Add Brussels sprouts and cook, stirring occasionally, until sprouts are tender and lightly brown but still crunchy, about 8-10 minutes. Add cranberries and pecans. Cook, while stirring, until pecans are heated through. Season with salt and pepper. Makes 4 servings.

---
Wild Rice Salad
1 cup wild rice
2 cups chicken or vegetable broth
¼ cup olive oil
1 cup diced bell pepper
½ cup diced celery
½ cup chopped pecans
½ cup golden raisins
½ cup dried cherries
¼ cup chopped green onion tops
¼ cup chopped parsley
Coarse salt and freshly ground black pepper, to taste

Combine rice and broth in rice cooker and cook until machine shuts off. Let rice sit for 10 minutes, then transfer to a large bowl. Add olive oil and toss to coat. Add bell pepper, celery, pecans, raisins, cherries, onion tops and parsley and toss to combine. Season with salt and pepper. Makes 6-8 servings.

---
Sweet Potato Pudding With Rum Sauce & Toasted Pecans
(gluten-free)
2 pounds sweet potatoes
1 tablespoon butter
6 eggs, separated
½ cup milk
¾ cup light brown sugar
2 teaspoons pure vanilla extract
1 teaspoon cinnamon
1 teaspoon freshly grated nutmeg
¼ teaspoon salt

In a large pot, cover sweet potatoes with water, bring to a boil and cook until tender, about 20-30 minutes. Drain in colander. When cool enough to handle, peel and cut into chunks. Mash and measure 3 cups of potatoes. Generously butter a 2-quart baking dish and preheat oven to 350 degrees.

Combine mashed sweet potatoes, egg yolks, milk, brown sugar, vanilla extract, cinnamon, nutmeg and salt in large mixing bowl and beat with an electric mixer until smooth. In another bowl, beat egg whites until stiff peaks form. Fold egg whites into sweet potato mixture and turn out into baking dish. Bake in preheated oven until a tester inserted in the center comes out clean, about 30-35 minutes. Serve with rum sauce and garnish with toasted pecans (recipes follow). Makes 8 or more servings.

Rum Sauce
2 cups milk
6 egg yolks
6 tablespoons sugar
1 teaspoon pure vanilla extract
2 tablespoons dark rum

In a saucepan, heat milk to the boiling point. In a mixing bowl, beat egg yolks and sugar until pale and creamy. While whisking, slowly add hot milk to egg yolks. Return mixture to saucepan and cook over low heat, stirring constantly with a wooden spoon or heatproof spatula, until sauce is thick and coats the back of the spoon. Strain into a clean bowl. Add vanilla and rum and stir occasionally until sauce cools. Refrigerate until cold. Makes about 2 cups.

Toasted Pecans
1 cup pecan halves

Preheat oven to 325 degrees. Place pecans on baking sheet and bake in oven, stirring frequently, until lightly toasted, about 15 minutes. Makes 1 cup.