Regional Travel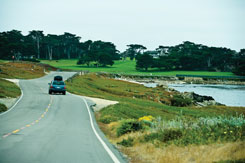 While much of the country is still bundled up in winter coats during March and April, in Louisiana these are some of the best months to hit the road for a beautiful weekend getaway or a full-blown spring break. Nature is in full bloom across the South, travel prices are still low, and destinations are warming up. All around the region – from the coast of Florida to the Mississippi hill country, to the wide-open landscapes of West Texas – the season is full of festivals, food, romantic hideaways and family adventures. Here are some great choices for spring road trips, from the ever-popular to the off-the-beaten-path. These are some of the treasures of our region just waiting to be explored.
Florida
For a romantic getaway to the coast, look no further than the Henderson Park Inn, in the heart of Destin. A longtime favorite along Florida's Emerald Coast, the adult-only bed & breakfast was devastated during Hurricane Ivan, but has now been completely renovated and restored. Once more, the Henderson Park Inn offers Victorian charm and luxurious amenities, including elegant rooms, plush bedding, complimentary wine and fruit, Gilchrist & Soames lotions, and Egyptian cotton bathrobes. Nestled up against Henderson State Park, the Inn, with its many decks and terraces, also offers stunning ocean views and access to some of the most beautiful and unspoiled beaches on the Gulf Coast. A complimentary full breakfast is offered daily, as are light lunches and snacks, and during chilly spring nights, visitors can take advantage of rooms with fireplaces and whirlpool tubs.
Henderson Park Inn is also a popular wedding destination, with event spaces, skilled catering, and a beautiful honeymoon suite. The Inn boasts a new Presidential Suite as well, showcasing the finest in luxury accommodations. Graced with mahogany crown molding and doors, a top-of-the-line bathroom and shower with towel warmers, and plasma TVs built into the living room and the bedrooms, the suite features large windows that lead to a private porch overlooking the emerald green water and sugar white sand of the Gulf of Mexico.
For more information, visit www.hendersonparkinn.com.
Mississippi
Just across the state line, winter travelers can explore the rich diversity of Mississippi, "Birthplace of America's Music." From blues legends Robert Johnson, Muddy Waters and B.B. King, to the "King of Rock 'n Roll," Elvis Presley, to the "Father of Country Music," Jimmie Rodgers, the only place you'll find the history, heritage, legends and folklore that surround the sounds of America's music is Mississippi. Plus, you'll find intriguing history everywhere you turn. From antebellum homes and Civil War sites in Corinth, Columbus, Vicksburg and Port Gibson, to the Center for the Study of Southern Culture at the University of Mississippi in Oxford, you'll find history beautifully preserved throughout the entire state. Ride a riverboat down our mighty river as you pass antebellum homes set in small town gems like Natchez. Curl up with a novel that tells Mississippi's story by one of our own writers —William Faulkner, Eudora Welty, Willie Morris and Tennessee Williams. African-American heritage is showcased at festivals, museums and attractions across Mississippi, including the home of Civil Rights leader Medgar Evers in Jackson. The history of the Choctaw Indians in Mississippi dates back to the early 1500s. Today, the Choctaw Indian Reservation covers 35,000 acres of tribal lands in ten Mississippi counties. For more modern diversions, Mississippi offers world-class casinos that provide endless entertainment, luxury spa facilities, and shopping. With award-winning golf courses, you will have plenty of opportunities to practice your swing. For more information on the area's destinations and their many holiday and winter events, visit www.visitmississippi.org or www.visitmississippi.org/events.
If you're traveling in or near Jackson be sure to make a special visit to the Mississippi Museum of Art (MMA) in its beautiful new downtown facility. The largest art museum in the state, the MMA offers a remarkable permanent collection as well as world-renowned and inspiring travelling exhibits. Take advantage of children's programs or adult enrichment seminars and social activities that run year-round. "The Mississippi Story" is a permanent exhibition that showcases the best of Mississippi artists, and the museum partners with organizations such as Mississippi Public Broadcasting to promote working artists and to provide access to art, information and archives for teachers and students throughout the region. Beginning in February, the museum is especially proud to host the travelling exhibition, "Raoul Dufy: A Celebration of Beauty." Taking advantage of its new space and conceptual design, the museum will offer more than 100 paintings, watercolors, drawings and woodcuts from European private collections that communicate Dufy's joie de vivre. More than 75 original fabric projects from the archives of leading French silk manufacturer Bianchini-Ferier will be displayed, highlighting the artist's Art Deco fabric design work. Original gowns using Dufy fabrics and designed by couturiers such as Mongi Guibane and Christian LaCroix will be featured, as will re-creations of some of the most celebrated garments. As MMA director Betsy Bradley says, "Raoul Dufy: A Celebration of Beauty gives us an opportunity to enjoy the full capabilities of the new Mississippi Museum of Art, share our state's famous Southern hospitality, and applaud one of modern history's most accomplished and enjoyable artists." For more information and a full calendar of events, visit www.msmuseumart.org.
Amite County, celebrating its 200th anniversary this year, lies in the Old Natchez District of Mississippi, famous for its rolling terrain and beautiful wooded hill country. Stress melts away as visitors travel the winding roads or stroll through charming small towns such as Liberty. The county is a popular destination among outdoors enthusiasts who flock to destinations such as the Homachitto National Forest, which provides near endless adventures for hikers, campers and day-trippers. Parts of the forest are even opened to hunters, with deer season in the fall and winter, and turkey and quail seasons in the spring. Miles of off-road trails, cabins and stables make Amite County a horseman's or horsewoman's paradise, and the countryside is dotted with rodeo arenas, as well. Winding roads, beautiful preserves, and stunning scenery make Amite County a fantastic destination for motorcyclists. Waterways such as Lake Okhissa, the Amite River or the Homachitto River make for excellent boating, skiing and fishing.
For visitors looking for a more relaxing weekend getaway, the county offers a wide range of cozy lodging, delicious southern cooking, and beautiful historic homes, many of which are on the National Historic Register. Visitors can enjoy shopping at boutiques and specialty stores such as Liberty Bell Books and Candles, which stocks more than 30,000 volumes and includes a restaurant for hungry travelers. Tatum Plantation is a terrific destination as well, offering tours and historic glimpses into the past.
For more information, visit www.amitecounty200.com or call (601) 657-8230.
From old world southern charms to hip new arts and entertainment venues, Hattiesburg offers unique, affordable spring getaways for the whole family. The Historic Downtown Arts & Entertainments District offers visitors rows of locally owned galleries, restaurants, boutiques and unique specialty and craft shops. The arts district plays host to several great spring festivals, as well. HUBFest (March 28) is a free arts and heritage street festival with music, food, art and crafts. The Spring Art Walk (April 18) is an outdoor, family-friendly downtown treat, with art and music filling the streets. The Live After Five concert series presents free outdoor performances every Friday night in April.
For travelers looking to enjoy the season with some outdoor adventure, the Longleaf Trace offers a beautiful 42-mile multi-use trail. As the only Rails to Trails conservation project in Mississippi, the Longleaf Trace winds beneath a leafy canopy through miles of unspoiled woods and countryside and offers scenic lookouts, picnic areas and campsites.
For a unique historic experience, visit the Mississippi Armed Forces Museum as well as the brand-new African-American Military History Museum (opening in spring 2009). The Armed Forces Museum is a treasure trove of thousands of artifacts and interactive exhibits such as the life-sized WWI trench where visitors can experience the sights, sounds and even the feel of trench warfare as the ground shakes with each simulated bomb blast. The actual facility housing the African-American Military History Museum is a museum in and of itself, as it is the only remaining WWII-era USO Club built specifically for black soldiers that remains in public service today.
For more information, including a full spring events calendar, visit www.visithattie.com.
Looking to take the family on the road for a quick and fun spring break? Head to Ridgeland, the place "where water meets wonderful." Sitting on the banks of the Ross Barnett Reservoir and at the foot of the beautiful Natchez Trace Parkway, Ridgeland offers visitors stunning scenery, outdoor adventure, and all the convenience, service and hospitality of a thriving modern community. Nightlife, shopping, dining, family recreation and annual festivals, such as KidFest! and the Renaissance Fine Arts Festival, prove there's a reason Money magazine named Ridgeland one of the "100 Best Places to Live" in 2007. With more than 145 restaurants, you can find anything from catfish to caviar, fajitas to filet mignon. Thirteen outstanding hotels offer guests a variety of styles, amenities and price ranges. The Mississippi Crafts Center showcases the work of more than 150 local artisans and provides year-round events and programs for adults and children. Ridgeland's Northpark Mall, with more than 130 department stores and specialty shops, is the link pin of a bustling shopping district, which includes a bounty of specialty shopping malls, boutiques, galleries and antique stores, all within minutes of one another. Some of the newest additions to Ridgeland's many diversions are the Renaissance at Colony Park, an outdoor lifestyle center featuring shopping, dining, hotel lodging and entertainment, as well as the soon-to-come Viking Cooking School, offering classes for all skill levels taught by expert instructors. In addition to the many attractions of Ridgeland, visitors also enjoy access to Mississippi's vibrant capital city of Jackson, right across the street. For more information, go to www.visitridgeland.org.
Set high on a bluff overlooking the Mississippi River, Vicksburg is a unique blend of old and new in a city that offers plenty to see and do. From the specialty shops of historic downtown, to the modern Pemberton Mall, visitors and shoppers experience a relaxed atmosphere and friendly people. Garden strolls and ghost tours dazzle guests, while the many museums and the Vicksburg National Military Park capture unique elements of American history. The Waterways Experiment Station allows visitors to encounter tomorrow's engineering marvels up close, while riverboats docked along the banks of the "Mighty Mississippi" hail back to a bygone era, even while they provide entertainment, gambling and spectacular views of one of the world's most famous rivers.
This spring, the Vicksburg Bed & Breakfast Association will present "Tapestry: A Living History of Vicksburg," featuring presentations at historic locations throughout the city from Friday, March 13 to Monday, April 6. Tapestry will represent the history of the city from antebellum grandeur to the turn of the 20th century. In addition to regularly scheduled tour hours, 16 of Vicksburg's most historic properties will have special presentations with costumed guides on Fridays, Saturdays, Sundays and Mondays.
For more information and fun trip itineraries visit www.vicksburgcvb.com, or call the Vicksburg Convention & Visitors Bureau at 800-221-3536.
Texas
Looking for a terrific spring getaway spot for the whole family? Allen has something for everyone. Just 20 miles north of Dallas, Allen offers a relaxed, small-town atmosphere and Texas friendliness, while providing access to the amenities and options of a big city. For the shoppers, Allen offers literally near-endless options, from the high-end Allen Premium Outlets, to the big-box stores at Village at Allen, to the multi-use Watters Creek, with courtyards, terraces and elegant walkways leading to dozens of specialty shops and more than 80 casual and fine-dining options. Looking to enjoy some lovely spring weather? Allen boasts 700 acres of parks, including 21 miles of hiking, biking and nature trails and four recreation facilities. Golfers can try their hand at the Chase Oaks Golf Club, and The Edge at Allen Station Park offers younger sports enthusiasts the opportunity to hit the BMX track, lace up on the roller hockey rink, or shred at one of the largest outdoor skate parks in Texas. Indoor swimming and water parks offer lively distractions and entertainment, and history buffs will enjoy the historical driving tour that takes visitors to intriguing points of interest throughout the area.
Five hotels provide lodging and guest services in Allen. A new Marriott Conference Hotel, adjacent to the Allen Special Events Center, will be finished in 2009, catering to events and special occasions. For more information visit www.cityofallen.org.
For a truly unique traveling experience, be sure to make Odessa a top destination this spring. Beneath dazzling blue skies and beautiful sunsets, the vibrant city of Odessa rises out of the sandy terrain and offers a magnificent combination of the traditional, the modern and the unpredictable. Visitors can visit historic homes and buildings, enjoy specialty shops and galleries, and then find themselves marveling at a life-sized replica of Stonehenge. Odessa is home of the modern Presidential Museum, as well as the Southwest Shakespeare Festival, held in a perfect recreation of the Globe Theatre. Visitors can gaze over the world's greatest collection of WWII nose art at the American Air Power Museum, or ice skate at the Music City Mall, which boasts the only ice rink between Fort Worth and El Paso. Outside of downtown, Odessa offers unique West Texas scenery, with rows of pump jacks and their multi-colored heads bobbing, while a little further down the road, visitors can drop by the second-largest meteor crater in North America. As they say in Odessa, "the sky's the limit" to what you can discover.
In the spring, Odessa hosts its annual Fiesta West Texas, from April 24-26. Thousands of visitors descend upon the area to enjoy the Texas- and Latino-themed festival, which includes live music performances, a rodeo, carnival, arts and crafts, folk dancing and much more. =Other festivals through the spring season include the Celt Fest and Cinco de Mayo.
For more information, visit www.odessacvb.com or call (800) 780-4678.
For a charming weekend getaway, check out Orange, just across the Louisiana border. Snuggled up on the west bank of the Sabine River, Orange offers visitors a rich blend of history combined with world-class events and beautiful attractions. For the outdoors lovers, Orange provides boating, fishing, picnicking and camping along the lovely river and waterways. Closer to town, Orange provides visitors beautiful historic homes and buildings, boutiques and shopping, and one of the newest attractions, the Shangri La Botanical Gardens and Nature Center, will be re-opening in early spring, following damages sustained during Hurricane Ike. The Piney Woods Winery is also a unique destination, where Mr. Fleis grows many of his own fruits for his wines.
Orange hosts several outstanding family-friendly events throughout the year, many of which occur during the spring months. The ever-popular Orange Mardi Gras celebration will run Feb. 12-14. The Seventh Annual Art in the Park will be held March 28. In April, the City will host its Annual Easter Egg Hunt, when more than 15,000 plastic eggs will be filled and hidden for the delight of young children. May 16 and 17, the city will sponsor the Fourth Annual Texas Cajun Heritage Festival and Speckled Trout USA Fishing Tournament, including Cajun food, live performances by Cajun entertainers and Cajun arts and crafts.
For more information, visit www.orangetexas.org.
There are numerous reasons to visit Tyler, Texas – the charming brick streets and boutiques of downtown, the crystal clear lakes that offer picnicking, fishing and camping, and the year-round calendar of festival and events. This spring, however, all eyes will be on the annual Azalea & Spring Flower Trail, which runs from March 20 to April 5. Celebrating its 50th anniversary, event organizers hope to draw about 150,000 visitors to tour the trail, the beautiful yards or just enjoy the beauty of East Texas. This year, Tyler offers a once-in-a-lifetime peek behind the garden fence, as some of the estates in Tyler open their garden gates to the public. A photo contest, awards ceremony and a whole host of events accompany the annual celebration.
Other events this spring include a historic-homes tour, quilt show, Renaissance Faire, art exhibit and music festival. Tyler's many permanent attractions are worth visiting, too. The Caldwell Zoo, the Discovery Science Place and Hudnall Planetarium provide entertainment and creative learning experiences for the whole family. Recreation seekers will be thrilled with the challenging golf courses, the excitement of ziplining or the sheer fun of the water parks. For art lovers, Tyler offers Broadway and ballet performances, symphony concerts, and world-class art museums. For anyone who loves home cooking, Loggins Restaurant, which has been serving Tyler for 40 years, is a must-visit.
For more information on Tyler attractions and the Azalea & Spring Flower Trail events visit www.visittyler.com.