Richard Reeves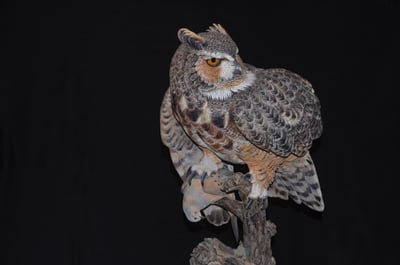 After over 30 years as a New Orleans policeman who witnessed many of the city's saddest and most troubled times, Richard Reeves of St. Tammany Parish has found peace and expression, not in writing that unfinished crime novel, but in recreating the beauty of wild birds in life-like wood carvings.
"Every block of stone has a statue inside it," Michelangelo once said, "and it is the task of the sculptor to discover it." The same is true for Reeves as he examines blocks of wood, deciding which wild bird to release. Like sculptors chiseling away bits of stone, Reeves's carving knives peel away layers of wood until the graceful form of a songbird emerges from the shavings. Working in his small studio or behind his house on a dock overlooking a large wooded lake north of Covington, he gives detailed attention to every aspect of the carving, including the bird's natural colors. As a result of his exceptional work, Reeves has gained international acclaim for his life-like carvings of wild birds — including three world and four North American championships. He has also won a string of other national awards, including over 100 best of show awards in every major competition.
Carving wild birds was an unexpected career for Reeves, who grew up in the 1950s in Chalmette, worked for a brief time at the now defunct Kaiser Aluminum plant, and joined the New Orleans police department in late 1964. During his 33 years on the job, he rose from patrolman to major, received degrees in law and criminology from Loyola University and taught pre-law and criminology part time at Holy Cross College, Loyola and Tulane University. Even before retiring from the department in 1997 as head of internal affairs and later executive officer to the deputy superintendent of field operations, Reeves had decided teaching and practicing law were not for him.
"I knew I didn't want to turn criminals loose," he says. "I could practice family law. It was profitable but I couldn't live the rest of my life being miserable."
He then turned to a hobby he had stumbled upon in the late 1970s.
"Once I rose in the ranks, the politics got worse and I stopped enjoying being on the police department," Reeves says. "I needed something to relieve the stress and pressure."
Reeves found that relief while attending an exhibition sponsored by the Louisiana Wildfowl Carvers and Collectors Guild. His words called to mind the thoughts of writer Eugene Stiles in "A Small Book of Angels":
"As with angels, some birds are symbols of uplift and peace."
Reeves joined the guild and the following year he won a novice best of show award for his carving of a green-winged teal duck. He started out carving with a simple jackknife until his wife, Kathleen, gave him a set of professional carving tools.
"I said this is easy, but it wasn't," he says. "It takes perseverance to carve well. You need lots of study, other carvers' advice, and keeping at it. I found that it was not only fun but you can make money at it."
With his $500 novice prize money in hand, Reeves went on to develop his natural skills by taking classes, attending meetings, buying books on the subject, and studying the works of other carvers. His birds now fetch anywhere from $1,000 for a miniature carving to $20,000 depending upon size and complexity.
With so many shows and titles under his belt, Reeves now receives commissions from customers all across the nation. His work has appeared in numerous national carving publications and collections. Before setting blade to wood, he thoroughly studies every aspect of the bird, examining photographs, searching through books, the internet and museums to find paintings of birds especially those that are extinct. John James Audubon's critically acclaimed mid-19th century Birds of America series has been an invaluable resource.
Those resources recently came in handy when Reeves received a commission to carve the long-extinct Carolina parakeet. Not only did he find an example of the parakeet among Audubon's paintings but he also found a mounted specimen of the bird in a museum during his online research. From those two places, he was able to determine the bird's coloring and dimensions. The last known Carolina parakeet, once prevalent across the Midwest and Eastern United States, died in 1918 at the Cincinnati Zoo. After completing his research on a bird, Reeves draws a rough pattern on paper, which he then transfers to a block of wood. Not all wood is suitable, he says. Carvers prefer tupelo gum for its fine grain and lack of knots. Earlier in his career Reeves ventured out into the local swamps in his pirogue to cut his own gum trees, but now he purchases what he needs, because it's easier and safer. Once considered a "trash" tree of little value, Reeves now pays up to $700 for a single block.
Though most carvers concentrate on one project from beginning to end, Reeves moves from one to another, often carving five or six hours each day. He finds this process helpful. When he returns to a carving that he has put aside for a few days or weeks, he can often detect flaws that he had missed and can now correct. His studio is filled with carvings in various stages, waiting for the next stroke of a blade or sweep of a paintbrush. It is a process that requires a good bit of concentration and time.
"I would be doing this even if I didn't make money at it, " he says. "Next to playing with my grandchildren, I enjoy this the most."
He is also active in the carvers' guild, having served seven terms as president. Each year the organization sponsors a festival to showcase new work by its members and to auction donated carvings which raise money for wetlands restoration and wildlife rehabilitation projects and for participating Boy Scout and Girl Scout troops. The guild is also anxious to get elementary, middle and high schools involved in the festival. It sponsors a painting contest for the students and donates money to their school art programs. The challenge, Reeves explains, is to recruit new members and to get younger generations interested in the craft.
This was especially true after losing so many members in the wake of Hurricane Katrina in 2005. Like Reeves, who lost his house in Chalmette to flood waters, many suffered severe property damage and moved away while others remained to rebuild. So far, the guild has done well. It is now almost back up to pre-Katrina levels with 300 active members.
"We hope to keep it going," says Reeves. "It's one of the true American art forms, but it is a dying art."
For more information about the Louisiana 2016 Wildfowl Carvers and Collectors Guild's Festival, Oct. 1 and 2 at the Castine Center in Mandeville's Pelican Park, visit LWCCG.com.

---