River Spirits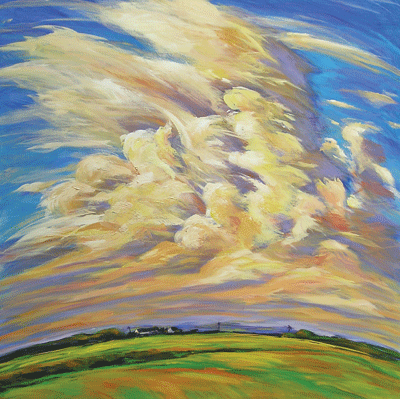 The ancients believed that spirits inhabited all that exists, the land, sky and rivers. Donaldsonville artist Steven Schneider has found his spirit and art in the land and in the natural and human detritus that drifts up along the banks of the Mississippi River.
With his brushes, paints and canvases, Schneider drives along the back roads in his pickup truck, looking for nothing specific but at the same time looking at everything until that right moment when the sunlight and land touch his imagination. Other times, he and his wife, Cynthia, who also paints, walk along the levee and the batture that back up to their spacious studio and home just north of downtown Donaldsonville. There he feels the air and river as it runs its course. Along the way, he finds odd-shaped driftwood, old machinery that someone has dumped over the levee or other objects that he drags home to give new life. Back in his studio, each piece of driftwood, each machine part, glass bottle, jute rope, spun wire and scrap of wood stands anxiously in place like actors at a Broadway casting call, awaiting its chance to play a role in Schneider's compositions, the river spirits.
In an artist statement, Schneider says he is "inspired by the natural world and relies on it as a dominate subject." He describes his creative process as a "trinity of mind, body and soul. Mind involves perceiving the perfect balance and harmony of the color notes as they exist in nature. Body connects with 'In The Moment Painting,' compressing time and experience into tangible expression. Soul presents itself in the healing spiritual energy of familiar land shapes." Schneider often talks of art in terms of music, such as in use of the term "color notes." In addition to his painting, he plays guitar and mandolin professionally in a bluegrass and folk band and writes music.
Schneider has been on a self-discovery journey from his childhood home in Lake Charles to his life now in Donaldsonville. He lived in Lafayette in the mid-1970s while attending the University of Louisiana at Lafayette, or ULL, where he majored in pre-med and minored in fine art. He has drawn for as far back as he can remember.
After a brief stint at ULL, he returned to Lake Charles to attend McNeese State University, where he studied art.
Then he went back to ULL in 1980, where he got a degree in zoology and minored in fine art. In 1996, after a career in advertising and graphic art, he became a full-time artist. About the same time, he met and married Cynthia Font of Baton Rouge, who was active in the Lafayette area art scene. In addition to chairing the annual fundraiser Palettes and Paté in Lafayette, she opened Café des Amis in Breaux Bridge and later the Grapevine Café & Gallery in Donaldsonville. Both places devote considerable floor and wall space to the work of Louisiana artists, including Schneider.
To Schneider, art and nature are experiences. He travels the countryside within a 30-mile radius of Donaldsonville in his truck with his portable easel and acrylic paints. Some days he simply drives around and doesn't paint. When he does find that right scene and light, he stops his truck, sets up his easel and paints as fast as he can to capture the moment and light. "I'm attracted to rows and old farm buildings," he explains. "I used to paint scenes with no evidence of people. Now I incorporate civilization with rows of crops and buildings. Rows are appealing to an artist. They give the perception of special depth and repetition. They orchestrate how an eye will move across the painting. Sometimes I will paint in a red building to bring the eye back."
His brush strokes are loose and impressionistic, and his palette is as bright and intense as a summer day along the river. "I love the lushness of the landscape," he says. "When you are out painting in the middle of the day in the middle of July when it's 90-plus degrees, you can feel the color. It's so intense. It's exhilarating. You feel the scene, you experience it, and you're connected to nature and the creation of the whole situation. You have to 'zen' your mind to work on a painting. If not, do something else. People say I use bright colors, but paint for the most part is opaque. I try to capture the essence of what I see and the healing force of nature. You learn to look into it and make color more pronounced and use the energy of complementary colors. Van Gogh was my favorite painter of all time."
Some days he will complete two paintings, or studies, which are often the bases for larger paintings back in the studio.
Schneider prefers plein-air painting – that is, painting outdoors. "I have to be out there and involved in the process to get a more authentic painting," he says. "In studio work, you're limited by your surroundings. Outside you have unlimited resources for color variations and experiences. Outside has an unlimited amount of information I can tap into. Light might change in two hours. You have to interpret it right then. You can't go back the next day."
Like many artists, Schneider once painted from photographs taken on location and then brought back to the studio.
But photographs are limiting, he says. "The camera has already interpreted the image for you, whereas painting outdoors, your eyes can see colors, like luminous shadows that you can't get in photographs," he says. "I like to capture the authentic image, and that can only be done by painting out there."
Schneider's 3-D "river spirits," or "sculptural icons," made from objects he finds along the river batture, are inspired by the same source as his paintings – nature. He usually begins with a dominant piece that he has found. "I study it until the starting point is revealed," he wrote in an artist statement for his River Spirit series. "Then I work with different configurations as elements are added or subtracted. A piece is completed when nothing that is added or subtracted enhances the message. The message of each piece has a common bond, the Mississippi River, but is revealed in its own unique way and left to interpretation of the viewer." Schneider says he tries "different things until they satisfy something inside of me. I learned about myself doing these things. There are unlimited resources along the river."
Unlike his paintings, which are realistic, his assemblages are completely abstract. So are the cryptic names he gives them. They sound familiar but are not real words. He named one large piece Totone, which sounds very much like "totem." The idea is not to give viewers preconceived notions of what the object is saying.
Glancing around his studio with paintings stacked along one wall, four guitar cases standing side by side in a rack and piles of found objects awaiting new life, Schneider reflects upon his life and art. "Art can be a lifelong pursuit and passion, and I love that," he says. "That's what got me into being an artist my whole life."