Roadside Dining: River Life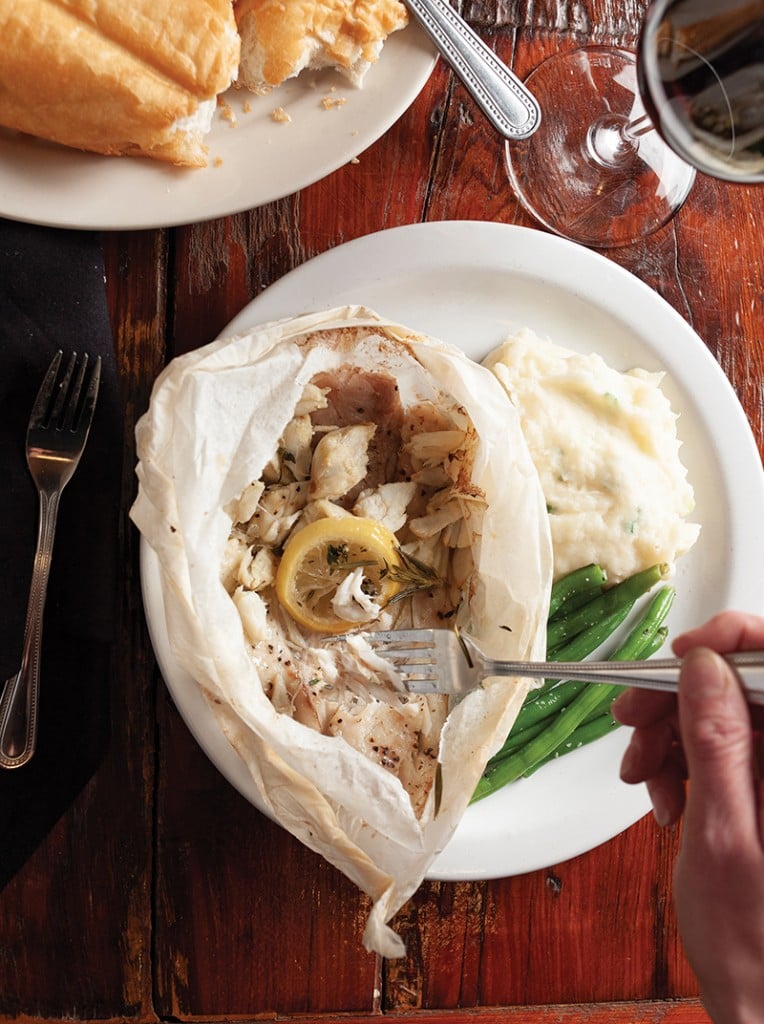 Several factors make Roberto's River Road Restaurant in Sunshine memorable. For starters, the location — it is nearly impossible to find to the extent that it can start to feel like a prank as you drive and drive, seemingly going nowhere. Next, the appearance of the former 1950s general store, when it finally sprouts up facing the levee in the gravel parking lot when you find it, pretty much screams "dump" from the outside. But, the telltale line outside of the door prior to opening for lunch and dinner is a giveaway. Roberto's is located 10 miles or so south of Baton Rouge on the Mississippi River levee in a clapboard building erected in 1850. It clearly once bore a coat of white paint. Roberto's changes the game just as soon as you open the door however, into a warm, rustic, inviting interior. There's an echo through the cavernous space as you walk across the old wooden floors. Numerous salvaged mirrors of no discernible lineage and rustic signage lend a casual, shabby-chic charm.
The restaurant is generally packed with regulars who come again and again for fresh takes on Cajun-inspired dishes. The usual steaks and fried seafood are here for sure, but skip them unless you become a regular — and you just might.
Try instead the namesake Shrimp Roberto with three large specimens stuffed with seafood dressing, wrapped in bacon, fried, and served atop a pool of silky beurre blanc and finished with lemony hollandaise. The Roasted Duck St. Gabriel features half of a waterfowl glazed with a currant and blueberry demi-glace reduction, served with creamy potatoes. The River Road Shrimp packs just the right bite of spice with large Gulf shrimp sautéed in a brandy butter sauce seasoned with plenty of trinity and served over linguine.
The fresh Gulf catch of the day is served en papillote — wrapped in parchment paper and baked with fresh herbs, lemon and white wine and topped with hunks of jumbo lump crab meat. Finish the meal with the Malted Chocolate Caramel Pie or the Peppermint Mocha Crème Brûlée that gives way to a silken interior when you crack the sugary crust with the back of your spoon, and you'll never forget it.
Mary and Roberto Sandoval started their careers together, at the nearby Mike Anderson's, before moving on to join the opening team at Juban's, where, Mary said, Roberto — a native of Guatemala City — really found his groove in the kitchen. He put it all to good use as one of the original owners of Mansur's.
In 2001, several restaurant gigs later, the couple rented the old J.J. LaPlace Store on River Road in Iberville Parish. The intention was to complete a catering job after having lost their existing building in downtown Baton Rouge after the state suddenly commandeered it for a downtown redevelopment project. The Old J.J. LaPlace store had served as a commissary and post office, before LaPlace was robbed, shot and killed in 1990, while managing his general store. The Sandovals had no intention of remaining in the rather dubious River Road building.
Despite the building's unsavory past, the Sandovals quickly realized the strength of the petroleum industry in the area and the almost built-in clientele that came with the River Road location. They opened for lunch and dinner, with Roberto in the kitchen executing riffs on the Creole and Cajun cuisines he had mastered at Juban's and Mansur's.
Today, the kitchen is headed up by Chef Hays Kahoa, who also serves as a partner in the business.
---
Roberto's River Road Restaurant
1985 La. 75, Sunshine / 225-642-5999 / robertosrestaurant.net
→

NOTE: Though the address says Sunshine, Roberto's is actually located in St. Gabriel on River Road (Highway 75) about 3 miles south of Gardere Lane and 1/4 mile north of Bayou Paul Lane.
---
BATON ROUGE
Seasonal ramen rolled out at Jinya
The wildly popular, Jinya (10000 Perkins Rowe #160, 225-256-4004 / jinya-ramenbar.com), a chic Japanese ramen bar, has unveiled a new bowl of goodness just in time for spring. Kara-Men is a spicy chicken based ramen bowl with cilantro, bean sprouts, pork soborro (ground pork), yellow and green onions topped with Osen tamago (a specially prepared egg), chili powder and sesame seeds. Yum.
MONROE
Himalayan Cafe cures Napalese cravings
Are you seeking authentic Napali cuisine? The recently opened Himalayan Cafe (3600 Desiard St., 318-600-3439) is enjoying enthusiastic reviews. Check out the chicken Biryani and Kothey momo.
NEW ORLEANS
Antoine's Anniversary
Antoine's Restaurant (713 St. Louis St., 504-581-4422 / antoines.com), the oldest family-owned eatery in America, is celebrating 180 years in business with special events, menus and celebrations.
---