Roadside Dining: Touch of Brass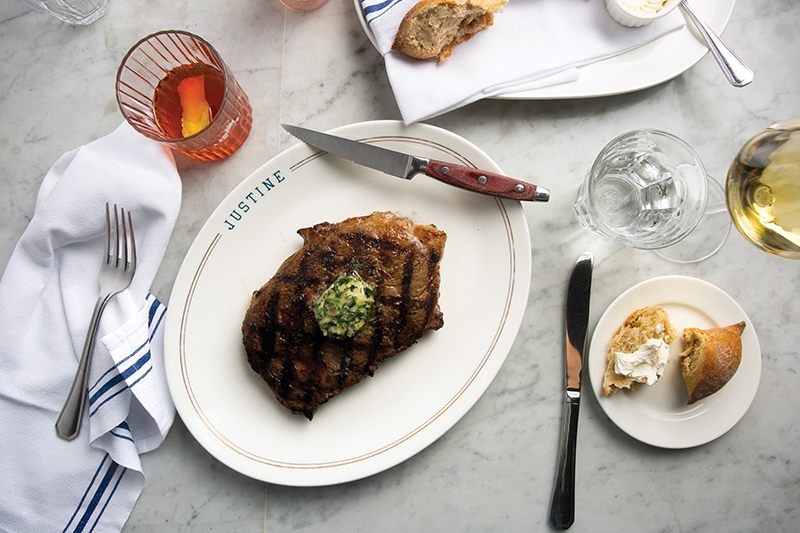 Justine, the sprawling 200-seat French Quarter restaurant is the third from spouses Mia Freiberger-Devillier and James Beard Award -winning Chef Justin Devillier, following the quietly elegant La Petite Grocery on Magazine Street and the now-shuttered downtown gastro pub, Balise.
This bright bird of a space pushes a welcome sensory overload from its hot pink cursive neon outdoor signage straight through to the last bite of Gâteau Basque.
To enter here is to leave a dull world behind: This is a glorious, screaming shout out to the gods of Maximalisim. Yes.
With Justine the Devilliers, quite literally, put brass in the brasserie. Considered garish and, therefore unpopular in the not-so-distant past, the warm-hued gleaming metal is on bold display from the caps on the feet of the barstools to the tops of the structural support pillars, which are encased in wild brass luminaries made by E. Kraemer Metal & Woodwork expressly for the project, which was overseen by the local interior design firm Farouki Farouki. Smoked glass mirrors, plush banquette seating, loads of shiny finishes from the tiles to the gloss paint lend a sexy air that could entice even the most restrained to consider getting loaded on Champagne then make out in the bar.
The light and bright Café Room opens to the Chartres Street sidewalk. The Bar Room is, suitably, moodily lit. The Kitchen Room includes large communal tables and a few private round booths. The Devilliers made numerous trips to France as they collected antique pieces for Justine including a hand-painted, pressed tin marquee, which once hung above a meat counter inside a Parisian butcher shop and now hangs above the open kitchen.
Successfully commanding center stage within this brilliant, action-packed melee is a two-sided mural by Ellen Macomber, a New Orleans artist with an international following who is known for anything but understatement and restraint. The spectacular work of art flows as the Mississippi in brilliant hues through the history of the city from its original Native American inhabitants to the present, poring through slavery, the Civil War, and the Saints' winning of the Superbowl along the way.
It has long been notably disappointing that, save for small handful, for a city with a French foundation New Orleans is curiously lacking in places serving classic French food. Justine strikes aggressively at this oddity. Pink tiles frame an open kitchen, where Chef de Cuisine Erin Hollas commands a platoon of cooks who turn out those crave-worthy classics: filet au poivre (peppercorn crusted filet mignon with cognac pan sauce); steak tartare; rich and savory duck confit; a towering seafood plateau; luscious French onion soup with a cap of melted Gruyere cheese; billowing piles of fully ripe raclette scraped atop thinly shaved ham; and a sandwich of duck fat fried chicken paillards, frisée salad, lemon, and remoulade are served on brioche with a side of pommes frites.
Classic New Orleans options on the menu include Gulf fish laced with a deep brown butter and toasted almond Meunière; and a new rendition of the justifiably famous LPG burger. This one features a thick, peppercorn-crusted beef patty melted over with pungent Emmental cheese on house-made brioche. Causgrove gilds the lily, serving a dish of obscenely delicious cognac cream jus on the side into which one should dip their already decadent sandwich.
Just be prepared to pay: That seafood plateau, which is meant for sharing with one or two others will cost you $165. A 40-ounce cote de boeuf, also meant to serve two or three, goes for for $135.
As for making out at the bar? Save that for the Real Deal. Justine is no cheap date.
---
On The Side
To undertake an exploration of Louisiana is to undertake an exploration of different regions that vary wildly in their personalities and customs based on settlement patterns established centuries ago. No matter your mood or interest there is something somewhere in this state to satisfy your curiosity and your appetite.
STATEWIDE
Crawfish Season
Crawfish season varies based on a cold or mild winter. It also depends on the amount of rain but generally, wild crawfish season in Louisiana runs from mid-January through early-July with the peak months being March, April and May.
NEW ORLEANS
New Orleans Wine & Food Experience (NOWFE) to Honor Chef John Folse
The 2020 Ella Brennan Lifetime Achievement in Hospitality Award will be presented Chef John Folse "Louisiana's Culinary Ambassador to the World," at a gala celebration on Jan. 29 at Ritz-Carlton, New Orleans. nowfe.com.
ARNAUDVILLE
Free Festival Every Saturday at Bayou Teche Brewing
Every Saturday in January and February from 3-6 p.m. get the best of the best at Bayou Teche Brewing in Arnaudville with crisp, refreshing craft beer, Louisiana food trucks, and live music. bayoutechebrewing.com
SHREVEPORT
A Host of New Restaurants
Chef Anthony and Amanda Felan opened Fat Calf Brasserie, Chef Gabriel and Brooke Balderas opened Zuzul Coastal Cuisine, Chef Boz Baucum will opened Ralph's Place, Chef David and Stephanie Bridges opened Sauvage, and Chef Jessica Comegys opened Glow Alchemy Kitchen. The host of new restaurants are scattered all over town in Highland, Fern Marketplace, and South Shreveport.
KENNER
Restaurant Honored by the Southern Foodways Alliance
The esteemed organization has recognized Felton Hurst of Hurst Family Restaurant in Kenner with its 2019 Ruth Fertel Keeper of the Flame Award. The award honors an unsung hero or heroine, a foodways tradition bearer of note, and pays homage to their work through a documentary film. The restaurant began as a barroom in 1940.
---