Roux the Day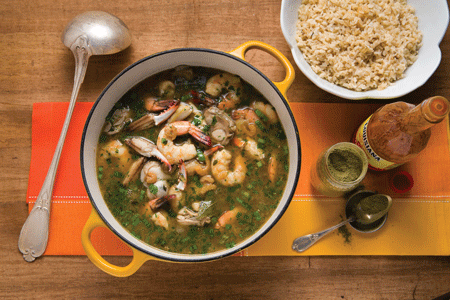 Dec. 16, 1803, only days before Louisiana was transferred to the United States, Pierre Clément de Laussat, the French colonial prefect and commissioner for Louisiana, hosted a New Orleans ball that was attended by hundreds of partygoers. The festivities, which included entertainment, dancing, high-stakes gambling and an elaborate buffet, lasted until 8 the following morning.
"As a local touch, 24 gumbos were served, six or eight of which were sea turtle," Laussat noted matter-of-factly in his memoirs.
Twenty-four gumbos! Oh, how we wish he had gone into more detail about those gumbos. Elsewhere in his memoirs, he noted that Havana supplied the city with sea turtles; mentioned an abundance of soft-shell turtles from the Mississippi; and discussed the joys of freshwater fish, crawfish and seafood. He wrote about hunting parties that lasted a week or more, where "they eat plenty of game, oysters and fish." In mid-November, he observed, "People were already beginning to eat nothing else but snipe, teal and all kinds of duck, etc."
Surely there was wild game in some of the gumbos, and seafood undoubtedly was an important ingredient, but we can only imagine the details of their compositions, the supporting ingredients and the methods of preparation. How many incorporated okra or roux or filé, how were they seasoned, what combinations of ingredients were used, were they served with rice? Barring the discovery of another firsthand account of that evening's festivities, we will never know the answers to any of those questions.
However, we do know from the writings of C. C. Robin, a Frenchman who traveled in Louisiana from 1803 to 1805, that the gumbos he ate were served not with rice but with cornmeal mush.
For his part, Laussat thought the local food was very spicy. "What highly seasoned food!" he wrote. "But especially how much pepper! Real fire, this food of Louisiana!"
The complexity of the gumbo universe, whether we're talking about 200 years ago or today, never ceases to amaze me. Recently, I have been reading a series of remarkable interviews about gumbo that are available online at the Web site southerngumbotrail.com, a project of the nonprofit Southern Foodways Alliance, with financial support from TABASCO. (The SFA, if you're not familiar with the organization, is devoted to studying, documenting and celebrating the diverse food cultures of the American South, and membership is open to any interested person or
company.)The gumbo interviews (or oral histories, as they're called) include professional chefs, restaurateurs, home cooks, sausage-makers, an artisan filé producer, a folklorist at the University of Louisiana at Lafayette who has an encyclopedic knowledge of gumbo's geographic permutations, a rice farmer and miller, and others who have a close connection to gumbo. If you didn't know it already, after reading these interviews, you will realize just how diverse are the styles of Louisiana gumbo.
As you might imagine, there is a great deal of local chauvinism when it comes to gumbo, and that localism is much more specific than some generalized differences between New Orleans gumbo and gumbo from the outlying provinces. Even within the city or within extended families in the same small town, gumbos vary greatly. Speaking of growing up in New Orleans, Armand Olivier III said, "Every family had a different style of gumbo." In Larose, Diane Uzee acknowledged: "The biggest fights we ever have [are] how to cook anything — mainly gumbo. Because her sister makes it one way, and she makes it another way, and he makes it another way, and it's like, 'Well, I can come if I can bring my gumbo, but I don't want your gumbo.'"
For those who cook, the interviews highlight some interesting practices. A number of chefs, it turns out, make their rouxs in the oven, a method that doesn't require standing over the stove and stirring constantly. Several chefs also roast or fry okra before adding it to their gumbos to prevent it from becoming slimy. Despite the widespread belief that okra and filé shouldn't be used together, one chef makes her gumbo with roux, okra and filé.
After reading these interviews, it is impossible to maintain that only certain combinations of ingredients are permissible. Shrimp, crabs, oysters, poultry, fresh sausage, smoked sausage, andouille and ham are used in all manner of combinations by different cooks who often disagree vehemently about what is acceptable. In Lake Charles, Scott Landry recalls that "back in the day when they had the cockfights, they used to take the losers, and they became gumbo."
A few of the interview subjects are unkind toward any gumbo that doesn't fit their own preconceived notions, but others take a more tolerant view and are accepting of styles other than the ones they grew up eating. Some are hidebound traditionalists; others are open to innovation.
Sometimes gumbo preferences cross the line from localism to parochialism. A story I've heard in this regard involves a worker on an offshore oil platform who held very strong opinions about what constituted a proper gumbo. He mercilessly criticized the gumbos of each cook who worked a hitch on the platform. Then a new cook made a gumbo that received raves from everyone. His coworkers thought that this time the critic would be silenced; perhaps he would even praise the gumbo. Finally, the man rendered his verdict: "I don't like the way the cook cut the sausage," he said.
The last word on that subject belongs to Armand Olivier Jr. of New Orleans, who told the interviewer: "If it tastes good, it's good gumbo. I don't care what you put in it or whose recipe it was or nothing and what don't go in gumbo and what does go in gumbo. They're going to be arguing over that when I'm dead. So my criteria is if it tastes good, it's good gumbo."
Seafood Gumbo
If you can't find heads-on shrimp, use 2 pounds of shrimp in the shell and replace the water with additional chicken broth or stock.
4 pounds heads-on medium shrimp
4 cups chicken broth or stock
6 cups water
2 tablespoons olive or vegetable oil
1 large onion, diced
1 stalk celery, diced
4 cloves garlic, minced
1/2 cup dark roux
1 cup dried shrimp
2 bay leaves
1 teaspoon thyme leaves
Salt and freshly ground black pepper to taste
Cayenne and hot sauce to taste
1 pound claw crabmeat
1 pound lump crabmeat
24 shucked oysters (with their liquor, if possible)
1/4 cup chopped parsley
1/4 cup chopped green onion tops
Steamed rice
Filé
Shell and head shrimp. Place heads and shells in a pot, add chicken broth or stock and water, bring to a boil, and simmer for 20 minutes. Meanwhile, in a large pot, cook onion, celery and garlic in oil until
softened, about 10 minutes. Add roux, and stir to combine.
Strain shrimp stock, pressing with the back of a large spoon to extract the liquid. Slowly add strained stock to the vegetable-roux mixture, while stirring, to combine. Add the dried shrimp, bay leaves and thyme, bring to a
boil, reduce the heat, and simmer for about an hour.
Skim the surface of the gumbo. Add the fresh shrimp, and cook for about 10 minutes. Season to taste with salt, peppers and hot sauce. Add crabmeat and oysters, and cook until crabmeat is heated through and oysters begin to curl. Adjust seasonings. Add parsley and onion tops. Serve with steamed rice, and provide filé and hot sauce at the table for each guest to add as desired.
Serves 6-8.