Sale on the Trail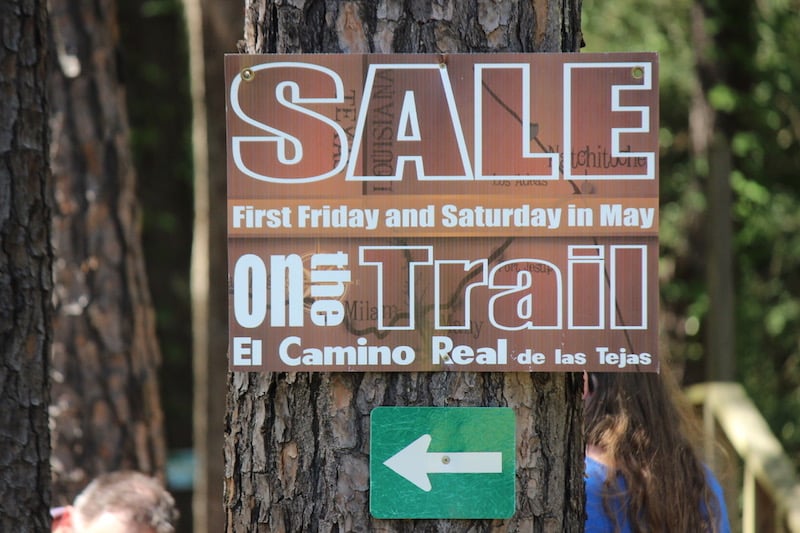 If you love a treasure hunt, be it a garage sale, estate sale or searching through thrift and antique shops, you'll not want to miss the 11th annual El Camino Real Sale on the Trail. This highway-long shopping extravaganza May 3-4, features new and used items for sale by local businesses and individuals through two states and six cities, half of which are located inside Louisiana.
If you start at Natchitoches, the Sale on the Trail travels west along the old Spanish trail, known as El Camino Real de Los Tejas. Today, it's called Louisiana Hwy. 6 and it rolls through Robeline, Many and into the Toledo Bend area before crossing into Texas on to Texas Highway 21 and hitting the towns of Milam, San Augustine and Nacogdoches, the Sale on the Trail's finish line.
Visitors will find all kinds of treasures from personal garage and sidewalk sales and markets, plus enjoy live entertainment and food. There's literally something for everyone.
There's plenty of accommodations in Natchitoches, in addition to wonderful restaurants and shopping. At the Interstate 49 exit at Natchitoches, visitors may choose from several hotel chains, including Hampton Inn and Comfort Suites, both of which I have visited and found comfortable, convenient and staffed with welcoming personnel. In town, there are numerous bed and breakfasts, plus 87 guestrooms at the Chateau Saint Denis Hotel, named for Natchitoches' founder, Louis Juchereau de St. Denis.
At Toledo Bend, visitors may stay at the Cypress Bend Golf and Conference Center, two Toledo Bend state parks, RV parks and campgrounds or in private rentals.
For more information on the Sale on the Trail and area tourism, visit toledobendlakecountry.com and natchitoches.com. For up-to-date information on the sale, visit its Facebook page at facebook.com/SaleontheTrail.