Sally Heller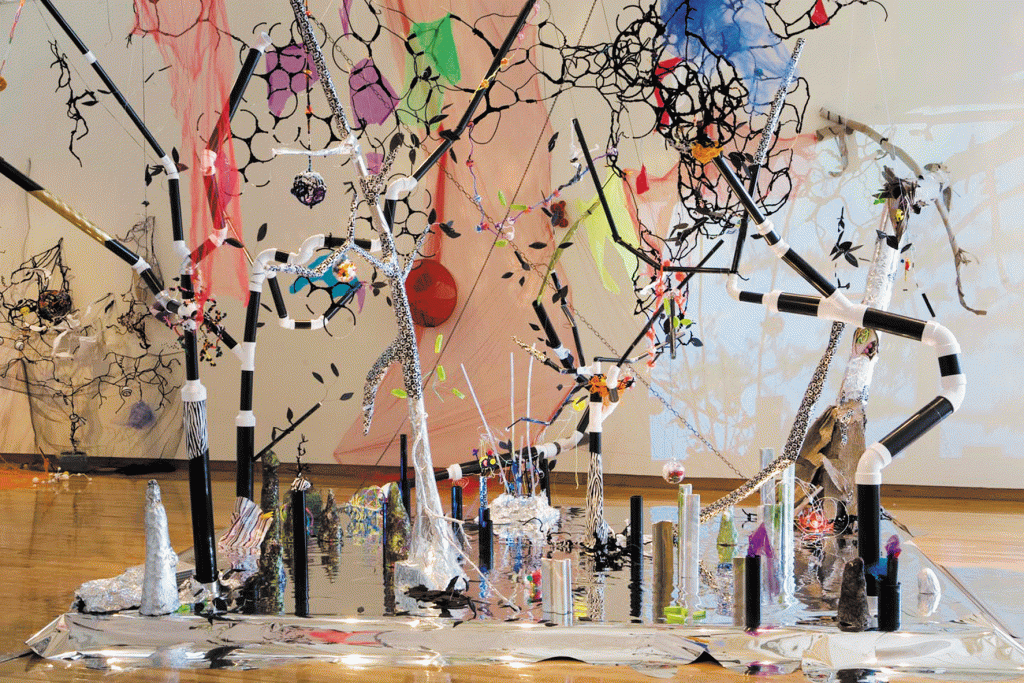 Sally Heller's multimedia installations are visual journeys that take the imagination through the looking glass into a fantasy and theatrical swampland of shimmering silver mylar, wrapping paper, webbed pipe cleaners, plastic plates, chicken wire mesh and whiffle balls. They entertain, but more important, they make one think about the absurdities of modern society and pop culture. The ancients built stone cathedrals for immortality; today's world makes plastic webbed six-pack holders that will outlast the work of even the greatest stonecutter.


With all the hallucinatory glitz and color of a New Orleans Mardi Gras night parade, Heller uses improbable ordinary household and construction materials and the detritus of modern society to create an illusionary sense of beauty, transcendence and fragility that threatens the real and natural world. Heller's room-size swampland installation,
Up-Rooted, is the artist's statement about the delicate balance between consumerism and a vulnerable environment. A setting seemingly so fragile –– nature and this installation –– is made up of materials –– petrochemical and other non-biodegradable objects –– that are permanent. Trees are twisted skeletons of ordinary chicken wire wrapped with sheets of silvery insulation plastic and green tulle and connected by intricate webs made of wire and pipe cleaners. Other illusionary organic elements are simply whiffle balls, plastic picnic plate holders and plastic tape.
In other words, these are ordinary things that she purchases at the dollar store, Home Depot or a local garage sale. Permeating the fantasy swamp are recorded sounds and video elements from nature that give the installation the full sensory context it needs to work. Referring to Heller's art, a writer once described Heller as a "visual alchemist and cultural anthropologist."


In a one-artist show earlier this year at Gallery Bienvenu in the New Orleans Arts District, Heller included four large digitally printed photographs of elements contained within an earlier installation work titled Calamitrees, one that she had mounted in 2005 at Montserrat College of Art in Massachusetts after fleeing New Orleans ahead of Hurricane Katrina. They later appeared in New York in the window of Lord & Taylor department store in a group show with other Louisiana artists. Composed of the same materials as Up-Rooted, Calamitrees symbolized the violence, destruction and disorganization caused by the storm and flooded city. Because these four photographs –– Calamitrees Series Nos. 1, 3, 5 and 7 –– isolate and often distort elements within the larger installation, they give the illusion of even greater disorder to the natural landscape and city. Up-Rooted and photographs from Calamitrees are alarming reminders that beauty can be found even in destruction.
Heller, a New Orleans native who studied art at the University of Wisconsin in Madison and has shown her work in galleries from New Orleans to New York and California, uses ordinary materials as a painter would a palette. Commercial objects in their various colors are her paints. Her snippers, pliers and scissors are her brushes. Reflecting upon why she uses these ordinary materials, she says she wants to see if she "can make something beautiful out of something trite."
She adds: "The cheaper it is, the more I'm interested in it. I love the cheap manufactured goods that identify with our economy. What interests me is what people make that is affordable and what they think people want. The colors –– who are they trying to reach? Taking these goods and using them as organic parts of a landscape is an interesting flip-flop. There's nothing organic in anything I use. I'm putting these materials together that are taken for granted. I've always had an irreverent side."
Like all art students, Heller did study painting, but she prefers the openness and freedom of her installation work that knows no boundaries or lack of materials. "People have looked at paintings throughout history," she says, "and I don't feel that I have anything to add to that. It's too restrictive to me to work within borders. I prefer materials with no restraints."
She does, however, describe her installations in terms of more traditional art: "It's like making a giant painting but only in three dimensions. My installations look very two dimensional, but they are not, and that's probably because of my training as a painter."
Over the years Heller has searched for expression through her art. For years, she used these ordinary materials to make amorphous forms and shapes with no recognizable imagery. Then in 2004 while doing a show for the New Orleans Contemporary Arts Center, she purchased a large box filled with yellow bottle caps. "I was fooling around with them, and as I attached other bottle caps to them, it became a tree," she says, recalling the evolution of her work from pure abstraction to the swamps of south Louisiana. "I then began to notice trees around me. I drove down Carrollton Avenue in New Orleans and saw these young trees braced with wires to help them grow straight. They looked crippled to me. It was poignant. Here's man trying to regulate the growth of a tree. They took on a demeanor of a sad person not allowed to grow like they wanted to grow. I started using that as a means to express my art."
From there, she realized how trees, especially in a swamp setting, filled space on gallery floors. "They were like stage sets where everything is related to each other and part of each other," she says. "I began to think differently. My work then became one giant installation rather than individual pieces like my earlier work where I tried to absorb the entire space. I set the stage by covering the floor with reflecting mylar, which is like water reflecting all these colors from above. Creating swamps solved space issues for me. And the swamps are my natural environment."


But more important than simply filling space efficiently, Heller found a way to create a conversation with her viewers through her fantasy swamps. Building unrecognizable objects with ordinary, everyday materials made its point, but actually creating a landscape, such as a swamp, revs up the discussion to more intense levels. It is as though she is saying: We are creating all of this non-biodegradablecolorful stuff that will last forever, and it is choking our environment. "They are metaphors for the world we live in and the constant mass production of commercial goods," she says. "These trees show new growth and the ever-present clutter we consume. The idea of using nature as a format is opportunistic because I can take it anywhere I want to go with it. The options are endless. Nature itself is endless and infinite. The way I position the trees and branches can create melodrama."
Last year, when Heller was creating Up-Rooted for her show at Gallery Bienvenu, she explored the swamps at Lafitte National Park across the Mississippi River from New Orleans. With camera in hand, she captured scores of images to take back to her studio. "It was so moving the way the water mirrors the surrounding growth," she says. "It seems to duplicate it and the mystery of the knobby cypress knees coming out of the water and the mystery of what's under the water. The density of the interwoven vines captivated me. I saw the entanglement and unpredictability of the tree branches. It was visually beautiful."
Heller works to create a tension among all of these elements. "The success of the work," she says, "depends upon the amount of tension in the piece and the contradictions between the material and open spaces, between the weight of objects and the ephemerality of the materials and between transparency and opaqueness. I see that in the swamps."
Heller is represented in New Orleans by Gallery Bienvenu and in Atlanta by Whitespace. Her new installation, Bloom and Doom, appeared this spring at Miami University of Ohio, and she is now planning three installations for display in September in three windows at New York's Bergdorf Goodman department store.