Shell Game
An oyster reef restoration program provides storm protection, rebuilds marine habitats, generally improves the ecosystem and restores hope for future generations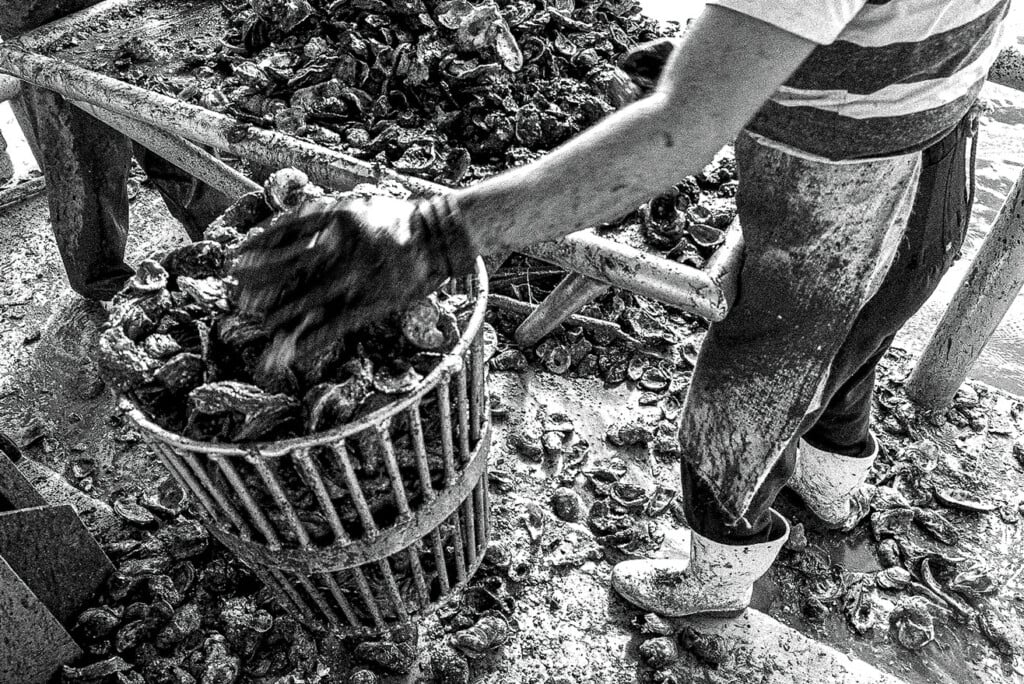 On LA Highway 46 in Violet, headed south to the Coalition to Restore Coastal Louisiana headquarters, a student seated at the back of the bus poses a question: "Is restoration important?" It's simple but not simplistic, a reminder that starting at the beginning often provides our best chance for meaningful conversation. And this conversation is urgent.
Across the aisle, Belle Chasse native Leslie Pickles leans forward. "My home is important," she says. Heads nod among the dozen others — families, couples and students — on today's tour, and for a moment, Pickles' answer lingers. It's pregnant with meaning: Home as four walls and a roof, yes, but also home as culture, home as the place where we attune ourselves to the cadence of life and where landscape forges our understanding of the world — home, where we listen, as Barry Lopez writes, "for the voice of memory over the land."
With the increasing frequency and intensity of tropical storms and hurricanes, it's understandable that many in Louisiana have adopted—or, in some cases, inherited — a fatalistic outlook that leads us to live in the moment. Curse storms. Praise Carnival. Each provides an annual reminder of life's precariousness and impermanence. To live in South Louisiana and understand what's happening to our coast means to maintain a firm grasp of both.
Take a moment to picture our state as it appears on maps. Follow the coast from west to east. Let your eyes linger over the bird foot delta until it unfurls, with a flourish, into the Gulf of Mexico. That's the Louisiana that we think we know. But today's satellite images reveal a landmass unlike the one you remember from maps in your grandparents' homes. What these images show, rather — and these words catch in the throat — is a far sicklier version than the one we hold close, in memory.
While knowledge of wetlands loss in Louisiana lurks at the back of our collective psyche, the numbers remain difficult to fathom. Consider the July 2017 report from the United States Geological Survey (USGS). For many naturalists, conservationists and scientists, the statement has become standard: Each hour, on average, a football field's worth of wetlands vanishes from Louisiana's coast. And that, noted the USGS, showed signs of improvement because it followed a "lack of major hurricanes" in the previous eight years. Since then, however, storms whose legacies will pass through generations like unwanted heirlooms, among them Harvey, Laura, Delta, Zeta and Ida, have battered our coast.
The National Oceanic and Atmospheric Administration reports that half of Louisiana's 4.6 million residents live in coastal areas. According to the Coalition to Restore Coastal Louisiana (CRCL), between 1932 and 2010, these areas lost an estimated 1,900 square miles of wetlands. That's an expanse — once there, now gone — approximately the size of Delaware. If we do nothing to stop this loss, CRCL research warns that Louisiana can potentially lose, in the next 50 years, another 700 square miles of wetlands, or a region nearly half the size of Rhode Island. That's almost twice the size of Dallas and more than two times the size of all five boroughs of New York City.
These wetlands, while significant habitats for fish and wildlife, also provide one of the state's last lines of defense against storm surges. This is one reason that Darrah Bach, Oyster Shell Recycling Program coordinator at CRCL, responds to that question on the bus — "Is restoration important?" — with an emphatic yes.
"We're the canary in the coalmine," says Bach. "Where a lot of places are planning for a future of sea level rise and other climatic forces that scientists are predicting to get worse, in a lot of ways Louisiana has been seeing those changes for almost a century." As the novelist William Gibson put it, "The future is already here — it's just not evenly distributed." Louisiana is ahead of the curve not only on this, however. As Bach says, "We're lucky because we've had ample time to find solutions."
CRCL research shows that when it comes to the protection of our energy infrastructure, transportation routes and communities, the natural barriers that wetlands provide are as important as floodgates, levees and other man-made structures. "That's one of the main tenets that we believe in," says Bach, "and that's why our restoration program is one of our flagship programs. When storms come in through the Gulf, anything that's in their way is going to break down their power. Oyster reefs and coastal forests are some of our first lines of defense. The more of them we have before storms reach where people are living, the better protected we are even before those storms reach levees and other man-made structures."
Founded in 1988, CRCL became Louisiana's first statewide nonprofit organization dedicated to coastal restoration. Its mission, along with Bach's infectious enthusiasm for restoration work as a tangible means to protect our coast, should rouse any Louisianian who thinks about home as a place where we carry the memories of those who came before us while making new ones for future generations: "CRCL envisions vibrant wetlands, with hurricane protection, bountiful ecosystems and economic opportunities across Louisiana's coast."
In 2000, CRCL started working with volunteers to plant marsh grasses. "This provided an education in the value of building strong natural barriers," Bach says. "It also showed people that it's not too late. You hear a lot of fearmongering about this land-loss crisis. But CRCL is evidence that there's really strong work being done to prevent land loss."
More recently, CRCL began pursuing ways for other industries to get involved in its restoration work. The organization considered two elements that comprise coastal ecosystems — flora and fauna — and sought support from restaurants. "We have a shell deficit," Bach says, noting that an estimated 50-80 percent of our natural oyster reef population has been lost. "More shells are being removed from the water than can either naturally regenerate or that are being put back." As CRCL Communications Director James Karst says, "That's where the oyster shell recycling program comes in."
In 2014, in partnership with restaurants, CRCL began its program that provides a straightforward opportunity for restaurants to engage in healthy, sustainable fisheries and for all of us to play a simple part in protecting Louisiana's coast.
Follow it like a tracking shot. Fade in as the sun rises over Adams Bay in Plaquemines Parish, where oyster farmers begin raking their beds. The crew fills canvas sacks. By lunchtime, those sacks pile high on the bow of the boat, continuing to grow throughout the afternoon until the captain steers for shore. There, the crew unloads sacks that eventually transfer to a truck that travels to one of the 25 New Orleans-area restaurants that have partnered with CRCL's Oyster Shell Recycling Program. Later, restaurant staff shuck and arrange those oysters on a platter for patrons to enjoy. Afterward, rather than throw the shells away, as the restaurant once would have done, a staff member empties them into a CRCL-provided bin. The next day or the day after (this happens three, and in some cases five, times a week) a contractor arrives at the restaurant to collect those bins and deliver the shells to CRCL restoration headquarters along the Violet Canal in St. Bernard Parish.
That's where our bus is headed. From Highway 46, we turn onto a dirt road that leads to a landscape that looks like Falstaff and Gargantua recently held an oyster banquet. CRCL, however, has found a way to remind us that eating oysters is anything but gluttonous. "This is part of our culture," says Gardner Goodall, Native Plants Program coordinator. "It's not something we eat for special occasions. We put oysters on sandwiches."
Behind Goodall rise several mounds of oyster shells. On top of each perches a wooden hand-painted sign that notes stages in the recycling process. The "cured" sign signifies that shells have been exposed to the elements for six months. "We don't want to introduce pathogens back into the waters," Bach explains, noting that vultures also help to clean shells of butter, garlic and other detritus.
Throughout the year, CRCL holds events that bring volunteers to these headquarters. While many volunteers live locally, others arrive from across the country, as do service groups and university classes with service work components. Once at headquarters, volunteers fill mesh bags with 30 pounds of cured shells. When 200 tons of shells have been bagged and stacked at the edge of the oyster field, they're transferred to what Bach calls "a staging location along a body of water in proximity to a current restoration project." She continues: "We'll then have events where volunteers load bags onto boats. They then board boats to the project site and can get out of the boat if they want to and stack bags along banks of a wetlands area." About that part of the process, Karst says, "It's almost like stacking LEGOs."
The shells currently bagged at CRCL headquarters will soon form the second reef of a project in conjunction with the Pointe-au-Chien Indian Tribe in Terrebonne Parish. Phase one began in the fall of 2022. Soon, volunteers will return to that location with more bags, which will form a reef that protects sacred mounds built by tribal ancestors.
Besides seeing firsthand how this work protects Louisiana's wetlands, CRCL also reaps other benefits from its oyster shell recycling program. "We've seen some of the area in between the bags of shell and the marsh filling in with mud," Bach says. "This is exactly what we want to witness with this type of work. Having the structure there breaks down waves. It also provides habitat for oysters and other marine creatures such as barnacles, shrimp and shore birds. Oysters also contribute to water filtration. This is one reason that oyster reefs are sometimes called ecosystem engineers. They provide a multitude of services to the area." Pausing for a moment, her voice rising with excitement, Bach says, "And that's amazing."
Less than half an hour's drive from New Orleans' French Quarter, CRCL's Violet headquarters opened in 2021 and offers logistical ease for the contractors who several times a week collect those oyster shell-filled bins from participating restaurants. This location also positions CRCL at — again, the words catch in the throat — one of many ground zeroes for storm surges and flooding in Louisiana. This area has already undergone a worst-case scenario. In his book "The Good Pirates of the Forgotten Bayous," Louisiana native Ken Wells writes about Hurricane Katrina's devastation: "The Crescent City was flooded, but St. Bernard was drowned. Saltwater rose 20 feet in some places, and 95 percent of all buildings experienced flooding, most of them catastrophically. It was a deluge of biblical proportions."
The sustained loss of our wetlands can mean the difference between having a home or being forced to leave it — in the worst case, forever. But Bach and others at CRCL remind us that we don't have to be fatalistic.
"Since it started, CRCL's program has put 12.7 million pounds of oyster shells back into Louisiana's waters," Bach says. In the two years since its Violet headquarters opened, the program has collected more than 2 million pounds of shells. Soon, volunteers will arrive to bag them. They will use those shells to build reefs. Those reefs will absorb the energy of future storms. They will help protect us.
This work reminds us that to create environmental change, we don't need to devote every minute of our lives to activism. As Karst says, "We can do something. We can volunteer. We can eat oysters."