Sing the River in Baton Rouge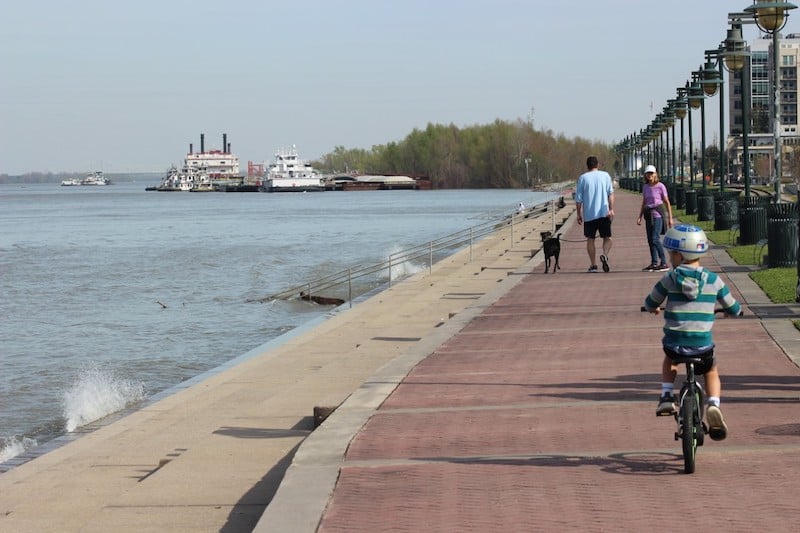 When I worked for The Advocate newspaper around the turn of the 21st century, I parked in an undeveloped lot overlooking the Mississippi River in downtown Baton Rouge. Many of my colleagues would park in the non-descript gravel spaces and head into work but a few of us who would pause and admire the river pouring two-thirds of the nation past our eyes. We couldn't help wondering why so little attention for given the nation's largest river and the third largest waterway in the world.
Back then, there was talk about developing the riverfront throughout downtown and enhancing what was already there, named the Riverfront Plaza by the USS Kidd war museum and memorial, the Baton Rouge River Center and the Louisiana Art & Science Museum.
Since my days at the newspaper, which moved to Siegen Lane and the original downtown building demolished for condos, the walking and bicycle path along the river now extends toward the Capitol and south towards LSU with places to pause and enjoy the river traffic. The levee contains steps so visitors can get up close to the mighty river and at one point view "Baton Rouge" printed out in large letters (if the river's not too high, that is).
If you're experiencing cabin fever and want to enjoy the spring weather without getting closer than six feet to another person, try a stroll along the river. There are several spots in downtown Baton Rouge where visitors can access the 4.31-mile biking and walking path, at the Riverfront Plaza, at the Florida Street entrance and at the South Boulevard Trailhead. Further south is an entrance at Skip Bertman Drive near the LSU campus and Tiger Stadium. The lighted path is wide enough for both types of visitors (not to mention being able to keep that six-foot social distance) and there are numerous places to sit and enjoy water fountains.
Walk, bike or just sit and admire the water majesty, but don't miss the new addition to the trail, the "Sing the River" art sculpture at the Florida Street entrance. The artwork of Po Shu Wang of California, commissioned by the Rotary Club of Baton Rouge for its 100th anniversary, connects to sensors in the river, emitting sounds connected to the movement of the river's waters. Visit during the day and light plays magic with the rings, sunlight streaming through spaces open to the environment. At night, the sculpture lights up, visible as far away as the Mississippi River Bridge.
More riverfront development is in the works, so stay tuned. For more information on the riverfront, along with maps of the trail, visit downtownbatonrouge.org.