Sound Design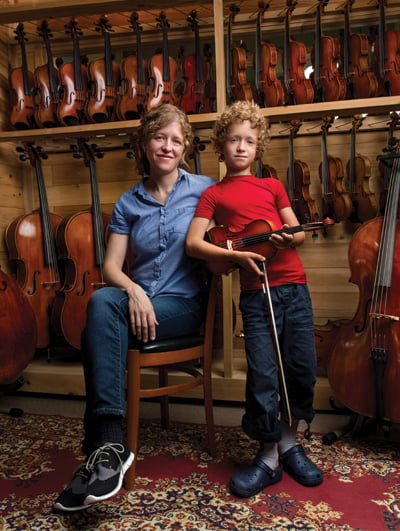 Anya Burgess' workshop lays nestled among only the pine-tops and gnarly oaks of rural Arnaudville and beyond the beaten path curving around the house she shares with her husband, a newspaper writer, and their two young children. It's the perfectly tree-shaded setting for her life's work. Each hand-built instrument Burgess creates begins as a solid block of wood. From there, the Massachusetts native's vigorous love of detail, design and purpose takes hold.
This complex mix of mahogany, spruce, maple, ebony, strings, varnish and years of expertise that makes up the violin demands nothing less.
"Doing this by hand is pretty challenging, and time consuming and kind of crazy, and I don't know why I don't use a router saw," Burgess says. "I guess I'm a purist. I learned to do this by hand, and I have the tools for it, so I don't take shortcuts."
Burgess sells, rents and repairs instruments out of her downtown Lafayette retail shop Sola Violins, but it is here behind her home in Arnaudville, an idyllic refuge for farmers and artists alike, where she spends three days a week alone with her instruments.
Burgess grew up in a family of creatives, educators and classical musicians. Her father was an architect, and her grandmother graduated from and taught music at the prestigious Eastman School of Music in Rochester, New York. Burgess' intuition for craftsmanship sprouted from long days of her childhood spent running around the family hunting camp in New Hampshire, where her father was always at work on something.
"Even though I had not done much woodworking outside of shop class, which I loved, from childhood I had this familiarity with tools and the idea that you can make things and build," Burgess says.
The classically trained musician studied folklore at Bowdoin College in Maine before she turned 20 and spent a free-spirited summer traveling with a friend along Cape Breton in Nova Scotia. Her road tripping and couch surfing led her to the doorstep of Otis Thomas, a violinmaker who maintained a workshop ensconced in a rural regalia similar to Burgess' space now.
"I fell in love with it, the whole thing, the whole vibe," Burgess says.
Soon after meeting Thomas, Burgess transferred to Indiana University where she serendipitously discovered a violin-making program.
Signing up with Teach for America brought her to Washington, Louisiana and though she decided teaching daily in elementary schools didn't jive with her "natural rhythm" as she puts it, meeting her future husband kept her in the Lafayette area when her stint ended. That coupled with playing and repairing instruments in something of a Fiddle Mecca of the South, prompted Burgess to open Sola Violins in the fall of 2014.
"Part of my mission with the store is to connect the classical and traditional Cajun music cultures, because I come from both," Burgess says. "There isn't a lot of crossover, really. I thought a violin shop was a natural place for everyone to come together and to get a deeper understanding and a respect for each other's worlds."
That community-building and cross-genre respect soars across jam sessions and concerts among her growing legion of friends and collaborators across Acadiana.
Burgess describes herself as a perfectionist by nature. The 40-year-old musician's passion for process is perfectly matched by the intricacy and devotion needed for an instrument whose design was mastered in the 17th Century and has not changed all that much since then.
"It's the ultimate work of art," Burgess says. "From its almost architectural design and the wood work, to the varnishing which is painterly, testing the acoustics, and then you play it, and it is so musical. Pulling in all these many artistic disciplines into one little thing is what is incredible to me."

---
---
Q & A
What do you do for fun when you are not working? I play music! I'm in two bands: The Magnolia Sisters, which was around for 20 years before I joined, and then a newer band called Bonsoir Catin. Both are all-girl bands, except Bonsoir Catin does have a guy drummer. And I just play music with friends for fun. That's downtime for me.
Being out here in your workshop, does nature inspire you? I love working out here. People assume that working from home, things around the house will pull you in and distract you, like chores, but I'm not distracted by anything in the house at all, ha. That's not a threat.
Are there any unexpected influences in your work? I've realized how tied into my past it is. My dad did historical preservation and worked on buildings at Harvard and Phillips Academy. My obsession with design comes from him. He did everything by pencil on a drawing board in his office at the house.
If you could have coffee with any musician who would it be? I had a really inspired experience at the Grammy's recently, talking to people who are in music in a completely different world. The rock world. I never would have imagined being a part of that. I'd love to hear about the vision of someone from that world, and their approach to making records. I met Don Was. He played with us. He produced the Rolling Stones but also Aaron Neville, but he's not untouchable. He's just this dude. I'd like to have coffee and talk music with someone like that.
---