Soups for the Season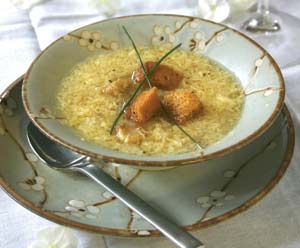 I love all kinds of cooking and baking, but there is no kitchen task I enjoy more than making soup. The very process of combining a variety of ingredients in a single pot, letting them simmer while their flavors meld, tasting, seasoning, tasting and seasoning again while the kitchen fills with comforting aromas – this is a simple and satisfying experience and one of the great pleasures of cooking.
In contrast to baking, where precise measurements are crucial, the soup cook has a freer hand with ingredients, seasonings and proportions. Unless he or she is striving for consistency, the cook has the option of never making the same soup twice. Moreover, soups are amenable to the maker's personal imprint. The principal ingredients are subject to so many interpretations, it's unlikely that two adventurous cooks would ever create exactly the same dish.
However, you can't simply toss anything and everything in the pot and expect that the result will be a tasty soup. Certain ingredients go together and others don't, and it only takes common sense to figure that out. Just because some unusual combinations work well doesn't mean that all possible combinations will be successful.
This is not to say that there are no rules in soup-making. Classic culinary references divide soups into various categories and sub-categories – clear, cream and bisque, for example – and traditionally there are rules for the preparation and serving of each.
On a purely technical or intellectual level, there can be some dispute about what constitutes a soup. When does a soup stop being a soup and become a chowder or a gumbo or a stew? Labels aside, the true calling of a soup is to be nourishing, comforting, warming. The emotional value of soup counts for much more than any technical considerations.
The recipes that follow are some of my personal favorites, and all of them are open to changes or amendments of many kinds. Some additions to a soup can change the outcome in a major way; others will result in only minor alterations of flavor.
The pumpkin soup features a vegetable that we don't often see these days unless it is in a pie or dessert, and then usually only during the holidays. But it wasn't always so. French scientist and writer C.C. Robin, traveling in Louisiana in 1803, observed that the inhabitants raised and ate large quantities of pumpkins. "I have seen settlers harvest 8 to 10 thousand," he wrote. "These pumpkins do not have the insipid taste of those that are eaten in Paris, nor are they watery like those. They are substantial and tasty and especially very sweet." He noted that "pumpkins are served on all tables."
Pumpkin is such an agreeable ingredient that it lends itself to all manner of flavorings, such as sweet and spicy with cinnamon, nutmeg and ginger or savory in a preparation that provides a counterpoint to pumpkin's innate sweetness. In making pumpkin soup, cooks often add cream and butter to produce a smooth and rich creation of great sophistication. This recipe takes a different tack, incorporating garlic and fresh thyme in a lighter, more rustic soup.
Those who don't care for garlic should pass on the roasted garlic soup, but anyone who is merely dubious might be surprised. During the roasting, the garlic loses its sharpness, acquiring a smooth and mellow flavor. Croutons and eggs further tame the beast and produce a soup that is definitely cold-weather friendly and perhaps even therapeutic.
Maybe it's only the phrase "fog as thick as pea soup" that does it, but I always associate split pea soup with the seaside on a cold and blustery day. This is definitely a soup for cold weather, and with some good bread or crisp corn sticks, it will make a warming and satisfying meal.
Finally, I've included a recipe for a dried shrimp and tasso gumbo with poached eggs. Purists will scream and throw up their hands and declare that gumbo is not soup, and, technically I suppose they're right, but this isn't a gumbo in the absolute sense of the word either. It falls somewhere between the two camps.
Dried shrimp give the gumbo an intense flavor. Bottled roux and canned chicken broth cut preparation time to a minimum. Because the dried shrimp are salty, additional salt is usually not necessary. The gumbo can be served over rice in the conventional manner, but this is one version I prefer without rice. For some reason, this dish seems particularly appropriate on a chilly Sunday night accompanied by a bottle of Beaujolais.
Split Pea Soup
2 tablespoons olive oil
1 medium onion, peeled and diced
1 rib celery, diced
1 medium carrot, peeled and diced
2 cloves garlic, peeled and minced
1 pound dry split peas, sorted and washed
2 cups ham or chicken stock
5 cups water
1 bay leaf
1 cup cubed ham
Salt to taste
Freshly ground black pepper to taste
Heat the olive oil in a large, heavy pot, add the onion, celery, carrot and garlic, and cook over medium heat until vegetables are softened, about 5 minutes. Add split peas, stock, water, bay leaf and ham. Bring to a boil, then reduce heat to medium, cover and cook until peas are tender, about 1 hour. Season to taste with salt and black pepper. If a smooth soup is desired, pass through a food mill or puree in a food processor. Serves 6 to 8.
Pumpkin Soup
2 tablespoons olive oil
1 tablespoon minced garlic
2 cups chicken stock or broth
4 cups pumpkin, cut into 1/2-inch cubes
Salt to taste
Freshly ground black pepper to taste
Fresh thyme
In a medium pot, heat oil and garlic and cook on medium-low heat until garlic is softened, about 1 minute. Add stock and pumpkin, bring to a boil, cover, reduce heat, and simmer until softened, about 30 minutes.
Puree soup in a food processor or food mill, return to pot and reheat. Season with salt and pepper and serve garnished with fresh thyme. Serves 4.
Roasted Garlic Soup
2 heads garlic
2 tablespoons olive oil
5 cups chicken stock or broth
Salt to taste
Freshly ground black pepper to taste
2 eggs
Croutons
1 tablespoon minced garlic chives
Preheat oven to 250°. Slice off the tops of the garlic to expose each clove. Place garlic on a baking pan and drizzle with olive oil. Bake until lightly browned and softened, about 45 minutes. Cool slightly.
Remove and squeeze each clove of garlic to extract the pulp. Mash pulp with a fork and combine with chicken stock in a medium pot. Bring to a boil, cover, reduce heat and simmer for about 30 minutes. Season with salt and pepper.
In a bowl, beat eggs until well combined. Remove pot from heat and add beaten eggs in a slow stream. Stir and reheat without boiling. Place 1 or more croutons in each bowl, ladle in soup and garnish with garlic chives. Serves 4.
Dried Shrimp and Tasso Gumbo with Poached Eggs
1 tablespoon vegetable oil
2 cloves garlic, minced
1 onion, chopped fine
1 stalk celery, chopped fine
3 cups low-sodium chicken broth
3 cups water
2 tablespoons dark roux
1/4 cup dried shrimp
1/4 cup tasso, diced
Freshly ground black pepper to taste
Tabasco to taste
1 tablespoon fresh parsley, chopped
2 tablespoons green onion tops, chopped
4 eggs
Filé
In a large pot, heat oil and cook garlic, onions and celery until softened, about 5 minutes. Add chicken broth and water and bring to a boil. Add roux and stir to dissolve. Add shrimp and tasso. Reduce heat to low and simmer for 30 minutes. Skim surface to remove excess oil. Season to taste with pepper and Tabasco. Add parsley and onion tops.
Bring gumbo to a boil. Break eggs into gumbo and poach until whites are cooked but yolks are still runny, about 3 minutes.
Ladle the gumbo into bowls and top each serving with a poached egg. Serve with filé and additional Tabasco, if desired. Serves 4.