Streaming Film Zeros In On Louisiana Filmmaking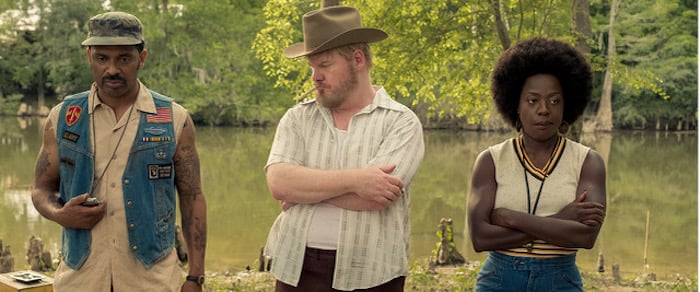 I remember reading "The Moviegoer" by Walker Percy, in which the main character Binx Bolling in the award-winning novel remarks at how a place doesn't exist unless it's been in a film. Naturally, New Orleans exists, having been the setting for numerous films. At least according to Walker Percy.
I thought about Binx's words watching "Troop Zero," an Amazon Original movie that began streaming this week on Prime. The story's set in 1977 Georgia and centers around a young misfit girl who imagines she can contact her deceased mother if she wins a NASA contest through a troop of Birdie Scouts. NASA is looking for young voices for their "Golden Record," an album to be put into space as messages from Earth.
Young Christmas Flint, played by McKenna Grace, decides to start her own Birdie Scouts troop and enlists Viola Davis as troop leader along with a gang of outcasts as members. The more sophisticated Birdie Scouts troop, led by actor Allison Janney, isn't too supportive of the newcomers and Janney assigns them the only number available: zero. But the misfits organize, manage to win badges and make their way to the jamboree, held in Marietta.
What does this have to do with Louisiana film locations, you ask? Like so many films shot in the Deep South pretending to be certain places, I watch and wonder. I notice a familiar face. A restaurant that catches my eye. The river or bayou that sure looks like home.
Such was the case with "Troop Zero." Halfway through the movie and I'm about to burst with curiosity because I need to know. I start Googling and sure enough, that Georgia movie was all Louisiana. They filmed at Boutte's restaurant in Lafitte, within the town of Luling and at the Fairview-Riverside State Park in Madisonville.
Who remembers the 1997 film "Eve's Bayou?" It was also filmed at Fairview, in the town of Madisonville on the Northshore from New Orleans and its surrounding beautiful tree-lined waterways. It's a gorgeous spot and one you don't forget easily. Who did they think they could fool? Not I!
Check out both films, then visit Fairview-Riverside State Park with its acreage of oak trees enveloping picnic tables and a playground right on the Tchefuncte River. There are nature trails to enjoy, a boat launch to get on the water and the historic Otis House that dates to the 1880s as a family home for a local sawmill owner. The park is open daily with the Otis House open 9 a.m. to 4 p.m. Tuesdays and Thursdays.
In February, vintage quilts will be displayed in the Otis House as part of the "Stitches in Time" exhibit. Each quilt will feature a particular pattern that mirrors what was happening in the country at the time.
But if you watch streaming TV, much of Louisiana is mirrored there as well.
For information on Fairview-Riverside State Park