Texas Travel: Off-the-Beaten-Path Dining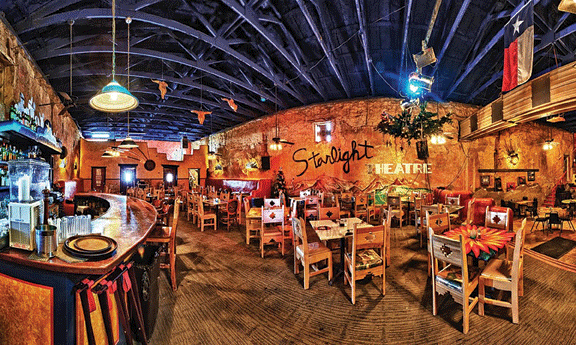 Mention Texas and dining in the same conversation and some of the big names will invariably come up: big-city restaurants with celebrity chefs such as the eponymous Stephan Pyles restaurant in Dallas, bustling eateries in hot tourist destinations such as the San Antonio River Walk's Biga on the Banks or even small-town barbecue joints that have reached star status such as Lockhart's Kreuz Market.
But the Lone Star State is a mighty big place. With just a little two-stepping away from the culinary capitals, you'll find restaurants to spice up your next trip to Texas, regardless of how much "been there, done that" you've experienced on previous excursions. From country road diners to classy cuisine, here's a look at 20 eateries sure to put the fun in any foodie's next road trip.
East
The East Texas Burger Co., Highway 80 at the corner Highway 69, Mineola, (903) 569-3140, www.easttexasburger.com. Many say the East Texas Burger Co. has the best hamburgers in the state, but the relaxed eatery is also known for its chicken-fried steak. Homemade fried pies are also draws – they sell out so fast that locals call to reserve their own pies.
Murphy's Steakhouse, 204 Thomas St., Winchester, (979) 242-3433, www.eatatmurphys.com. Don't blink or you'll miss tiny Winchester, a sleepy village located a few miles north of Smithville on Farm-to-Market Road 153. Small it may be, but Winchester has at least one good reason to visit: Murphy's Steakhouse. The restaurant is located in a historic brick building that dates from 1913. Much of its old-fashioned charm remains, including a mirrored bar and a patterned tin ceiling. Diners in the know come from far and wide for Murphy's hand-cut steaks, seafood, Tex-Mex platters, pasta dishes and a Texas-size salad bar.
New Zion Missionary Baptist Church Barbeque, 2601 Montgomery Road, Huntsville, (936) 294-0884. In Texas, barbecue ranks right up there with politics and religion when it comes to heated debate, and at this unique restaurant, you can cover all those topics if you like. Housed in an annex of the church itself and operated by members of the congregation, this barbecue restaurant is especially lauded for its ribs, brisket and heavenly homemade pies.
Po Po Family Restaurant, 6 miles north of Boerne, then half a mile off Interstate 10 at Exit 533, (830) 537-4194. This restaurant (named for Popocatépetl, a famous Mexican volcano) was once a stagecoach stop. Today it's known for its excellent meals ranging from chicken-fried steak to catfish, as well as its dinner plate collection. More than 1,300 plates from around the world cover the dining room walls.
Prause Meat Market, 253 W. Travis St. (U.S. 77) on Courthouse Square, La Grange, (979) 968-3259. The front of this meat market sells fresh cuts, but it's behind that counter where business is smoking – literally. The barbecue side of this business is hot – so hot, in fact, that when the high demand means they run out of barbecue (and they often do early in the day), these folks just close up shop. Get there late and you'll find the "Gone to Fish" sign in the window. Arrive early for a chance at some sausage or brisket; you'll be served on butcher paper and can take it into the back room to eat on long tables within sight of the pits themselves.
Royers Round Top Café, 105 Main St., Round Top, (979) 249-3611, royersroundtopcafe.com. This country café features surprisingly sophisticated entrees. You wouldn't expect to find shrimp scampi, fresh fettuccine, grilled red snapper and pasta with fresh marinara and shrimp at a small-town diner, but here it is, all topped off with homemade pies that include butterscotch chip; buttermilk; and that Texas favorite, pecan.
Sodolak's Original Country Inn, 9711 Farm-to-Market Road 60, Snook, (979) 272-6002. Located a chicken-fried steak's throw from College Station, this restaurant's real claim to fame is its chicken-fried bacon. Featured on the Texas Country Reporter television series, this dish features strips of raw bacon dipped like a chicken-fried steak in an egg batter and then rolled in flour, all deep-fried to a golden crispiness that no doubt makes cardiologists cringe but keeps diners coming back for more.
Stillwater Inn, 203 E. Broadway, Jefferson, 903-665-8415, www.stillwaterinn.com. Often hailed as Jefferson's best restaurant, this chef-owned fine dining restaurant is housed in a 1890s Victorian house. From roasted rack of lamb to grilled seafood, entrees are accompanied by an extensive wine list. The restaurant is also accompanied by a bed-and-breakfast to make this culinary adventure a real getaway.
Central
Blue Bonnet Café, 211 Highway 281, Marble Falls, (830) 693-2344, bluebonnetcafe.net. Looking for a real example of a Texas diner? You'll find it at the Blue Bonnet Café; since 1929 (and since 1946 in this location), it has been serving locals and visitors country cooking, including chicken-fried steak, fried chicken and burgers. The no-frills café is well-known for its mouthwatering pies, with coconut pies stacked with meringue as tall as a Texas hairdo.
Gristmill River Restaurant and Bar, 1287 Gruene Road, New Braunfels, (830) 625-0684, www.gristmillrestaurant.com. Located on the banks of the Guadalupe River in a former ghost town just north of New Braunfels, the Gristmill River Restaurant and Bar is housed in the ruins of a century-old cotton gin. In the early days, an explosion blew a hole in the side of the building that today serves fried chicken, chicken-fried steak and other Texas favorites.
Josey's Grill & Bar, Lakeway Resort and Spa, 101 Lakeway Drive, Austin, (512) 261-7323, www.lakewayresortandspa.com. The address may say Austin, but this upscale resort lurks behind the well-heeled community of Lakeway on the banks of Lake Travis. Even with the best maps, you'll think you've lost your way as you meander along winding streets fronted by pricey homes and sculpted yards. Trust us, you'll be glad you persevered when you finally reach the sprawling resort and Josey's Grill & Bar with its spectacular views of the lake. Josey's specializes in Texas dishes and executive chef Jeff Axline's menu is based on regional specialties. Each Wednesday evening, a different "farm-to-table" menu is offered, inspired by Texas ranchers, farmers and artisan food producers. Whatever day you dine, you'll enjoy creative cuisine, attentive service and the home-style restaurant's casual lakeside ambience.
Nau's Enfield Drug, 1115 W. Lynn, Austin, (512) 476-1221. It might be right in the heart of the capital city, but this old-fashioned drug store is a step back into the past. Belly up to the counter or take a booth, and enjoy a taste of a real drugstore malt, burger or sandwich. In true Texas style, breakfast tacos and huevos rancheros are popular breakfast options, as well.
Walburg Restaurant, 3777 Farm-to-Market Road 972 (at the intersection of Farm-to-Market Road 972 and Farm-to-Market Road 1105), Walburg, (512) 863-8440, www.walburgrestaurant.com. Located northeast of Georgetown, tiny Walburg is a capital of German cuisine thanks to this restaurant and biergarten housed in the 1882 Walburg Mercantile building. Featuring authentic German food such as Wiener schnitzel, bratwurst and sauerbraten, alongside such Texas favorites as chicken-fried steak and catfish, the restaurant and biergarten also feature authentic music from the Old Country. The restaurant's owner, who hails from Munich, also serves as accordionist and yodeler in The Walburg Boys, a band that plays Bavarian tunes that encourage the dance floor to fill.
South
Barnacle Bill's Pier House and Grill, 15820 Park Road 22, Corpus Christi, (361) 949-7300. Don't worry about remembering the address for Barnacle Bill's – just look for the first bright-yellow restaurant perched out on a pier over the Gulf. This no-frills diner serves breakfast, lunch and dinner (not to mention bait) in a fun and funky setting.
Gonzales Food Market, 311 St. Lawrence St., Gonzales, (800) 269-5342. What began in 1959 as a family-owned grocery store with a meat market is still owned by the same family – but without the groceries. Today shopping at the Gonzales Food Market means choosing among brisket, sausage, lamb ribs, beef ribs, chicken and more, all prepared on-site.
Latitude 28º02' Coastal Cuisine & Fine Art, 105 N. Austin St., Rockport, (361) 727-9009, latituderockport.com. Combining fine art and fine dining in one dinner-only venue, this beautiful restaurant is filled with the work of more than 70 artists. The cuisine is a work of art, as well, showcasing coastal dishes such as sautéed shrimp over angel hair pasta, Fish Oscar featuring the catch of the day, fried shrimp and more.
North
Perini Ranch Steakhouse, 3002 Farm-to-Market Road 89, Buffalo Gap, (800) 367-1721,www.periniranch.com. The product of cowboy gourmet Tom Perini, this restaurant is located 13 miles south of Abilene. Partly built of old wooden railroad ties, with painted wood and brick floors and lots of windows overlooking oak trees and rolling hills, the restaurant is part of the Perini Ranch. Try the signature beef tenderloin, rubbed in spices, cooked to order over mesquite and served with a horseradish sauce. You may also want to try the fried chicken or catfish, the bread pudding or the jalapeño cheesecake.
Wildcatter Steakhouse, 6062 Highway 16 S., Graham, (940) 549-3555, www.wildcatterranch.com. Housed at the Wildcatter Ranch and Spa, this ranch-style restaurant sits atop a bluff with a scenic view. Start with Chipotle Crab Cakes or Smoked Stuffed Peppers, but save room for hand-cut steaks, seafood, pasta dishes and more.
West
12 Gage, Gage Hotel, 102 Highway 90 W., Marathon, (432) 386-4205, www.gagehotel.com. Marathon is billed as the Gateway to the Big Bend National Park and is a lively oasis amid the windswept plains and rugged mountains of West Texas. The old railroad town is a good jumping-off spot for vacationers headed for Big Bend, and the historic Gage Hotel is a popular place to spend a comfortable day or two before (or after) roughing it in the park's 800,000 wild acres. 12 Gage is the hotel's eatery and features innovative Southwestern dishes such as grilled buffalo (or Angus) steaks and quail served with smoked-onion vinaigrette, enjoyed in the restaurant's rustic dining room or al fresco around an outdoor fireplace. Fresh seafood is flown in daily, and much of the produce is grown on-site in the Gage's garden. An extensive wine list accompanies the menu, which changes seasonally.
Starlight Theatre Restaurant & Bar, 631 Ivey Road, Terlingua, (432) 371-2326, starlighttheatre.com. Located in a 1930s movie theater, this restaurant features live music and an eclectic dinner menu including chili, filet mignon, grilled margarita chicken, enchiladas and of course the chili that's made Terlingua famous.
Tips for Away-From-the-Beaten-Path Dining
• Don't assume all out-of-the-way restaurants will accept credit cards. Some will; some won't. And at some of the real off-the-beaten-path destinations, you'll have a long path to the next ATM.
• Don't assume that hours are carved in stone. Call first.