The Beasts Will Teach You the Beauty of This Earth
Baton Rouge artist Mary Lee Eggart combines nature, faith, spirituality and a prayer for peace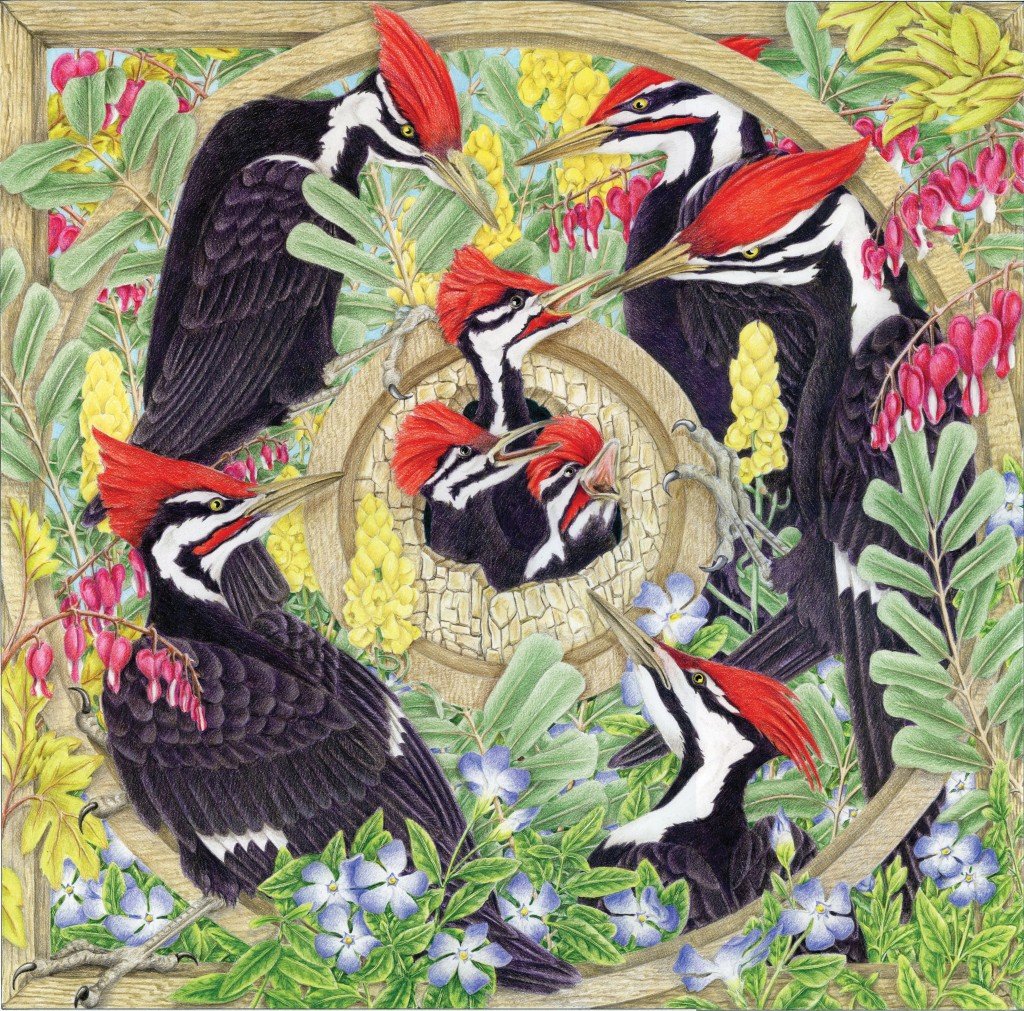 The ancients believed birds were messengers of the gods linking humans to the supernatural world. Baton Rouge artist Mary Lee Eggart's colorful drawings of various birds represent her deep spirituality, faith and love of nature. More recently, however, her usually uplifting drawings have taken a darker turn to reveal a spiritual sickness in a society exposed by the COVID-19 pandemic.
The Baton Rouge native, who has degrees in art from LSU, has lived with art all her life. For many years, her mother directed a community arts program in Baton Rouge and her father was a talented designer and artist. Her uncle, William Moreland, was a noted abstract landscape painter and chair of the art department at the University of Louisiana-Lafayette. And her grandfather was a botanist who introduced her as a child to "the beauty of flora and fauna functioning in their ecosystems." Together, they watched and studied birds in his backyard. That, she says, started her lifelong "fascination with birds."
In addition to art, Eggart had a 31-year career as a cartographer, illustrator, designer and instructor at LSU. Though she retired in 2011, she still freelances, making maps for publications nationwide. But it is her exquisite colored pencil drawings of birds and the spirituality behind them that give expression to this phase of her life.
"The forms, colors and textures of the birds offered many design options to explore visually," she says. "But the study of art history ­— particularly the highly symbolic work of the Middle Ages — opened up the possibility of exploring birds metaphorically and thus melding my love of nature with the Catholic faith I was raised in and still adhere to. The medieval artists saw God in what He had created. What better way to know God than by celebrating His creation? In almost every culture and creed, past and present, the bird represents the human soul or the human spirit. The vast majority of my drawings feature birds as the main character, representing humankind in general and, depending on the type of bird, particular characteristics, concepts or virtues pertinent to the subject of the drawing."
Inspiration for her drawings comes from various sources in nature, art history and her Catholicism. The flight of an egret, for instance, inspired her series "Choir of Angels" and a visit to the Scrovegni Chapel in Padua, Italy, inspired "Allegories of Virtue and Vice." Her series "Circles of Prayer" emerged after touring Stonehenge in England. As these concepts come to her, she searches for images and "related iconography" to complete the composition. Prayer, virtue, angels are symbolic and uplifting elements in her religious faith. Then came the horrors of COVID and new imagery arose in her compositions with titles such as "COVID Nevermore," "A Prayer for Justice and Compassion," "Quarantine," and "Hope for a Better Normal."
The birds featured in each drawing tell stories of hope. In "COVID Nevermore," a take on Edgar Allan Poe's famous poem, the ravens are a "foreboding omen" but one that "possesses healing power." The woodpecker seen in "A Prayer for Justice and Compassion" symbolizes "the diligence necessary to achieve tolerance and justice." The rooster and flowers in "Hope for a Better Normal" represent "hope for a new day" and "the virtues and qualities we should cultivate in support of the common good." Even though these drawings give promise rather than portraying doom, Eggart says she rarely comments on social or personal events in her work.
"But the coronavirus pandemic changed life as we knew it," she says. "It revealed the injustices, inequities and toxic polarization lurking in our way of life, but at the same time reminded us of the things we do and should value most: our interdependence with all of humanity and with the natural world. I was moved to create these drawings, which explore how much we need each other."
Eggart, who is represented by the Baton Rouge Gallery and LeMieux Galleries in New Orleans, is now working on a new series of drawings that wing away from the pandemic toward images of prayer and peace. Titled "Peace Prayer," she describes this new work as "exploring the idea that peace is not just the absence of war but an attitude of the individual heart" that "if nurtured" can spread from one individual to another throughout the world.
"Each drawing," she says, "will study a virtue or concept which needs to be cultivated to achieve this peace."
What a noble thought for today's world of pandemics, wars, riots and political polarization.
For additional information, visit maryleeeggart.com.
Exhibits
Cajun
Shawne Major: Schema
Abstract compositions as metaphors for culture and belief systems, through Jan. 7. Paul and Lulu Hilliard University Art Museum, Lafayette. hilliardmuseum.org
Central
35th September Competition
Annual juried competition, July 8 through Oct. 8. Alexandria Museum of Art. themuseum.org  
Plantation
Eugene Martin: The Creative Act
Abstract collages by this Washington, D.C. artist, through Oct. 2. LSU Museum of Art, Baton Rouge. lsumoa.org
NOLA
The Matrix of Creativity: Where the River Meets the Sea
Contemporary Black artists, through July 30. New Orleans African American Museum. noaam.org
North
A Survey of Recent Paintings by William Dunlap
Southern artist William Dunlap, through Aug. 6. Masur Museum of Art, Monroe. masurmuseum.org