The Biggest Win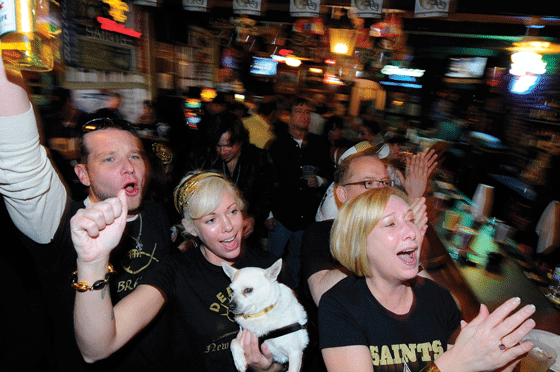 A photograph in the Shreveport Times showed a group of people rummaging through T-shirts and caps at a sporting goods store. The picture was dated Jan. 25, 2010, the day after the Saints defeated the Minnesota Vikings and received a ticket to the Super Bowl. As improbable as the Saints season was, the picture was somewhat improbable, too, for the store was in Bossier City and the caption began, "Saints fans look through stacks…."
People in New Orleans have long thought that the folks in the Shreveport-Bossier area did not like them, dismissing the state's most populous city as a Gomorrah on the Gulf. As long as there has been a Saints franchise, New Orleanians have heard that North Louisiana prefers the Dallas Cowboys. That the very words "Saints fans" would precede a picture taken upstate was in itself a Super Bowl-size upset.
Winning has a way of improving perceptions, and for most of the decades that the Saints and Cowboys have
co-existed, the latter have provided more to cheer about, yet New Orleans and Shreveport are united in ways that Shreveport and Dallas are not. The Louisiana cities share the same government, tax code, history and issues. Both are affected by what is voted on in Baton Rouge rather than in Austin. In life, both are in the same boat, one that traverses bayous, rivers and lakes. There is a New Orleans influence spread throughout Louisiana as felt in customs, foods, music and traditions, and there is the pulse of Louisiana beating in New Orleans.
In the promenade area of the stadium rightfully referred to as the Louisiana Superdome, there is a statue of a former governor, not a Long or a long-gone chief executive but John McKeithen, who was in office from 1964-72, a native of the Caldwell Parish town of Columbia in North Louisiana. McKeithen is honored as the person who made
the Dome possible, and without the Dome, there would have never been a Saints franchise. The nation's best domed stadium exists as a product of Louisiana vision, gall and deal-making honed in the populist traditions of the upstate hill parishes.
Now the dream season is over, but Saints paraphernalia remains stuffed in bedroom drawers throughout the state. May they be resurrected and worn with pride in the fall because, truth is, from the Arkansas border to the Gulf of Mexico, we all win when the Saints do.