The great louisiana quiz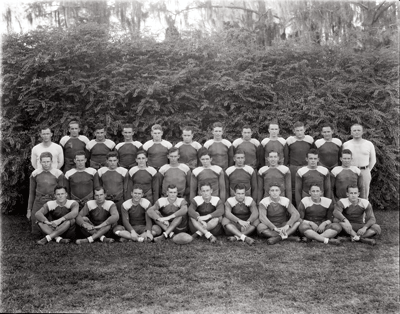 This picture is of the 1923-24 football team for the university located in Lafayette. Through the decades this university has been known by several different names.
Which one of the following is NOT one of the names it has used?
A. Southwest Louisiana Institute
B. University of Louisiana –– Lafayette
C. Vermillion College
D. Southwestern University
Which of these quarterbacks from Louisiana played for the Saints at one point in their careers?
A. Doug Williams/Bert Jones
B. Bobby Hebert/Jake Delhomme
C. Bobby Hebert/Terry Bradshaw
D. Doug Williams/Terry Bradshaw
This former Louisiana State University receiver was until recently the district attorney of East Baton Rouge Parish. Who is he?
A. Billy Cannon
B. Doug Moreau
C. Leon Cannizzaro
D. Devery Henderson
As he awaits sentencing, your friend hopes to be playing on Angola's football team. Obviously confused, he says he heard that the team is known as the Cowboys.
What sport is Angola best known for?
A. Lacrosse
B. Rugby
C. Basketball
D. Rodeo
Carolina Panther quarterback Jake Delhomme is from this town.
A. Minden
B. Breaux Bridge
C. St. Francisville
D. Bordelonville
Only one bowl game is older than the Sugar Bowl in New Orleans. Which is it?
A. Rose Bowl
B. Cotton Bowl
C. Orange Bowl
D. Gator Bowl
Which cat is NOT a mascot of a Louisiana college football team?
A. Lion
B. Leopard
C. Tiger
D. Jaguar
These two teams always play their annual game against each other in New Orleans.
A. Tulane/LSU
B. Nicholls State/Southeastern
C. Northwestern/ Southeastern
D. Southern/Grambling
Your friend reasons that he might have a better chance of playing quarterback for the Angola football team if he says he is related to Terry Bradshaw. However, when a skeptical guard asks him the town where Bradshaw played college ball, he didn't know. What is the answer?
A. Natchitoches
B. Monroe
C. Hammond
D. Ruston
During the 2007 football season this team beat Nick Saban's Alabama Crimson Tide.
A. University of Louisiana –– Monroe
B. University of Louisiana –– Lafayette
C. Louisiana Tech
D. McNeese
Answer this BONUS QUESTION and be eligible to win an overnight stay for two at the luxurious PARAGON CASINO RESORT: Which four-year colleges in Louisiana have mascots that are not four-legged animals or birds, and what are the mascots?
Send in your answer on a postcard addressed to:
Louisiana Life Bonus Question
110 Veterans Blvd., Suite 123
Metairie, LA 70005
Two winners will be drawn from among the correct answers. Each will receive an overnight stay for two at the recently expanded and re-modeled Paragon Casino Resort in Marksville. Winners' names will be announced in the January/February 2010 issue.
For the last quiz, the question was:
In terms of width and length, what are Louisiana's three largest lakes?
The correct answer is: Lake Pontchartrain (24 miles by 41 miles), Caddo Lake (12 miles by 16 miles) and Grand Lake (8.25 miles by 8.25 miles)
For the first time ever, no one got the correct answer. Several responses had Lakes Pontchartrain, Lake Maurepas and Grand Lake. Toledo Bend, Lake Bisteneau and Sabine Pass Lake were also mentioned. All are large bodies of water but not part of the correct answer.

ANSWERS
1.C 2.B 3.B 4.D 5.B 6.A 7.B 8.D 9.D 10.A

SCORING
Score 10 points for each correct answer:
0-20: Consult your nearest library.
30-60: Begin by buying a good road map.
70-90: You should run for office.
100: Candidate for a Ph.D. in Louisianaology.