The Great Lousiana Quiz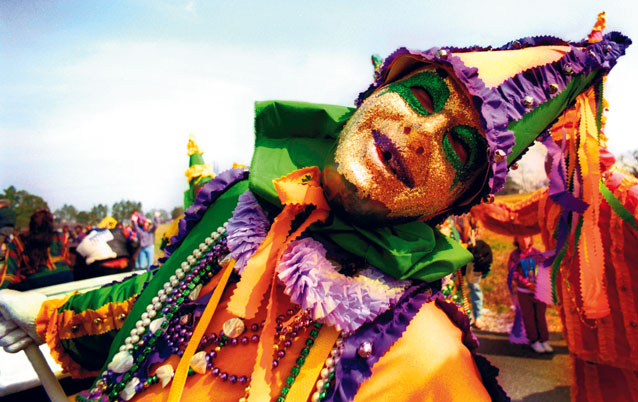 1.These lines are from a medieval French Mardi Gras song still remembered by some old-timers in Cajun County: "Capitaine, Capitaine, voyage ton flag /Allons se mettre dessus le chemin." What is the name of the song?
A. "La Chanson de Mardi Gras"
B. "Capitaine, Capitaine"
C. "Allons à Mardi Gras"
D. "Voyage Ton Flag"
2. What does the first line mean in English?
A. "Captain, Captain, your flag weighs a ton."
B. "Captain, Captain, let's take a voyage."
C. "Captain, Captain, wave your flag."
D. "Captain, Captain, there is a penalty."
3.Mardi Gras is 40 days, not counting Sundays, before Easter. How is the date of Easter calculated?
A. The first Sunday of spring
B. The first Sunday after (or on) the first full moon after the vernal equinox
C. The first Sunday after the last Tuesday prior to the first full sun of the year
D. The 16th Sunday prior to the autumnal equinox
4. In terms of the number of riders, this Shreveport krewe claims to be the second largest in Louisiana, including New Orleans. What is the krewe?
A. Gemini
B. Centaur
C. Arklatex
D. Red River Ramblers
5. This New Orleans krewe is the largest in the country as well as Louisiana. Which is it?
A. Bacchus
B. Orpheus
C. Endymion
D. Rex
6. Celebrating its 87th year of staging Mardi Gras parades, this town claims to have the state's oldest Mardi Gras celebration outside of New Orleans. Which is it?
A. Crowley
B. Ruston
C. New Roads
D. Bordelonville
7. Founded in 1872, this krewe's parade is the oldest in the nation as well as Louisiana. Which is it?
A. Proteus
B. Momus
C. Comus
D. Rex
8. For the last several years the Krewe of Louisianians Carnival ball in Washington, D.C., has been held in this building.
A. D.C. Convention Center
B. Washington Hilton
C. Watergate Hotel
D. Kennedy Center
9. The Spanish Town Mardi Gras parade and ball are held in which city?
A. Natchitoches
B. Lake Charles
C. Spanish Town
D. Baton Rouge
10. If Huey Long were alive, what Carnival food would he likely think was most appropriate for "every man"?
A. A corn dog
B. A bowl of gumbo
C. A crawfish
D. A King Cake

Answer this BONUS QUESTION and be eligible to win an overnight stay for two at the luxurious PARAGON CASINO RESORT: Name two Louisiana state universities that have two of the colors of the New Orleans Mardi Gras in their team colors.
Send in your answer on a postcard addressed to:
Louisiana Life Bonus Question
110 Veterans Blvd., Suite 123
Metairie, LA 70005
Two winners will be drawn from among the correct answers. Each will receive an overnight stay for two at the recently expanded and remodeled Paragon Casino Resort in Marksville. Winners' names will be announced in the May/June '09 issue. For our last issue, the question was: "Five parishes have names that could be associated with the Civil War. Name the parishes and the towns that are their parish seats."
The correct answer could have come from these seven parishes: Allen (Oberlin), Beauregard (DeRidder), Cameron (Cameron), Grant (Colfax),
Jefferson Davis (Jennings), Lincoln (Ruston), Union (Farmerville)
Winners are Chris Marino and Rachel Hamm Marino, Slidell, and Bridget Roy, Franklin.
ANSWERS
1.A 2.C 3.B 4.B 5.C 6.C 7.D 8.B 9.D 10.D
SCORING
Score 10 points for each correct answer:
0-20: Consult your nearest library.
30-60: Begin by buying a good road map.
70-90: You should run for office.
100: You're a candidate for a Ph.D. in Louisianaology.