The Greening of Louisiana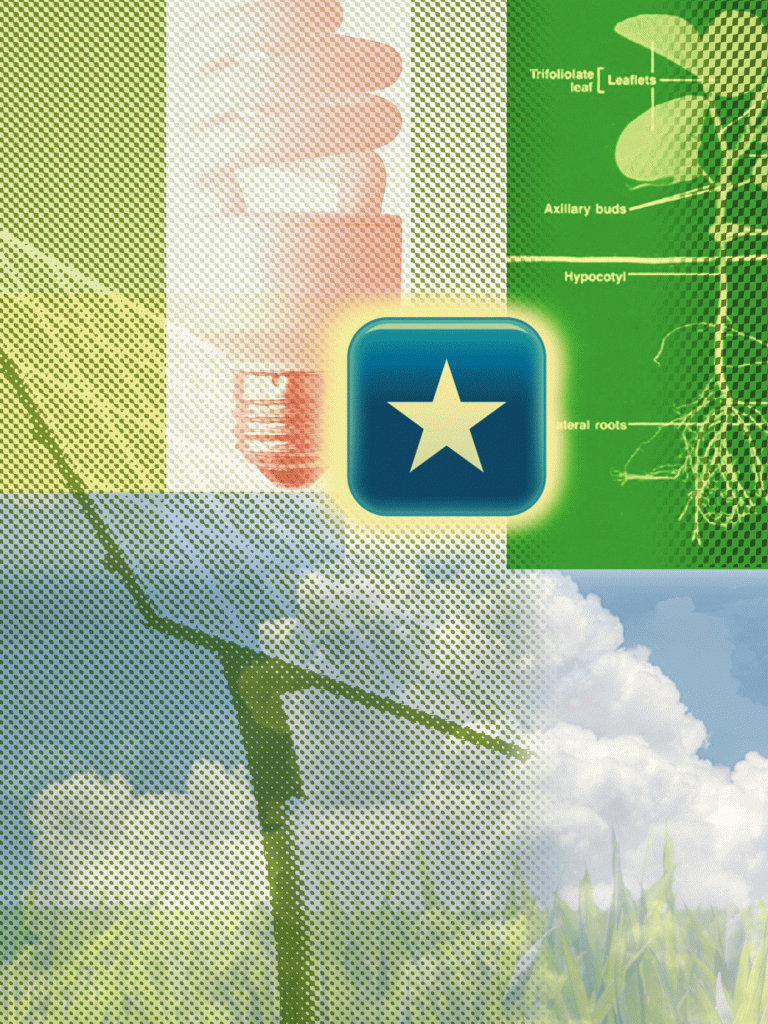 Out-of-date Shreveport telephone directories are being converted to fresh new paper products. Transit buses in Baton Rouge and Monroe are cruising along on cleaner-burning fuel. Solar panels are powering modern homes and historic plantation properties alike. Newly rebuilt New Orleans homes are humming with energy-efficient upgrades. And on central Louisiana farmland, soybeans are being cultivated for biodiesel fuel.
These are just a few of the diverse and far-ranging examples of how the national trend toward cleaner, greener, more sustainable ways to live and work is catching on around Louisiana. In the state's major cities and small towns, people, businesses and institutions are finding more ways to proactively respond to the challenge of global warming, reduce their impact on the planet and ease their reliance on fossil fuels.
The motivations are as varied as the methods. But among people concerned with the plight of the environment, people eager to save money by consuming less and people who are building business plans around the trend, a groundswell of awareness and opportunities is cropping up.
"There's been a momentum building slowly, but now you're really starting to see this awareness showing up, a greater familiarity," says Paul LaGrange, president of LaGrange Consulting, a Madisonville firm that helps clients boost the energy efficiency of their properties. "Some builders see using new products and techniques as a niche market. But most wait until the customer asks and demands it. Well, that's what is happening now. The builders and architects I'm working with are hearing it constantly from their customers. Higher energy prices are hitting people in the pocketbooks, and that's a big reason why people notice it now."
Individuals may feel that they have little voice in national energy policy or environmental regulations that shape the current ecological challenges, but they can make decisions about their own homes and vehicles to reduce their own impact on the planet and help save money along the way.
One simple and increasingly popular step residents can take is replacing standard incandescent light bulbs with Compact Fluorescent Lights, or CFLs, the spiral-shaped bulbs that produce the same amount of light but use only a fraction of the energy. CFLs can last for five to seven years, saving residents serious money along the way and drastically reducing the amount of carbon released into the atmosphere by electric plants as a result. The effort and investment is relatively small, but by multiplying the effect by thousands of homes, the collective impact can be significant.
One of the leading advocates for CFL use is Andi Hoffmann, a New Orleans musician who formed a grass-roots energy-efficiency group in 2006 called Green Light New Orleans. Staffed by volunteers and funded by sponsors and other contributions, Green Light installs the CFLs for free for any homeowner or renter who requests them in the New Orleans metro area. Volunteers also provide a calculation of the estimated energy savings and carbon reductions the installation will achieve. Hoffmann says these calculations can be illuminating and typically have residents running to the phone to recommend the free service to their friends. In the first four months of 2008, the group had installed approximately 60,000 CFLs, and with more volunteers and funding, Hoffmann believes Green Light can replace up to 400,000 bulbs a year.
"The people are happy to get free bulbs," he says. "The volunteers can feel like they've accomplished something meaningful. And of course, there's the effect we're having on the environment, which is the whole point."
Solar Looking Up
While CFLs reduce energy consumption, a growing number of Louisianians have embraced solar power as a way to produce their own electricity. Each year, the Louisiana Solar Energy Society, a Baton Rouge-based advocacy group, hosts a tour of private homes using solar power from the Capital City to Acadiana, and each year more people turn out to see examples of the technology in everyday use. During the most recent tour, the group had more good news to share with prospective solar converts: In 2007, the state began a new incentive program offering a tax credit to cover half the cost of installing a solar system, up to $25,000.
In New Orleans, the Make It Right Foundation has helped bring solar power to the Lower Ninth Ward, a badly flooded neighborhood where celebrities Brad Pitt and Angelina Jolie have focused more attention on sustainability issues by using the model of contemporary, eco-friendly homes being constructed there.
But others are taking steps to add energy-efficient features and boost the environmental sustainability of even the state's most traditional, historic homes. For instance, in Jackson, a rural town north of Baton Rouge, the striking Queen Anne-style Glencoe Plantation now draws some of its power from the sun.
"We've been wanting to live in a more environmentally conscious way for quite some time," says Chuck Morris, who owns the 105-year-old plantation house and maintains it as a private home. "It was a concept for us before, but something had to happen as a catalyst. And that was Hurricane Katrina."
Strong winds from the 2005 hurricane cut power to the house, which also left its electric-powered well pump disabled. Chuck and his wife, Leah, looked into buying a large generator as a backup for future storms, but eventually they decided to install a solar power system to ensure continued power in emergencies and also lessen their environmental impact. At Glencoe, solar panels power the barn, the well pump and the pool equipment and also return energy to the rest of the property, cutting the home's overall need for electricity.
Meanwhile, the solar panels and related gear are discreetly positioned on a slope away from the house, so Glencoe's intricate architectural profile remains intact even as the property's environmental impact is significantly reduced.
Industry and Innovation
Beyond individual efforts, eco-friendly plans are also taking shape on an industrial scale in the state. This fall, Shreveport plans to launch its first curbside recycling program in conjunction with Pratt Industries, an international paper and packaging company that is now building a $150 million paper mill near the Port of Shreveport-Bossier. Like two other existing Pratt facilities in the U.S., this mill will convert existing paper products to fresh containerboard. At full capacity, this mill will recycle more than 300,000 tons of paper a year, simultaneously keeping that erstwhile waste out of local landfills and reducing the need to fell a corresponding amount of trees.
Much of the recyclable material for this huge project will come from the homes and businesses of Shreveport, which will soon receive recycling bins for residents to fill and set out at the curb on regular trash pickup days. Pratt Industries will sort the recyclables and take them to its paper mill, where they will either be converted into paper or sent out to be recycled elsewhere.
Another promising arena of eco-friendly innovation in Louisiana is in biodiesel, a renewable fuel derived from agricultural-based resources such as vegetable oil, recycled grease or animal fats. The fuel is biodegradable and releases lower sulfur and carbon emissions than the petroleum fuels it replaces, and its raw materials can be produced in abundance close to home, drawing on Louisiana's rich soils and well-established agricultural infrastructure.
The fuel powers vehicles all over Louisiana, including, as of 2008, the buses of the Monroe city transit system. The buses now run on a fuel blend that includes a biodiesel made from Louisiana-grown soybean oil. The change will replace some 36,000 gallons of fossil fuel for the transit system this year with a locally produced alternative.
The National Biodiesel Board has set a goal of replacing 5 percent of American diesel use with biodiesel use by 2015. That would offset more than 3 billion gallons of conventional fuel a year, but even getting to this benchmark will require massive expansion of production capacity. The industry produced an estimated 450 million gallons of biodiesel in 2007, according to the board.
The infrastructure is growing, however, especially in Louisiana. Allegro Biodiesel Corp. is growing soybeans on 320 acres of land in Pollock, just north of Alexandria, to produce an estimated 12 million gallons of biodiesel a year at a plant converted for the job in 2006. Meanwhile, Tyson Foods Inc., based in Springdale, Ark., and Syntroleum Corp., based in Tulsa, Okla., have partnered up to build a new biodiesel plant near Louisiana's Barksdale Air Force base in Bossier City. The plant will have a capacity of 75 million gallons a year, and construction is slated to begin this year. In addition to biodiesel for automobiles, the facility will produce biodiesel suitable for use in jet engines, and Tyson has announced it is testing the fuels for use in the B-52 bombers stationed at Barksdale.
Many other similar plans are under way, including a new ethanol plant being built in Port Allen by a subsidiary of Shaw Capital Inc. to produce 100 million gallons of fuel a year using corn. And in southwest Louisiana, a group of Lake Charles sugar cane farmers has partnered with Andino Energy on a plant now being built in the town of Lacassine to convert Louisiana sugar cane and sorghum into 22 million gallons of fuel a year.
Shreveport Green
While individual households are making a difference each day on their own, some are also coming together, organizing and exponentially increasing their positive impact through teamwork, coordinated programs and advocacy.
Shreveport Green has been one of the most successful examples. The nonprofit group has been working for years to clean up Shreveport neighborhoods, with an initial focus on beautification and planting flowers and trees in public places. Today, however, the group is heavily involved in local recycling efforts that simultaneously tidy up their communities, safely dispose of potentially damaging chemicals and provide the raw material for recycling.
For instance, Shreveport Green periodically hosts what the group has dubbed "Amnesty Day," with a drive-up location for residents to bring in household chemicals, discarded materials and other items for safe disposal or recycling. People bring in everything from old appliances to used motor oil –– and even the occasional jar of arsenic or container of mercury. More people are coming year after year, and Donna Curtis, Shreveport Green executive director, sees this rising turnout as yet another sign that the green initiative is catching on.
"We had 60 percent more [participants] this year with no extra marketing, and I think it's because people are having greater awareness now," she says. "If you make it easy for people to participate, they'll get involved."
A combination of civic pride and concern for the environment motivates many of the volunteers who make Shreveport Green's initiatives possible, and in some cases they extend their commitment beyond specific events to carry the eco-friendly momentum further into their communities. For instance, one frequent volunteer, commercial real estate agent Jo Ann Wheless, was instrumental in creating a series of neighborhood cleanups around her own community just outside Shreveport.
During a recent cleanup day, volunteers collected approximately 217 tons of recyclable material from backyards, back rooms and side lots in her neighborhood. The take included everything from home appliances to boat engines to truck axles to an entire hulking forklift. Collecting all of this material is hard and often dirty work, but Wheless says she has no problem rounding up volunteers to make the effort.
"When one person starts doing something like this, it's just contagious," she says.
"The good can be as contagious as the bad."
Consuming Smart, Using Again
Recycling reduces greenhouse gas emissions from landfills, can reduce deforestation, saves energy and produces more energy-efficient products. Combined with smart choices about what you buy and consume, personal recycling can make a big difference in your environmental impact.
1. Recycle materials you use: Make an effort to participate fully in your town's or your building's recycling program. If there's no recycling program where you live, encourage local officials to start one.
2. Buy recycled products: Look on the label for the products or packaging with the greatest percentage of post-consumer recycled content, which ensures that the materials have been used before.
3. Use durable goods: Bring your own cloth bags to local stores. Replace plastic and paper cups with ceramic mugs, disposable razors with reusable ones. Refuse unneeded plastic utensils, napkins and straws when you buy takeout foods. Use a cloth dish towel instead of paper towels at home and reusable food containers instead of aluminum foil and plastic wrap.
There are hundreds of recycling opportunities across the state, with programs run by nonprofits, government and private businesses. A comprehensive directory of recycling programs is available online at www.deq.louisiana.gov.
Shopping the farmers markets
Nothing says green quite like greens –– or ripe red Creole tomatoes or soft Ruston peaches or rich Louisiana pecans. Buying farm-fresh, locally grown produce carries many eco-friendly benefits, from shorter shipping distances to the sustainable-growing techniques commonly used on smaller family-run farms.
It's easier than ever to get access to this type of produce and other local farm products. In addition to the numerous farm stands dotting the state's rural highways and byways, increased public awareness and consumer demand means more Louisiana-grown produce is being prominently labeled and marketed as such in mainstream grocery stores. And more farmers, bakers, butchers and fishermen are seeing the advantage of selling directly to consumers at the state's growing network of farmers markets.
There are more than 20 farmers markets recognized by the U.S. Department of Agriculture in Louisiana, and today they are found in communities all over the state, from the Winn Farmers Market in Winnfield to the Cajun Farmers Market in Houma.
To find a Louisiana farmers market close to home, check out the state database available online by visiting www.ldaf.state.la.us and clicking on "Food and Nutrition" and then "Farmers Market Program."