The Hunt For Beignets In Acadiana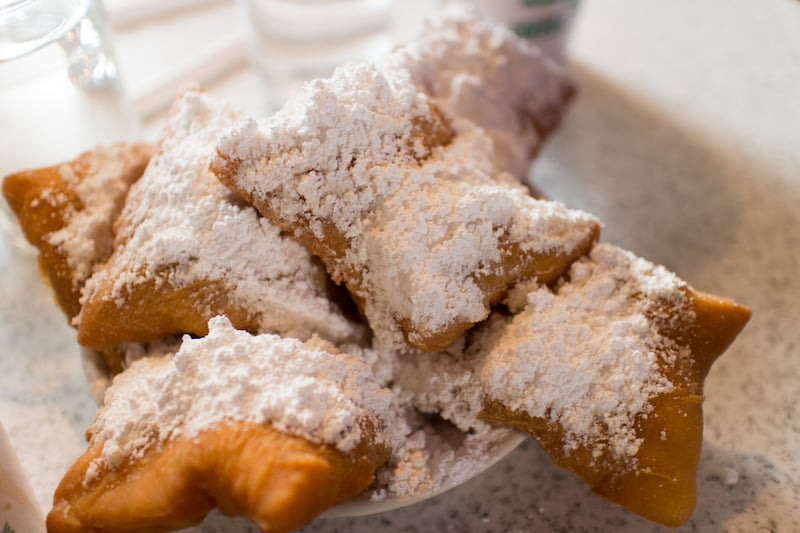 When fellow travel writers come to town, it's on me to make sure they experience the best of Louisiana.
Such was the case when Pamela Wattenbarger of Georgia arrived in Lafayette for Mardi Gras. Acadiana tourism folks planned to show her the finest in Cajun and Creole cuisine, stroll through Tabasco and Avery Island, ride a swamp tour and, of course, enjoy both Courir de Mardi Gras in the Acadiana countryside and a downtown Lafayette parade.
But before the tour started she had a few hours to spare and was envying, as we say in Cajun Country, for beignets.
It was early afternoon and we had just finished lunch at Fezzo's so beignet fingers at Scott's Coffee Depot was a given. The fluffy dough that's usually shaped into square donut-like desserts is stretched into long strips and fried, then topped with the requisite powdered sugar. Coffee Depot beignets are easier to handle than the ones found at the famous Café du Monde in New Orleans but are just as tasty.
Alas, the Coffee Depot closes after lunch so we began a hunt to find hot beignets — and hopefully some good coffee — in Lafayette.
The Internet suggested Twins Burgers and Sweets in the South College Shopping Center, a bakery and lunch spot known for its boudin king cakes and other decadent treats, not to mention great hamburgers. No beignets however. The helpful staff at Twins suggested Hub City Diner, so we headed down the road only to find that beignet service stopped with breakfast.
Black Café in downtown Lafayette and Poupart's French Bakery were suggestions but when we heard that Blue Dog Café might serve them, a restaurant located only a mile down on Pinhook, we headed there instead. At four in the afternoon the kitchen usually goes on hiatus but when management heard of our predicament, they cooked up two batches and served them piping hot with coffee. As lagniappe, Blue Dog's beignets include a buttery dipping sauce.
Beignet envie satisfied, we delivered Pam back to her hotel and her press tour began.
The following morning, Lafayette Convention and Visitors Commission staff took Pam to Buck and Johnny's in Breaux Bridge for its weekly Zydeco Breakfast and guess what they served? When I asked how the Breaux Bridge beignets compared, Pam responded via Facebook, "Awesome! They tasted similar to Cafe du Monde!"

Pamela Wattenbarger