The Little Museum That Could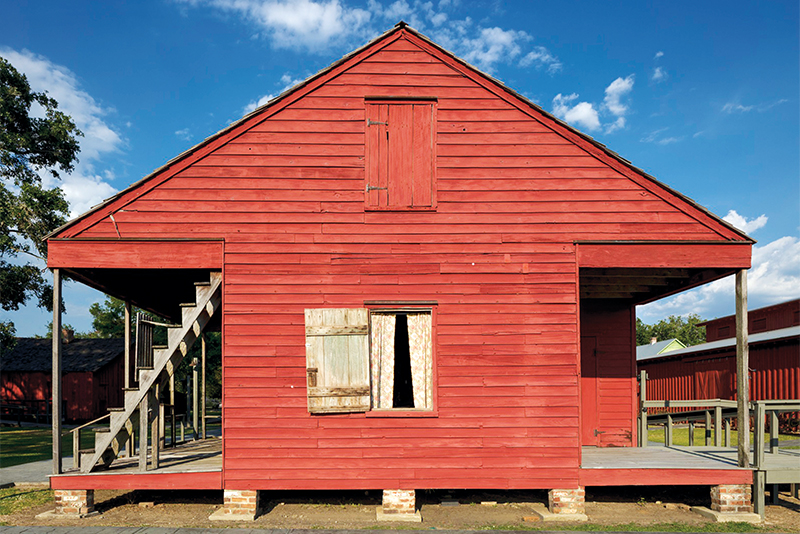 Now enjoying its reputation as a major attraction for locals and visitors, the West Baton Rouge Museum (WBRM) in Port Allen was just a name in 1968 when the brand new WBR Historical Association "borrowed" a small former courthouse to house a yet-to-be-gathered collection relating to 300 years of regional history. The first flow of donations (from the organizers themselves) provided enough antique furniture, household contrivances, surgical tools, small arms and period apparel to open in 1970, whereupon the general public got involved and turned that flow of art, artifacts and financial contributions into a flood.
Since then the 50-year development of the collection has seen not just steady growth but steadily accelerating growth, the most dramatic spurt occurring from 2006-2017 when director Julie Rose was boosting the significance of the place for locals but also adding galleries and exhibits with themes of geographically broader relevance, ultimately earning national accreditation for the museum in 2009.
One of those new themes was the first and still only museum exhibit anywhere that analyzes the work of sugarcane growers and methods of sugar production from field to mill to grocery store, and another is a study of African American life that spans the centuries from slavery, war and Reconstruction through the decades of the Civil Rights movement.
To complement the list of slavery-related topics presented by other River Road museums (see "GO"), Angelique Bergeron, Ph.D., who took the reins of WBRM just in time for its Golden Anniversary year, has adjusted her museum's slavery theme to celebrate group and individual accomplishments achieved by the enslaved and their descendants against all odds.
The Juke Joint exhibit building's displays and occasional live music honor the much acclaimed Baton Rouge Blues (a lively local variant that burst forth from the west bank's many all-night honky-tonks in the 1950s and '60s), and a new River Gallery will open in spring to honor all things great about the Mississippi.
Many more facts and fun can be found in the WBRM's four acres of historic structures, like the three slave and sharecropper cabins from nearby Allendale Plantation and an 1830 Creole raised cottage called the Aillet House, but the "Most-Nostalgia-per-Foot" award goes to the counters and shelves of the great old 1880s Plantation Store.
Contact the WBRM (westbatonrougemuseum.com or 225-336-2422, closed Sunday mornings and Mondays) for details about special presentations like "Running on Steam"designed for school kids; exhibits like folk artist Malaika Favorite's current "Washboard City" (through Jan. 20) and the National Archives' "Picturing Nam" opening Nov. 10 (following Port Allen's annual "Veterans on Parade" procession on Nov. 4). The museum's annual "Holiday Open House" is scheduled for the afternoon of Dec. 2.
---
GO
Like the WBRM, several plantations and museums between Baton Rouge and New Orleans devote significant space and tour time to various aspects of the African American experience here, and many visitors string together a number of those tour sites to learn more.
Such a personal pilgrimage might begin with Magnolia Mound and the LSU Rural Life Museum in Baton Rouge (brec.org/magnoliamound; lsu.edu/rurallife), and downriver stops along the west bank could include the River Road African American Museum in Donaldsonville (africanamericanmuseum.org); Oak Alley in St. James Parish (oakalleyplantation.com); and Laura in Vacherie with its incredible slave-genealogy projects (lauraplantation.com). Whitney Plantation in St. John Parish is now the home of emotionally moving slave statuary and memorials (whitneyplantation.com), and rosters of slaves listed by names and skills are posted along the stunning row of 22 cypress slave cabins at Evergreen (evergreenplantation.org). Across the river, San Francisco has preserved the names and job titles of its slaves as listed on 1843 and '56 inventories (sanfranciscoplantation.org), and a special museum at Destrehan Plantation is devoted to a slave revolt that involved most of the east bank in 1811 (destrehanplantation.org).
---
DINE
Court Street Cafe
The café, with its menu full of fine American and regional fare, offers three meals a day on six days plus morning and midday meals on Sunday. (225-330-4669, courtstreetcafe.com)
Cou-yon's
Despite its selection to Yelp's "Top 50 BBQ Joints in America" list, Cou-Yon is more than a barbecue emporium, with its menu trumpeting traditional goodies like etouffée and shrimp platters along with its 24 barbecue plates and á la carte items (225-383-3227, couyons.com).
DC's Grill
The menu at DC's Grill in Brusly, just downriver from Port Allen, combines a selection of burgers and sandwiches, fried seafood plates and great grilled Gulf fish, plus a special Caribbean Spring Salad and Shrimp Remoulade. (225-749-2343, dcgrillwbr.com)
Raxx Bar & Grill
West of Port Allen in Erwinville, Raxx Bar & Grill will entice you with po-boys, burgers and Wednesday night steaks (plus good bar food) and entertain you with a roster of regular bands and surprise guests. (225-627-7299, facebook.com/raxx.bar/)
Sugar Patch Lounge
Heading back toward Port Allen, stop at the Sugar Patch Lounge just off U.S.90 – not a restaurant unless you count its Thursday night rib eye specials, but a reliable provider of live music and lots of dancing. (225-246-2490)
---