The Livonia Mounds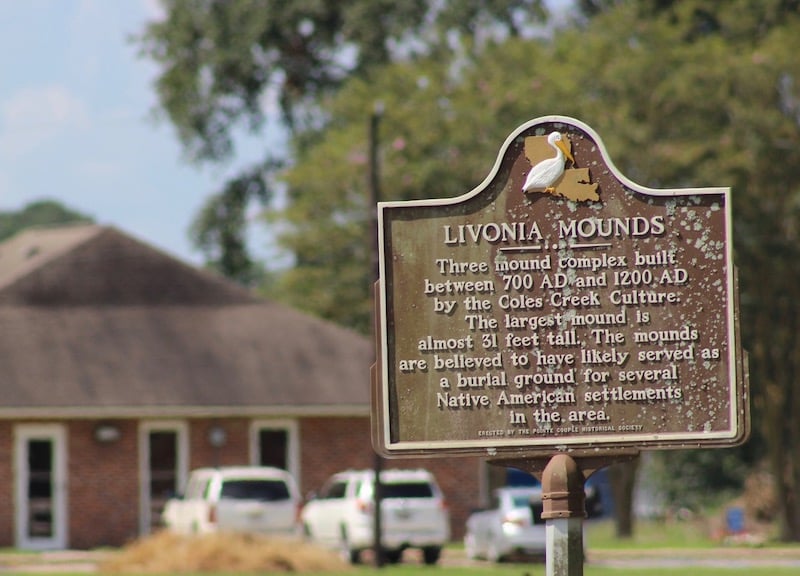 There are hundreds of Native American earthen mounds scattered throughout Louisiana and you may be surprised to learn that some are older than the Great Pyramids. Poverty Point may be the best-known archaeological site, a UNESCO World Heritage Site and a Native American trading hub located in the northeastern section of Louisiana.
But there are many others, including the ancient mounds on the LSU campus, thought to be 5,000 years old.
On a recent drive through Pointe Coupée Parish, I stumbled upon a magnificent mound a stone's throw from the highway.
There are at least 10 earthen mounds within Pointe Coupée Parish, the largest the conical Livonia Mound right off Highway 78 in the heart of Livonia. There's an historical marker on the highway, but if you blink, you might miss the mound dating back to the Coles Creek period, 400 AD to 1100 AD. The base extends 165 feet and reaches up to 31 feet tall, although it's difficult to see the entire structure due to a tree growing through its side and other foliage.
"Situated on the east bank of Bayou Grosse Tête, about 150 feet from the water's edge, this mound commands a strategic site approximately 500 feet south of the confluence of Bayous Fordoche and Grosse Tête," writes Brian J. Costello in "A History of Pointe Coupée Parish, Louisiana." "The depression in its crown is reported by local residents to have been the temporary grave of a woman who died during the 1927 flood, her body remaining there until removal and permanent burial elsewhere following the recession of the floodwater."
The historical marker, erected by the Pointe Coupée Historical Society, states that that the mound is part of a three-mound complex built between 700 and 1200 AD, likely a burial ground for several Native American settlements.
Costello contends the 200-foot earthen rise southeast of this mound may be the second mound, one that was destroyed in the mid-1900s. Archaeologists looked for a third mound and found none, Costello claims in his book.
The Livonia Mound sits on private property and there is no parking area, except at the Dollar General opposite the site. Visitors should not trespass on the site, but the Dollar General is close enough for great photos.