The Louisianian's Field Guide
Things every Louisianian should know and places every Louisianian should go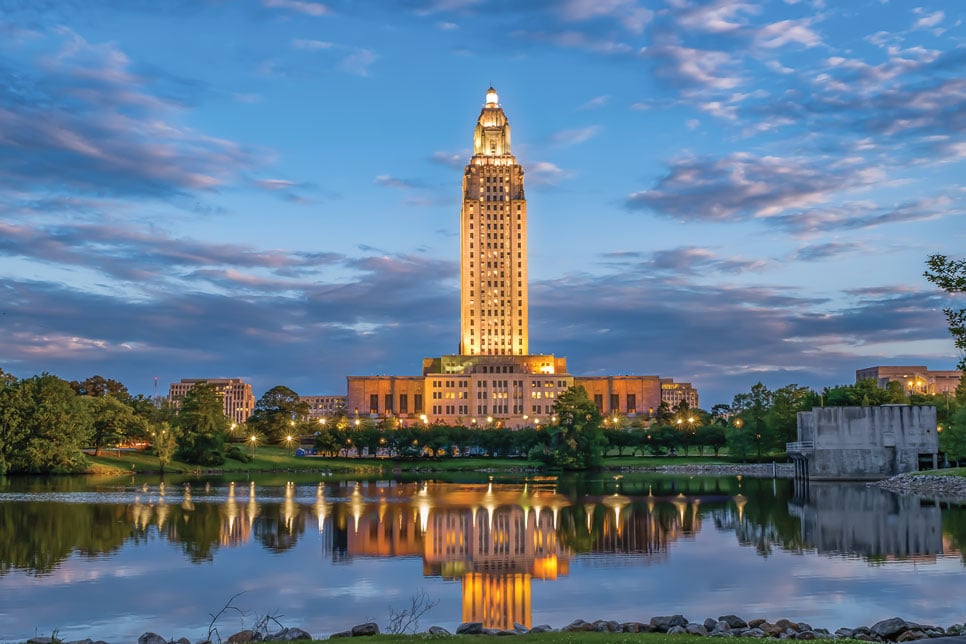 "America has only three cities: New York, San Francisco and New Orleans. Everywhere else is Cleveland." – Tennessee Williams
We would amend Williams' comment to include all of Louisiana. With apologies to Cleveland — seriously, we mean no harm — our state differs from others in so many ways, many of which are the reason tourists flock to our bayous and cities. We have parishes instead of counties, Napoleonic Code instead of common law and our cuisine differs from Southern styles, making it one of the most unique American foodways. Naturally, newcomers scratch their heads at our uniqueness, so we've compiled a field guide to help you out.
SHOULD GO
Audubon Nature Institute & New Orleans City Park
The Audubon Nature Institute and City Park Conservancy are twin jewels in the Crescent City's crown. The former works to conserve and protect endangered species and habitats as well as educate the public through its Zoo (within beautiful Audubon Park), Aquarium and Insectarium. The latter has been providing space for recreation, cultural institutions and nature — one of the largest urban parks in the United States — for more than 170 years and was recently transitioned to a nonprofit conservancy.
Both parks and associated attractions offer days of enlightenment and fun, but new this summer is the reopening of the Audubon Aquarium, including the Insectarium relocation to the former IMAX Theatre at the New Orleans Riverfront. City Park added four pickleball courts to its Tennis Center, which joins the Botanical Garden, Louisiana Children's Museum and Storyland. audubonnatureinstitute.org; neworleanscitypark.org
Saturday Night in Tiger Stadium
Tiger Stadium fills to the brim with around 100,000 screaming fans, making the stadium the fifth largest city in Louisiana for those few thrilling hours. Then there are the thousands of tailgaters on the stadium's periphery. Saturday night in Death Valley is more than football, however. Don't miss the Golden Band from Tigerland march down Victory Hill into the stadium, then perform their dramatic pre-game show with a goosebump-inducing version of "Tiger Rag."
---
Urban Legends: Feu Follet
For those who prefer a rational explanation, these are swamp gases emitted from rotting vegetation, also called will-o'-the-wisp in English. They appear as floating lights so perhaps they are evil spirits messing with those courageous enough to venture near. Some believe they are the souls of unbaptized babies and if you follow the lights, they will lead you astray.
---
Chimp Haven
In 2015, the National Institutes of Health retired chimpanzees used in research centers throughout the United States. The private nonprofit Chimp Haven outside Shreveport took them in, becoming the world's largest chimpanzee sanctuary. The refuge hosts more than 300 chimpanzees in 200 forested acres. The public may view the animals in their relaxing habitat, and learn about the animals closest biologically to humans, on Chimpanzee Discovery Days held on two Saturdays every year. Tours are available upon request. chimphaven.org
Old and New State Capitols
Baton Rouge owns two unique state capitols: the Old State Capitol, a colorful castle-like structure that Mark Twain called "pathetic" that's now revered and the 34-story New State Capitol, a premiere example of art deco architecture that was built in record time for only $5 million in 1932. A visit to both in the Capital City is a must, said Tamaria Williams, communications manager for Visit Baton Rouge. "View the town from the 27th floor observation deck of the New State Capitol," said Williams. "And the Old State Capitol ­­— there's no other building like it." Don't miss the bullet holes on the ground floor of the New State Capitol, the site where Sen. Huey P. Long was fatally shot in 1935.
---
Urban Legends: Loup-garou/Rougarou
This legends hails from France, where loup-garou means a man who transforms into a wolf. Cajun tales take on new attributes, such as the creature inhabiting swamps. Louisianians often tell their children the loup-garou or rougarou singles out misbehaving kids. Hey, it works. For fun around this legend, don a costume and enjoy Houma's Rougarou Fest in October. rougaroufest.org
---
Avery Island
Louisiana is home to one of the most recognized brands in the world and visitors can learn how Tabasco is made with a visit to Avery Island, a short drive outside New Iberia. A tour of the Tabasco factory is a must, but additional options include lunch at Restaurant 1868!, a Tabasco cooking demonstration or a culinary course which includes, of course, the famous hot sauce. But there's more! The Tabasco factory sits on a salt dome which appears above the environment as an island in the wetlands. Called Avery Island, Tabasco founders developed the unique land mass into the elaborate Jungle Gardens that's open for either a self-guided driving tour or a guided bird tour of the egret sanctuary.
SHOULD KNOW
Shuck an Oyster
Isaac Toups, owner of the acclaimed Toups' Meatery in New Orleans, admits that it takes a few oysters — or "ersters" as some locals say — to get the hang of shucking.
"You get good after about 1,000 of these," he advises in his cookbook, "Chasing the Gator: Isaac Toups and the New Cajun Cooking."
Toups suggests having three items on hand to shuck an oyster: an oyster knife for your dominant hand, a cut-resistant glove for the other and a kitchen towel. Place the oyster "cup side down" in a towel folded twice and, with the knife in your dominant hand, slice its tip into the hinge of the oyster.
"Focus pressure on the hinge, and using an up-and-down motion with the knife, pop the oyster open, being careful not to puncture the meat," he writes. "Wipe the blade off and, from the back, shimmy the knife to open the shell a little while sliding it to the front. Peek in the oyster and locate the adductor 'eye' and scrape the shell to cut it loose from the top shell. Repeat the same maneuver on the bottom shell."
If you're a visual learner, check out Toups' cookbook for a step-by-step photo guide.
Make a Roux (or at least buy a jar)
There are simple ways to make a roux — add oil (or butter) to a skillet, whisk in flour, blend well and then stir until you achieve the right color. Just don't let it burn. For gumbo, stock, meat and seafood are added depending on the type desired. According to Chef John Folse, who wrote "The Encyclopedia of Cajun & Creole Cuisine," a conventional French roux to use in gumbo includes 1 cup of oil and flour with 6-12 cups of stock, with "10 cups stock to a perfect Louisiana gumbo consistency." For those who lack patience, try Cajun Power gumbos (add your meat or seafood) or gumbo starters such as Zatarain's, Tony Cachere's or Louisiana.
---
Urban Legends: Ghosts
Apparitions love our state and refuse to check out of hotels, remind us of past murders as is the case of The Myrtles Plantation and offer fodder for TV shows, such as the French Quarter's LaLaurie Mansion. There are too many tales to relay here, but ghost tours and books abound to offer a good scare.
---
Pronounce Weird Cities, Waterways and Streets
Many cities, streams and streets have French, Spanish and Native American names but that's doesn't mean they're pronounced correctly. The New Orleans street of Burgundy, for instance, is written like the wine, but pronounced "Brrr-gun-dee." New Orleanians call Caliope, one of the "Muses" streets, "Cal-ee-op."
Over in Cajun Country, locals chose a happier rendition for the city named for the Marquis de Lafayette, hero of the American Revolution. It's Laffy-ette, not La-Fie-Ette. Port Barre and Boutte appear as if there might be an accent acute on the end but it's Port Bar-ee and Bou-T.
Here are a few others that routinely stump tourists and new residents:
Atchafalaya: At-chaff–a-lie-a
Tchoupitoulas: Chop–a–tool-as
Prytania: Pry–tan-ee–a
Ouachita: Wash-it-taw
Boil and Peel a Crawfish
They may look like small lobsters, but their cooking and eating require a different mindset. First, fill a pot of water enough to cover your collection of live crawfish and add your favorite seafood boil to the mix. When the water boils, add the crawfish and cover. After the water boils again, wait about two to three minutes, then turn off the heat. Let the crawfish simmer about 15 minutes in the pot, adding desired seasoning. Pour the crawfish on to a table lined with newspaper and enjoy. Louisianians will tell you it's not a crawfish boil unless you add lagniappe, meaning a little something extra such as onions, potatoes, corn — you decide! To peel a crawfish, grab the head with one hand and tail with the other, twisting the tail from the head. Peel off the first two to three rings of the shell from the tail meat, pinch the end of the tail and pull the meat from the shell. If you dare — and most of us natives do — suck the juices and fat from the head.
Books Every Louisianian Should Read
A Lesson Before Dying
There are so many wonderful novels by Ernest J. Gaines to choose from, but one of his most acclaimed novel remains "A Lesson Before Dying," which won the National Book Critics Circle Award for fiction and was made into a HBO film.
The Awakening
Kate Chopin's 1899 novel set in New Orleans and Grand Isle follows a woman and her unorthodox views on society and her role as a woman. It is considered by some as one of the earliest American feminist novels.
The Moviegoer
Like John Kennedy Toole, Walker Percy's debut novel details New Orleans in a more realistic light. The story revolves around Jack "Binx" Bolling in the post-World War II era who feels alienated from life. The novel won the National Book Award in 1962.
Differentiate Between Cajun and Creole
Cajuns were Acadians who settled the Maritime Provinces of Canada and were expelled by the British beginning in 1755. Many made their way to Louisiana and settled in parishes outside New Orleans. Their nickname, a shorter version of Acadian, was pronounced in French "Cad-jen." Americans heard "Cajun" and it stuck. If you visit Nova Scotia and environs, the French citizens who remained there are still called Acadians. As for Creole, the question will undoubtedly elicit debate, mainly because there are many beliefs: of African American descent, mixed race and even white New Orleans residents. For the most part, Creoles are residents of a land with ancestral ties to other countries, mainly Europe and Africa. "It's a contested term," claims Elista Istre, author of "Creoles of South Louisiana: Three Centuries Strong," adding that she bases Louisiana Creole on three things: who you talk to, the time period and the location. As for cuisines, Creole cuisine refers to New Orleans while Cajun describes the dishes from the South Louisiana parishes known as Cajun Country.
---
Urban Legends: The Honey Island Swamp Monster
This creature who lives in the wetlands near Slidell is Louisiana's version of Bigfoot. Like Sasquatch, many have professed to viewing the hulking ape-like animal.
---
Know the Lingo
Our hero, hoagie, submarine sandwiches are called po' boys and they come dressed, which means with mayo, lettuce and tomato and sometimes pickles.
We cook with the "Holy Trinity": onions, bell peppers and celery. Add garlic to the mix and it's the "Four Seasons."
When Americans bought Louisiana the established French and Spanish citizens weren't too happy to see them, but they met on the median of Canal Street to do business, which is why we call medians in New Orleans "neutral grounds." And it's not relegated to Canal Street. For instance, the neutral ground on St. Charles Avenue is a great spot for Carnival parades.
Counties are parishes here — and Louisiana is the only state in the union to use the word.
Greetings are unique as well: "Ça va?" in Cajun Country and "Where y'at?" in New Orleans. Both mean, "How y'all doing?"
New Orleans sits in a massive crescent of the Mississippi River so no doubt the founders got a little confused. The "West Bank" is south of the city, east of Old Jefferson, but actually west in the Carrollton section of Uptown. Speaking of Uptown, that means up river while Downtown is downstream. Forget directions north and south, it's riverside or lakeside.
Mardi Gras Do's and Don'ts
First and foremost, Carnival is the season that begins on Jan. 6, otherwise known as 12th Night or the Epiphany, and runs to Mardi Gras day. Mardi Gras is the Tuesday before Ash Wednesday, the day we live it up to give it up. Don't raise your shirt for beads. Save that indiscretion for the tourists. You'll catch plenty without showing nudity. Don't buy beads either. See previous advice. Do get to the parades early. The closer you arrive to the start time of the parade, the heavier the traffic and finding a good parking spot. Do be conscious of those who live on the parade route. You wouldn't want people defacing your lawn. Don't cross the street during a parade. This may seem like a no-brainer but people are injured every year trying to beat the oncoming floats and trucks. Do wear a costume on the big day, aka Mardi Gras. It's a long-standing tradition and it's fun for both the wearers and the observers.