The New Orleans Hispanic Heritage Foundation's Annual Black-Tie Masquerade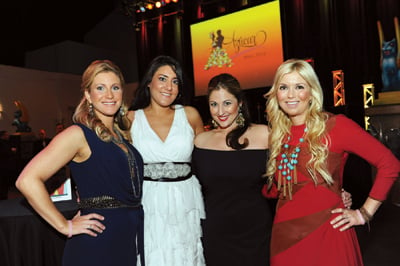 The New Orleans Hispanic Heritage Foundation's annual black tie masquerade, the "Azucar Ball," brought a "carnaval" to the very home of Carnival this December, with Mardi Gras World playing host to this year's theme "Noche de Carnaval" or "Night at the Carnival." Azucar directly benefitted NOHHF's scholarship funds that are awarded to deserving Hispanic youth every year.
Co-chairs Cristi Fowler Chauvin, Sofia Pigna Bellini, Ashley Ryan Rayborn and Victoria White Baudier flawlessly organized this festive and fun-filled evening. During the ball, the NOHHF bestowed its highest honor upon Dr. Patrick J. Quinlan, who has unselfishly devoted his time and efforts to bettering the local community through outreach and community service.
Complete with fortune-tellers, acrobats and aerialists who served guests champagne while hanging upside down, "Azucar 2012" was truly "the greatest show on Earth." With music by bands Julio & Cesar and Rumba Buena, guests enjoyed a night of dancing under the stars along the Mississippi River, in addition to an outdoor cigar bar. Attendees also feasted on gourmet cuisine, including fare from the Ralph Brennan-owned Red Fish Grill and René Bistrot. A patron party held in Mardi Gras World's "Mini French Quarter" preceded the ball and was catered by John Besh.
The highlight of the evening was a mini-parade of local celebrities on elaborately decorated floats, supplied by Mardi Gras World. Guests caught a number of favors including beads, maracas and masks. In attendance were Mayor Mitch Landrieu and his wife Cheryl.
---
Event at a Glance
WHAT
"Azucar Ball," benefitting New Orleans Hispanic Heritage Foundation
WHEN
Friday, November 16
WHERE
Mardi Gras World