The Road to Spanish Lake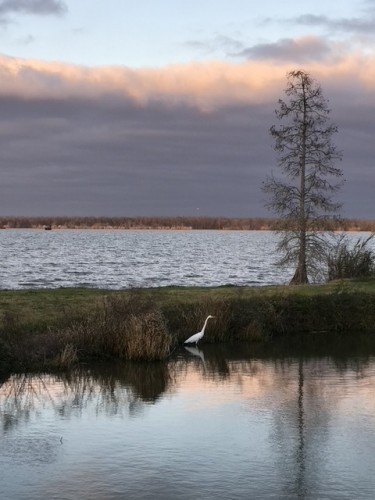 So many times when I'm driving through the Louisiana backroads, I catch a glimpse of bayous, lakes and rivers and vow to return to explore whatever lurks behind the trees and houses I pass. Heading from New Iberia to Lafayette one late afternoon, I decided to do just that.
Spanish Lake exists right off La. Hwy. 182, at the intersection of Spanish Town Road and West Old Spanish Trail. You'll see the lake through the trees as you make your way down Hwy. 182, but a historical marker and a boat launch sign point the way to the water's edge.
I turned toward the lake and found the sun's setting catching a rainbow of colors on the water, mostly oranges, crimsons and purples. A great white egret posed near the boat launch, ready to flee if I got too close. In the distance, cormorants, ducks and other wildlife could be seen in bald cypress trees and swimming along the lake's far shore.
Early residents called the waterway Lake Flamand (meaning Flemish) for Louisiana settler Jean Baptist Grevemberg. French settlers called it Lake Tasse since it resembled a cup. Spanish immigrants from Spain and the Canary Islands who formed the city of New Iberia and Iberia Parish, hence their names, named the lake for the people who lived on its shore.
Spanish Lake is believed to have been an oxbow created by an abandoned turn in the Mississippi River, when the mighty river flowed through Acadiana 3,800 to 5,500 years ago. It's part of the Atchafalaya Water Heritage Trail, a self-guided driving trail that spans 14 parishes in south-central Louisiana.
"Spanish Lake is an example of a bluff lake, a type of lake that forms in areas between the bayou bank (in this case Bayou Teche) and the higher bank that runs along the edge of a river's drainage area," states the Trail's website. "This explains Spanish Lake's unusual shape, with one side straight as if a bluff structure and the other side a curved line (like a former river course)."
The area saw skirmishes during the Civil War and Confederate Camp Pratt was located nearby, on the lake's edge, from 1862 to 1863. According to the historical marker at the former camp site, as many as 3,000 conscripts were stationed there along with a small compound for Union prisoners.
The road to Spanish Lake may be small but it's a great opportunity to fish, launch boats, bird watch, picnic or just admire the sunset. The levee trail-fishing area is open sunrise to sunset with five handicap-accessible fishing piers. There's also a bait shop.
For more information on Spanish Lake.
For information on nearby New Iberia and other outdoors attractions throughout the parish.