Thrills in the 'Ville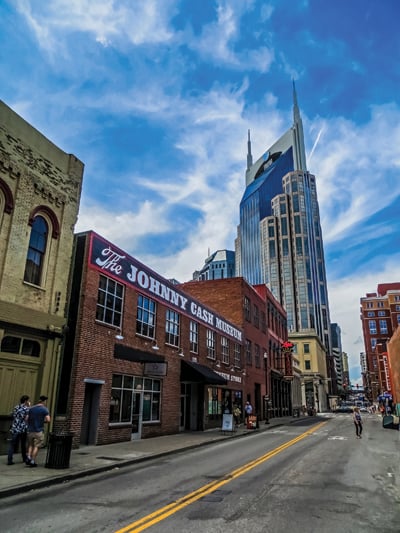 Nashville is a hot city these days — and it's not just the chicken. Tennessee's Music City has been hitting all kinds of lists, from being voted by Frommers and Travel+Leisure as one of the best places to travel in 2017 to the new Johnny Cash Museum landing at the top of both the Forbes and National Geographic must-see travel destination attractions. And during the holidays, the city embraces that special time of year with plentiful activities and, of course, musical events.
Music
The Country Music Hall of Fame envelopes an enormous space — more than 350,000 square feet. In addition to the stories-high wall of accolades, the museum offers a history of country music and its varied sounds with personal items from performers, from Elvis' exuberant Cadillac to the drum set of Louisiana's Hackberry Ramblers. Revolving exhibits include the "Dylan, Cash, and the Nashville Cats: A New Music" display, showcasing the unique relationship developed between Bob Dylan and Johnny Cash in the late 1960s-early 1970s.
Speaking of Cash, the Johnny Cash Museum opened in 2013 and has since been named a top attraction by travel magazines as well as earning the AAA Gem rating. Visitors will enjoy exhibits that trace the famous musician's rise from a turbulent childhood to worldwide fame, listen to Cash recordings and view artifacts such as guitars, clothing, gold records and Grammy Awards. There's even a room spotlighting Cash's Hollywood career where he appeared in movies and starred in his own TV show.
Not all of the Nashville sound leans toward country. The Nashville Symphony has dedicated millions for the Schermerhorn Symphony Center where visitors can enjoy a variety of music on three levels, including luxurious concert boxes. The holidays offer special events — Christmas with Jennifer Nettles, CeCeWinans, Handel's "Messiah" — even a film showing of "Home Alone" while the symphony performs its soundtrack. There's also a Family Holiday Sing-along and "Sing: An Irish Christmas" with Keith and Kristyn Getty where the audience is invited to participate.
The Art Side
The Frist Center for the Visual Arts began as a post office in 1933 but the exquisite Art Deco and classicism architecture seemed destined to become an art museum. Hailed as a non-traditional art space, exhibits are revolving every six to eight weeks. There's also a gift shop, art classes and architecture tours.
Cheekwood Estate and Gardens once belonged to a family who made their fortunes in Maxwell House coffee. Now, visitors may roam the mansion and rolling hills of landscaped gardens and forests. The holidays feature a million lights throughout the property, plus weekend activities that include Santa visits, gingerbread workshops, holiday teas and more through Jan. 7, 2018.
Holidays
Three million twinkling lights, holiday decorations galore and world-class entertainment happen every year at Gaylord Opryland, which celebrates "A Country Christmas" from Nov. 10 to Jan. 1, 2018. In addition to the 2,881-room resort with its numerous restaurants and expansive atrium, the resort that's a destination to itself offers its "ICE!" event, featuring a Charlie Brown Christmas, Cirque Dreams Holidaze, ice skating, snow tubing, holiday river cruises and more.
The Grand Ole Opry, which began in 1925 by an insurance company looking to advertise its policies with a "WSM Barn Dance" (WSM being the company's motto, "We Shield Millions), today performs at the Grand Ole Opry House near Gaylord Opryland. But during the winter it moves to its original home, the Ryman Auditorium, starting Nov. 3. This change allows visitors a chance to witness the world-famous radio show on the stage where country music greats such as Minnie Pearl, Roy Acuff and Patsy Cline, among so many others, performed.
Nashville goes all out with its annual Christmas Parade. The 64th annual event is Dec. 2 and promises to be the largest to date with marching bands, performers, the Titans Cheerleaders and lots more.
---
EAT
The modern take on Southern favorites is what draws visitors to the Southern Steak & Oyster restaurant, but the restaurant is a joy to behold as well, with its walls of artifacts and a film featuring Louis Armstrong on "The Johnny Cash Show."
The biggest food craze these days is the Nashville hot chicken, chicken pieces breaded and coated with hot spices, usually cayenne, and served with white bread and pickles. Visitors may enjoy this mouth tantalizing dish in the traditional sense or served up in various ways, such as in salads or complementing a waffle for brunch.
The Loveless Café outside of town on Highway 100 has been serving up great fried chicken, biscuits and country ham since 1951.
It's a destination on to itself, attracting hundreds each day to the compound which includes gift shops, barn and game area. There's usually a wait, so the best times to visit are non-peak times and days.
---
To bring home
Nothing says Nashville than GooGoo Clusters, decadent chocolate candy made with caramel, peanuts and marshmallow nougat.
The company began here in 1912 and even though the chocolate goodness can be found in select Louisiana stores, the hometown seems to have more variety.
For something healthier, Grab the Gold offers a sweet snack without gluten, trans fat, preservatives and dairy and is naturally vegan. The treats are made with organic oats, real peanut butter and other natural ingredients.
---
HISTORY
The Hermitage Hotel, built in 1908, was Nashville's first million-dollar hotel and it's easy to understand why.
The hotel named for Andrew Jackson's Hermitage estate exudes elegance, from the footmen welcoming you into the elegant lobby that's always decorated for the holidays to the historic details of your room.
Jackson's real Hermitage, now a National Historic Landmark, consists of the mansion — where 95 percent of the furnishings are original — and 1,000 acres.
Nashville was once considered the Athens of the South, which is why an exact replica of the Greek Parthenon and 42-foot Athena statue were built for the 1897 Tennessee Centennial Exposition. Visitors can witness both in Centennial Park.
---
CELEB WATCHING
Mike Wolfe and Frank Fritz may be on the road searching for treasure, but fans of their TV show, "American Pickers," will love stopping by Antique Archaeology in the old Marathon Automobile car factory in the heart of Nashville. The company store associated with The History Channel show sells antiques and restoration lighting, plus tourist items such as hats and T-shirts.
---