Tom Harmeyer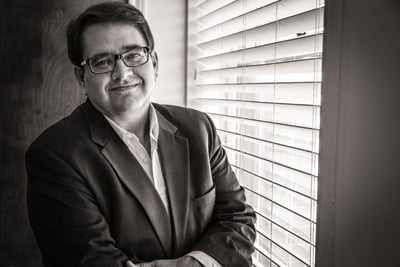 Tom Harmeyer is an accomplished grant writer and fundraiser, but he studied journalism in college at Loyola University in New Orleans and more or less happened into the work he's built a career on.
"I answered an ad for the New Orleans Museum of Art. They were looking for a grant writer. I didn't know what grant writing was, but I fancied myself a writer, so I applied and for some reason, they hired me," Harmeyer says.
Harmeyer grew in the role, becoming instrumental in helping to net major donations to increase the size of the museum.
"At that time, much of the collection was in storage," he remembers of NOMA in 1985. "The museum you know today essentially fills the circle in City Park. It was only about a third of the size that it is now."
Harmeyer's successes drew the attention of the Ochsner Medical Foundation, which hired him to manage the capital campaign to build a biomedical research center. When the first of his two children were born, Harmeyer felt inclined to begin working in child welfare. He began work at the Boys Town group home in New Orleans.
"It was clear to me that we needed to do something in terms of youth programming in the New Orleans area, and it was a great career opportunity for me," Harmeyer says. "I helped Father Flanagan (Boys Town) to get established in New Orleans, and that involved an emergency shelter and some group homes and some training programs."
With that project complete, Harmeyer was wooed back to Ochsner to build an endowment for the hospital's medical research program.
By 1993, buildings he helped fund NOMA, Ochsner, and Boys Town had opened.
"That was a pretty cool year," Harmeyer says. "I was all of about 30 years old at that point and had three buildings to show for it. I had varying roles in each of the things from minor roles at the museum to more substantial roles with Boys Town, for instance. But I had some tangible evidence that I was doing something."
In 1996, Harmeyer was named the Outstanding Fundraising Executive for Greater New Orleans by the New Orleans chapter of the Association of Fundraising Professionals, adding another feather to his cap. He was the youngest to receive the award.
When the terrorist attacks of September 11, 2001, jolted the nation, Harmeyer again felt moved to make a change. "I felt like I needed a little bit more control over my own life, so I left the staff position and started my own consulting, working with nonprofits in terms of capital fundraising, major gift fundraising, and also more generalized communications and marketing consulting." Harmeyer's consulting business centered in his native New Orleans, but his work spanned much of the state.
When Hurricane Katrina struck in 2005, Harmeyer's Gentilly home flooded catastrophically. Rather than work to rebuild and hope their neighborhood recovered, the family relocated to Alexandria.
"We never had any intention of leaving New Orleans, so there was never any pre-planning about moving here, and it would have taken something as big as Katrina to move us out of New Orleans," Harmeyer says.
But Harmeyer and his family have thrived in a community that welcomed them with open arms. His business continued to thrive, too, and in 2009 he was hired as the Executive Director of the Central Louisiana Community Foundation, an organization he now serves full-time as its president and CEO.
"We have, in that time, with thousands of small gifts but a series of million-dollar and up gifts, we have quadrupled the assets that the foundation holds and established a whole series of really neat things for this community," Harmeyer says.
Those accomplishments have included building the endowments of the Rapides Symphony Orchestra and the Alexandria Museum of Art and establishing one of the largest quiz bowl tournaments in the state with the help of LSU-Alexandria and the United Way. One of the most rewarding for Harmeyer has been launching the Good Food Project, a community garden that seeks to educate the community about healthy eating, with the Food Bank of Central Louisiana and local company Keller Enterprises.
Not bad for someone who, 29 years ago, simply answered an ad in the paper.