Tour de Force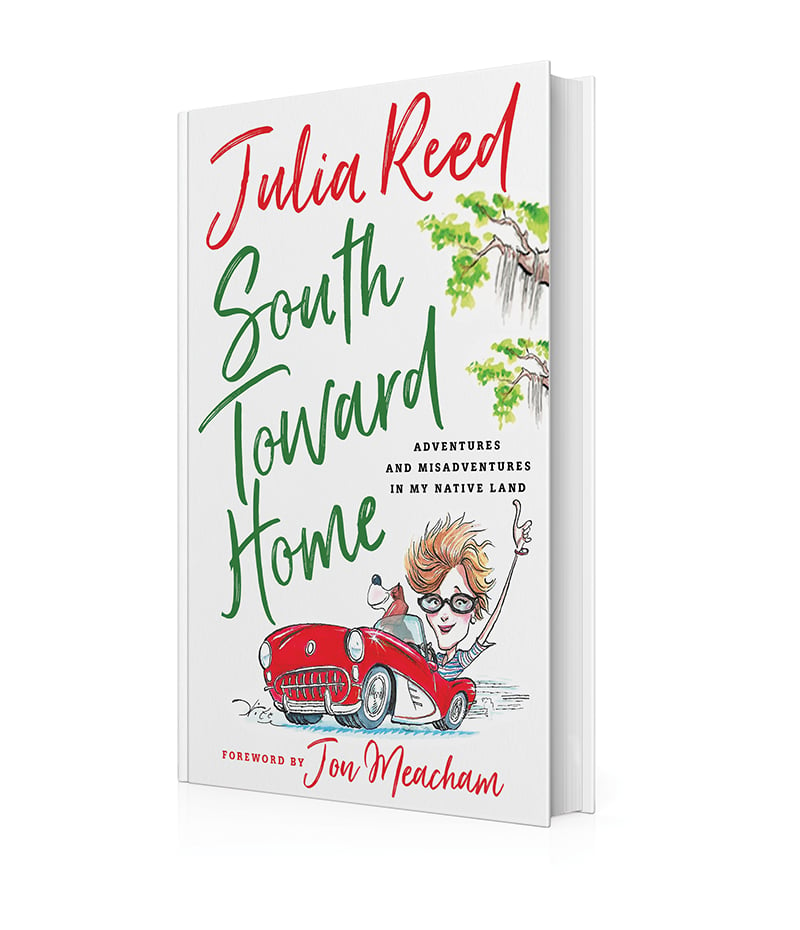 Writer and editor Julia Reed's storytelling compass often (luckily for all of us readers) swings towards all points south. A Louisiana Life editor's top pick, Reed has that wry southern way of embracing quirky skeletons in the closet and celebrating the way we do things that make us a little bit different from the rest of the world.
The essays in her latest "South Toward Home: Adventures and Misadventures in My Native Land," Reed's sixth book, is a combination love-letter, cultural-critique and travel-diary through her hometown haunts from the Mississippi delta to the oak-lined streets of New Orleans, which she now calls home. She tells stories in a way no one else can, a reason even national publications have dubbed her the finest hostess and party guest in the land.
Escapades in "South Toward Home" include, but are not limited to, experiences we many of us have had (like it or not) and some completely unique to the author: Bible camp, living it up on the "Redneck Riviera," enjoying fried chicken, Kool-Aid pickles and other regional delicacies, travel through dry counties, Carnival balls and more.
This is a book a reader can, and should, sit back with and sip, whether it be sweet tea or something stronger, and enjoy the ride.
South Toward Home: Adventures and Misadventures in My Native Land by Julia Reed, $25.99
---
Butterfly Watching
Butterflies of Louisiana by Craig Marks
Summer time is wildflower time, and with those blooms come the multicolored flutterings of Louisiana's native skippers and butterflies. In "Butterflies of Louisiana," butterfly expert, aka lepidopterist, Craig Marks outlines what to look for when butterfly watching in your own backyard or around the state. Full color photos of native butterflies along with maps highlighting where to find each provide an easy way for both experts and novices to identify species. Marks also outlines the life cycle of the butterfly, potential threats to the butterfly families and the best natural areas, divided by region, from across the state for butterfly viewing, from Avery Island to Waddill Wildlife Refuge.
---
Creoles of South Louisiana by Elista Istre
South Louisiana native and cultural historian Dr. Elista Istre explores the rich, and yet often overlooked, traditions and influence of the Creole on the music, food and flavor of the area. The Creoles of south Louisiana brought a true gumbo of heritage, with influences from European Spanish, French and English, blended with African and Native American cultures. Storytelling, narratives, shared recipes and music mixed to create a culture that is unique among the state, the country and the world, to create a people accustomed to change and resilience.
---
Arrêté Pas La Musique! by Emile Waagenaar
Dutch photographer Emile Waagenaar was first introduced to Cajun music via a radio broadcast in 1979, and he felt immediately inspired by the honesty of the music. He would travel to Louisiana for the first time in 1982, visiting dance halls and earning musician's trust and friendship on that trip and many follow-ups throughout the following two decades. His touching, intimate portraits are an important historical record of the unique culture of Cajun music in an attempt to preserve the legacy of a vanishing way of life.
Comments
comments