Touring Cemeteries Around Louisiana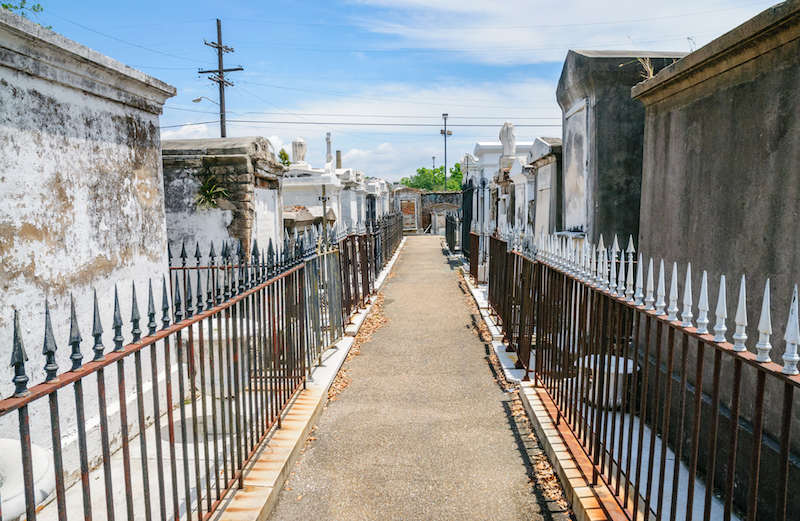 The veil between death and the living grows thin this month as we head toward All Hallows Eve or Halloween. And since Louisiana has some of the most interesting cemeteries in America, now's the time to take a tour through our "Cities of the Dead."
New Orleans
The Save Our Cemeteries organization of New Orleans holds regular tours of the city cemeteries all year long, including St. Louis Cemetery No. 1, which houses the remains of chess champion Paul Morphy, Homer Plessy of Plessy vs. Ferguson fame and voodoo priestess Marie Laveau. The organization also offers tours of St. Louis Cemetery No. 2 and 3 and Metairie Cemetery. Lafayette Cemetery is currently closed for renovations.
"Experience Mourning in New Orleans" combines a tour of St. Louis No. 1 and the mourning exhibit at the historic Hermann-Grima House every Saturday evening in October.
For information on all tours, visit www.saveourcemeteries.org.
Baton Rouge
Mary Manhein and Jessica Schexnayder studied the endangered cemeteries located throughout Louisiana's coastal areas and published "Fragile Grounds," which spotlights these fragile historic sites. They will discuss their book at Lunchtime Lagniappe at noon Wednesday, Oct. 9, at the Capitol Park Museum in Baton Rouge. The free event part of the museum's brown bag lecture series and attendees are encouraged to bring their lunch.

Shreveport
Shreveport mayors, Confederate soldiers and victims of a yellow fever outbreak are buried in Oakland Cemetery but this time of year people look for Cora Lee Wilson. The bricks on Wilson's grave routinely fall down, pushed from the inside!
The historic site is open year-round without admission.
Next door is the Shreveport Municipal Auditorium, a 1929 building known for its assemblage of ghosts, including possibly Elvis Presley. Paranormal-themed guided tours are offered during October on Fridays and Halloween night. Tickets are $20 and must be purchased in advance by visiting the "Tours" tab at www.shreveportmunicipalauditorium.com.
Natchitoches
Natchitoches is the oldest city in the Louisiana territory and many of its early citizens are buried in the American Cemetery at 140 Second St., considered by some to be the oldest cemetery in the Louisiana territory. The Natchitoches Historic Foundation and the Samuel Guy House will offer tours by costumed re-enactors of this historic resting place from 4 p.m. to 7 p.m. Friday, Oct. 11. Tickets are $20 (children 12 and younger admitted free) and sold at the cemetery's Second Street entrance and online at www.natchitocheshf.com. The last tour will begin at 6:30 p.m.
Acadiana
Costumed actors from the Opelousas Little Theatre will re-enact historic figures of the city who are now buried in the St. Landry Catholic Church Cemetery Oct. 12-13 and 19-20. Tours are offered at 6 p.m., 6:30 p.m., 7 p.m., 7:30 p.m. and 8 p.m. on Saturdays and 2 p.m. and 3 p.m. Sundays. Handicapped tours will be available at 3 p.m. Oct. 13 and 20. Tickets are $10 per person. For more information, call (337) 942-6552 or 308-3474 or visit stlandrycatholicchurch.com.
"If Headstones Could Talk…" is a guided, living history tour of the Old Masonic Cemetery in downtown Abbeville. Visitors will hear about life in Abbeville at the turn of the 20th century from 5:30 p.m. to 9 p.m. Friday, Nov. 8. Tours depart every 30 minutes from The Depot at Magdalen Place. For information, call (337) 898-4110.