Traveler: Celebrations and Steamboats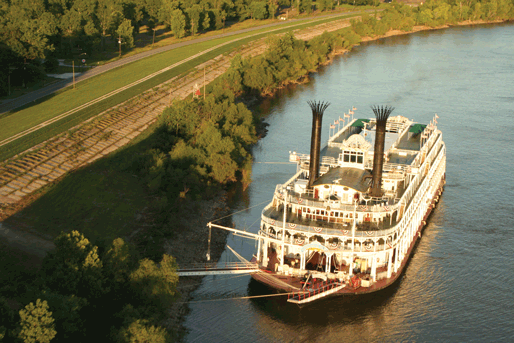 The bicentennial of Mississippi River steamboating has been somewhat overshadowed by the concurrent Civil War Sesquicentennial, Statehood Bicentennial and War of 1812 Bicentennial, not to mention – of surprising significance to Louisiana – Tarzan's 100th birthday!
We do love our steamboats, though, and it was pure luck that their appearance coincided with the War of 1812. That gave designers like Henry Miller Shreve three years to build their own paddlewheelers before the Battle of New Orleans in 1815, so they could help Andy Jackson prepare for the British invasion by shuttling troops and artillery up, down and across the river.
Actually, steamboats and I go way back, so kindly forgive a moment of reminiscence.
Record players used to have three speeds, 33 1/3 rpm for LPs ("long-playing" albums), 45 for singles and 78 for the quarter-inch-thick records of our parents' younger days – almost as large in diameter as the LPs, but they spun so fast they could accommodate only one song on each side. Two such relics had survived in our house, and one of the songs was "Steamboat Bill," the ballad of a steamboat named the Whippoorwill, a wager, Capt. Bill's attempt to break the record of the Rob't. E. Lee, and … disaster. The final sad lines were: "The river's all in mourning now for Steamboat Bill, no more you hear the moaning of the Whippoorwill. There's crape on every steamboat that plies the stream, from Memphis down to Natchez down to New Ooorleeens."
Like wagon trains, '49er miners and the Union Pacific's golden spike, steamboats played a starring role in America's development – especially here, where to this day they're as much a part of Louisiana's image as chaps and six-shooters are to "The West."
Our family trips to New Orleans usually included rides on the sidewheeler President, fueling my fascination, and soon I was learning about other famous riverboats: Capt. Shreve's Enterprise and Washington; the J.M. White, nicknamed "Big Jim" (biggest on the river); the Sultana (whose war's-end boiler explosion in 1865 killed hundreds of homebound POWs); and of course the Natchez by virtue of its famous 1876 race with the Rob't. E. Lee. There followed a 100-year hiatus in those often-deadly races, but in 1976, as one of America's Bicentennial events and marking the centennial of that last great contest, I had the pleasure of riding the venerable Delta Queen as it lost handily in a race with the spanking-new Natchez IX. Eight years later, with other friends of Mississippi River novelist Ben Lucien Burman, it was from the Natchez that we scattered the ashes of that great writer and of his wife Alice Caddy, illustrator of his river stories.
Other junkets followed on the Delta Queen and its sister ships, the Mississippi Queen and American Queen, and now, in this 200th year of Mississippi River paddlewheelers, the elegant American Queen is suddenly out of mothballs and back on the river, resurrected by the Great American Steamboat Company. Its return, in fact, is sparking a resurgence in river travel, with a new sister ship for the American Queen coming soon, and with American Cruise Line's handsome diesel-powered sternwheeler, Queen of the Mississippi, debuting Aug. 11.

Steamboat New Orleans
It all started, of course, when Robert Fulton – first developer of commercial riverboats – partnered up with Nicholas Roosevelt to build the 138-foot sidewheeler New Orleans (with two sails for auxiliary power), which departed Pittsburgh in October 1811 and steamed down the Ohio and Mississippi, arriving Jan. 10, 1812, at its namesake city. That odyssey, involving such perils as American Indian attacks, childbirth and the infamous New Madrid Earthquake above Memphis (powerful enough to open craters, spew lava and actually reverse the flow of the Mississippi for 45 miles), is dramatically traced by a special yearlong State Museum exhibit now at the Cabildo.
Soon, thanks to innovations by Capt. Shreve (reconfigured engines and shallow-draft hulls), steamboats were carrying passengers and cargo up America's western rivers and, in Louisiana, offering regular service up the Black and Ouachita as far as Monroe (named, in fact, for the S.S. James Monroe), and up the Red River and tributaries as far as Shreveport and Jefferson, Texas. Smaller boats were traveling down Bayou Lafourche from Donaldsonville, up Loggy Bayou and Bayou Dorcheat from the Red River to Minden, and up Bayous Teche and Courtableu as far as the little port of Washington (where an ancient brick "Steamboat Warehouse" is now my favorite restaurant for miles around).
To quiz yourself on other waterways, towns and characters from steamboating lore, just stroll the decks of the American Queen and see how many names you recognize on the stateroom doors. My cabin, for a "shakedown cruise" in early April, was named for geographer/explorer Henry Schoolcraft, discoverer of the headwaters of the Mississippi, but many if not most of the people and places named on the doors are Louisiana's own.
The Queen opened for real business in mid-April, and the schedule of its 3- to 8-night voyages can be found at greatamericansteamboatcompany.com.

Grand Stairway of American Queen
From the Main (bottom) Deck – with its J.M. White Dining Room, engine viewing area and Grand Saloon (theater) – to the top (pilothouse, pool and athletic club), every inch of the six-level craft is devoted to fine dining, music, stage shows, sightseeing, socializing and relaxation. The décor is not Victorian enough to kill you but sufficient to evoke images of the "Steamboat Gothic" layer-cake paddlewheelers you remember from movies and picture books.
Nightly stage productions feature concerts (jug band to big band) or singer/dancers in lively musical revues, while the mealtime and between-meal schedules of the big dining room and River Grill offer haute-but-hearty cuisine, from five-course dinners and jazz brunches to afternoon teas and "moonlight supper" menus.
The best party place is the Engine Room Bar, with its port and starboard porches, or grab a book (or companion) for a sit in the opulent Chart Room, Mark Twain Gallery, Ladies' Parlor or Gent's Card Room (no actual gender restrictions, of course). Eventually you'll discover, and perhaps never leave, the "Front Porch of America" on the Texas Deck, where the "porch" offers rockers by the forward rail and the interior features river-view windows and an endless self-serve font of perfect espresso, cappuccino and latté. Ever had a mug of espresso? Woooo-hooo!
If you can't catch the boat this year, at least catch the Cabildo's steamboat bicentennial exhibit, "New Orleans Bound, 1812: The Steamboat that Changed America." You'll get to know the innovators and financiers of early paddlewheelers; early settlements of the Ohio and Mississippi; characters like Thomas "Old Push" Leathers whose home still stands in Natchez and who built and piloted the first seven boats to bear that city's name; steamboat accouterments from medical supply boxes to china and silver service; and the usual steamboat crowd, from pilots and passengers to roustabouts, wood- cutters, cardsharps and calliopists.
Early sketches and paintings retrace the evolution of river craft, from canoes and rafts to flatboats and sailboats, and you'll find maps and navigation guidebooks used for steering pilots over rapids and past the ever-changing snags and sandbars. Bon voyage!
BEST BETS
Finest Finale: On Aug. 4 in New Orleans, Statehood Bicentennial events will conclude with a parade mirroring, at least in spirit, the Centennial Parade of 1912, a military procession that headed up St. Charles Avenue from Gallier Hall to Lee Circle and then doubled back via Howard Avenue and Camp Street to end at the Cabildo. This year's route will be from the French Market to Gallier Hall, thence via Lee Circle and Howard to Camp, but it will disband at the World War II Museum, where a reception and presentation of Louisiana Public Broadcasting's Bicentennial documentary will follow at 7 p.m.
Naval officers from ships in port were invited to the reviewing stand in 1912, and units like the proud old Washington Artillery, columns of cavalry, soldiers from Jackson Barracks and the cadet band from LSU took part in the parade. Similarly, this year's parade will involve bands and marching units from every branch of service, invited from installations throughout Louisiana and the region. Appropriately themed floats on loan from Carnival krewes will also take part, many of them from this year's Bacchus parade, whose entire procession was a salute to the Bicentennial. Wear linen, because Aug. 4 also happens to be White Linen Night in the nearby Arts District, and the galleries of Julia Street and the vicinity will be pleased to see you after the parade.
Sticky Issues: Has any other state ever been honored by two postage stamps in the span of a week? First Day ceremonies for a commemorative marking the sesquicentennial of the Civil War battle for New Orleans were held at the World War II Museum on April 24, followed by our State Bicentennial stamp at the special joint session of the Legislature on April 30. We could have had an 1812 New Orleans steamboat stamp, too, but that noble craft had been so honored in 1989.
War of 1812: The nation's three-year celebration commemorating the War of 1812 started and will end in Louisiana. It began in New Orleans with the first stop of the official 1812 Bicentennial flotilla in April – antique vessels and modern warships (joined in mid-week by the American Queen) – and on Jan. 8, 2015, will end as the war did, on the Fields of Chalmette.
Meanwhile, the usual Jan. 8 reenactments of the Battle of New Orleans will occur in 2013 and '14 where our towering national monument marks the battleground, and you're probably overdue to see the park's vastly enlarged interpretive center and new cutting-edge exhibitry.
The State Museum is also marking the commemoration with its displays of battle-related art and artifacts at the Cabildo. Rather than "dug" relics from the battlefield, this exhibit consists of pristine items carried or worn home from the fray, then preserved in museums or private homes for two centuries.
Tarzan Turns 100: Edgar Rice Burroughs' first-ever Tarzan book appeared in print 100 years ago, of local significance since filmmakers arrived in St. Mary Parish five years later to create the first-ever Tarzan movie, Tarzan of the Apes, in the jungle-esque swamplands around Lake Palourde and the Atchafalaya. The 1918 silent film starred Elmo Lincoln as Tarzan, Enid Markey as Jane, young black men of the parish as African natives and young white men suited up as apes. (Don't scoff; it was a title role!)
When Morgan City's erstwhile Swamp Gardens opened in 1975, the oldest living Tarzan actor, Buster Crabbe, was on hand to dedicate the little urban swamp's Tarzan scene (a loin-clothed mannequin beside a palmetto hut), and the author's grandson delivered a perfect rendition of the famous Tarzan yell.
After that first Tarzan title there followed 25 other books and untold scores of movies and remakes, and, at its Tarzan Fest in April, Morgan City celebrated itself as birthplace of that film legacy. There were Tarzan and Jane look-alike contests plus premiers of a newly edited version of that first movie and a full-length documentary about its creation, called Tarzan: Lord of the Louisiana Jungle, by producer/director Al Bohl of Shreveport and daughter/filmmaker Allison Bohl of Lafayette. Tarzanlordlajungle.com offers both DVDs, and you'll find a fun exhibit of Tarzan books, toys, comics and products at the State Museum's Patterson branch through March 2013.