Traveler: Colonial Trail Discoveries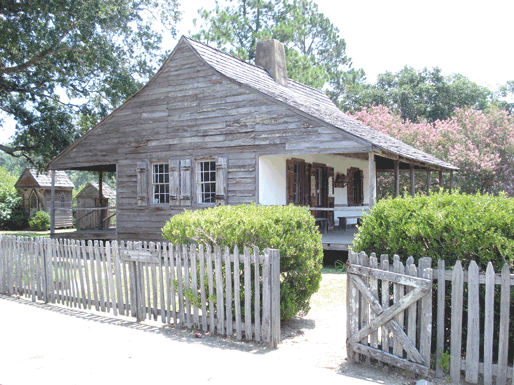 Central Louisiana is crisscrossed by trails used by explorers long before the Louisiana Purchase, including French and Spanish armies and, centuries earlier, Native Americans. The most famous is El Camino Real, the "Royal Road" adopted by the Spanish for their travels from Old Mexico through Tejas and Luisiana, and westbound settlers blazed trails even before the Mexican War. The old roads are now being recognized for their importance by the Louisiana Colonial Trails program, which has placed distinctive markers along highways that closely match the original routes.
Whether or not a particular stretch of highway follows an original trail exactly, each one provides a vivid understanding of the terrain encountered there by travelers in historic times. Some lead to landmarks as old as the trails and original settlements, while others offer purely natural scenery as they curve gracefully through forests, along rivers and over hills.
Most of the trails and their branches are rooted in Vidalia (extensions of the Natchez Trace), and they can be enjoyed individually by "Sunday drivers," strung together for three-day weekends or "saved" to be used as out-of-the-ordinary routes when business or pleasure sends you here or there around the state.
It's U.S. 84 that most closely follows the primary route taken by settlers from Natchez to the Red River crossing at Grand Ecore Bluff, where El Camino Real (La. 6) continues west to Natchitoches and on to the Sabine River crossing into Texas. If you take the drive, note that Sept. 29-30 brings Vidalia's Jim Bowie Festival, featuring a reenactment of Bowie's famous Vidalia Sandbar Duel, and you can stock up with maps and advice at the Louisiana Welcome Center.
The drive to Red River passes such points of interest as the trophy-fishing waters of Lake Concordia, the Delta Music Hall of Fame and Jerry Lee Lewis home in Ferriday, Frogmore Plantation with its many themed tours (318) 757-2453), and fragments of mounds and ridges at the "Troyville" archaeological site in Jonesville. An 82-foot mound destroyed in the 1930s – now being re-formed at 50-percent scale with its original clay – is rising in the 500 block of U.S. 84 (4th Street), and you'll see three marked mounds along the Ouachita River Road if you take that 10-mile detour up La. 124 to Harrisonburg.
From Jonesville, 84 leads to the Catahoula Lake Wildlife Management Area (where "Wildlife Drive" circles scenic Duck Lake), the city of Jena (home of the Choctaw tribe), the Catahoula District of Kisatchie National Forest and Winnfield with its Louisiana Politics Hall of Fame and statues of Huey and Earl Long. Kisatchie's Winn District stretches from Winnfield to Red River (you can stop at the Gum Springs Equestrian Trails for some horsing around in the Kisatchie hills), and the Corps of Engineers Welcome Center high atop Grand Ecore Bluff tell the stories of this river and region.
The perfect replica and costumed guides of Ft. St. Jean Baptiste in Natchitoches offer a glimpse of colonial life along the trail, and, after touring the city and Cane River (a National Historical Park), the camino crosses the 12-mile divide (split by the old international boundary, a creek called Rio Hondo) between the French fort and Spain's presidio at Los Adaes. At Robeline ("Robber's Line," traditional boundary of the old Louisiana-Texas "No Man's Land" of the 1800s), detour a mile north on La. 485 to the archaeological site and nature trail at Los Adaes State Historic Site (by reservation only, (888) 677-7853) and 4 miles farther to the Adai Caddo Indian Nation Cultural Center. It's then 8 miles west to Ft. Jesup State Historic Site, established in 1822 by future General/President Zachary Taylor to guard the border, and 24 miles through Many to Toledo Bend Reservoir (Sabine River).
CROSSROADS
The most traveled alternate route from Vidalia was the Harrisonburg Road, a quick connection from Natchez to Ouachita River settlements. From the main trail at Ferriday, drive up the Mississippi Valley on La. 15/U.S. 425 to Sicily Island, then swing west on La. 8 to the Ouachita River and Harrisonburg. Wayside diversions include National Register plantation hunting along 15/425 (all private), waterfall hunting on the wild and steep Rock Falls Trail in Sicily Island Hills WMA (hunting license or Wild Louisiana Stamp required for any activity in WMA's), a stop at the Harrisonburg Recreation Area on the east bank of the Ouachita (picnic tables and good view of Ft. Beauregard Hill rising above the town) and a tour of the tiny parish seat. Displays of Native American pottery, pirogues and "points" line the halls of the 1925 Catahoula Courthouse, the Methodist church dates to 1853, and Ft. Beauregard itself – an abrupt elevation once surmounted by Confederate artillery – now features an observation tower and World War I and II memorial. To rejoin U.S. 84, head down Ouachita River Road (La. 124) to Jonesville, or, for thrills, drive 6 miles west on La. 8 (skirting Catahoula National Wildlife Preserve), turn right on narrow, twisting La. 126 to enjoy the roller-coaster ride to Aimwell, then take La. 459 south to Jena.
For a great detour off the U.S. 84 drive, combine three of the major "connector trails" – Catahoula Lake Road, Red River Stage Road and Old Mail Road – or, taken in a different order, the same combination makes a fine circle tour from Alexandria. The Catahoula route departs 84 at Archie (west of Jonesville), follows La. 28 beside the big lake through cornfields and forests, skirts Dewey Wills WMA and then heads westerly through 20 more miles of rural scenery to Pineville. Stick with 28 through Alexandria and a dozen miles west to Gardner, then zigzag up La. 121 and 1200 on the Red River Stage Road to Boyce. There the trail shifts to La. 8, crosses the Red and heads up the river valley, with its pastures, pecan orchards and beautiful tilled fields of rusty-red soil, to Colfax.
The historic riverfront district of Louisiana's "Pecan Capital" boasts vintage structures like the Colfax Chronicle's big raised cottage and substantial masonry buildings that once housed banks and hotels, all clustered about the Grant Courthouse on Main Street where historic markers give brief histories of the town and of the tragic Colfax Riot of 1873 (aka Colfax Massacre, stemming from disputed state and local elections, when whites attacked the courthouse where blacks had gathered to guard Republican officials). Follow Main to the railroad and old depot, now serving as the "Pecan Festival Country Store," focal point of the festivities that are set for Nov. 2-4 this year, then take the Old Mail Road 3 miles east via La. 8 to a detour to the big recreational reservoir called Iatt Lake and the Bayou Rigolette dam that created it. By now La. 8 is just a deep and narrow corridor through soaring pines, leading 9 more hilly miles to the historic logging village of Bentley and one more to Kisatchie Forest's Catahoula District office. Beyond the beautiful village of Pollock and the once-jumping Fishville resort, the trail will lead 8 miles (crossing Big Creek and Little River) to a rest area – where vestiges of the old White Sulphur Springs health resort still remain – before completing our triple-trail circle back to U.S. 84 at Jena.
Not all colonial trails were interstates, many branching off the main east-west routes and ending at particular Louisiana destinations. The Avoyelles Parish network, for instance, is a web of Indian trails that evolved into wagon roads, all stemming from the Catahoula Lake Road (La. 28) and leading to various settlements in the parish. There were two main "connector trails," and the modern roads most faithful to those entry points are La. 107 from Pineville and La. 115 which departs 28 at the Grant-LaSalle parish line. In Avoyelles the two merge at Effie, cross Red River and become Main Street in Marksville.
Entering town, turn left on La. 1192 and, a mile later, right on Ft. DeRussy Road, which leads to the breastworks of Ft. DeRussy and a monument to the slaves who built the fortifications. During the Red River Campaign of 1864, the partially completed fort fell to a Union assault on May 14, but after CSA victories at Mansfield and Pleasant Hill, U.S. forces retreated to Alexandria, burned the city, continued down Red River and, despite Confederate resistance in Avoyelles (Mansura, Moreauville and Ft. Yellow Bayou, May 16-18), accomplished an oxymoron: a "successful retreat."
Farther into Marksville, take a left on Andrus, quick right on Preston and left on M.L. King to a 2,000-year-old Hopewell archaeological site. Its mounds and embankments comprise the Marksville State Historic Site. As you leave, a left-right on Preston and Mark leads to the 1927 Avoyelles Courthouse at Main Street, where markers give brief histories of the parish and of the local invention of the Bowie knife. Along the old halls are clusters of vintage photos and documents, and one such grouping introduces Solomon Northup, a kidnapped freeman sold into slavery in Avoyelles (recounted in his 1853 book Twelve Years a Slave and soon to be retold in a Brad Pitt movie now filming in Louisiana).
Follow Main to La. 1, turn right and find the Hypolite Bordelon House at 242 West Tunica, now a Chamber office and Welcome Center.
Now take La.1 south to the big Tunica-Biloxi Cultural Center (near the Paragon Casino Resort), whcih tells stories of the area's related tribes. Next down La. 1 is Mansura, settled by former soldiers of Napoleon, where a right on La. 107 leads to the Cochon de Lait Festival Center and, next door at 1832 D'Eglise St., the 1790 bousillage Desfossé House (temporarily closed). From L'Eglise, Coco Street leads to La. 1 where a Welcome Center shares space with a 4-H Club Museum (whose story begins with the 1908 Corn Club of Avoyelles, predecessor of 4-H in Louisiana).
South on La. 1, turn left on La. 451 to follow Big Bend Road along Bayou des Glaises as it loops back around to La.1 at Hamburg. Within the circle is a WMA named Pomme de Terre (you can call it Spud), and the trail passes idyllic communities like Bordelonville and landmarks like the Larto Bridge (built in 1916 for high-water evacuations) and 1927 Prothieu Store, now a museum.
From Hamburg cross La. 1 onto La. 114, which becomes Main Street in Moreauville and then follows Bayou des Glaises west. At Long Bridge turn left on La. 29 to the Bayou Rouge town of Cottonport, and the Cottonport Museum (open Wed.-Sat.), a gathering place for quilters, whose creations as well as antique quilts are sold and raffled during the annual Festival of Quilts (Oct.6-7). Five miles west in Evergreen, turn left on College and right on Church to see the beautifully simple 1841 Bayou Rouge Baptist Church, then follow 28 through cotton, corn and cane fields to Bunkie, with its 105-year-old Bailey Hotel (318-346-7111). The great old brick T&P depot at 110 NW Main St. is now a Welcome Center and war memorial.
THE NOLAN TRACE
Philip Nolan was a smuggler of mustangs from Spanish Texas to Natchez and New Orleans, making four major expeditions between 1791 and 1801. On his final foray, after traveling through Leesville to cross the Sabine, he was captured and executed near the Brazos River by Spanish troops. Of the many used by Nolan, the trail roughly followed by La. 28 from Alexandria to Leesville and La. 8 to the Sabine is the one most associated with that adventurer, thanks to its direct connection to the Catahoula Lake Road and Natchez. The two trails link at Main Street in Pineville, which passes five historic cemeteries.
"All roads lead to Alexandria," as that localized saying goes, making it a logical headquartering spot for Colonial Trail travelers, and one of its departure routes for the Nolan Trace is the Bayou Rapides Road (La. 496), which passes 1790s Kent House with its vintage outbuildings and furnishings of the era (open Mon.-Sat.); 1842 Tyrone Plantation ("birthplace of LSU," a B&B at 6576 Rapides Road, (318) 442-8528); and several private but well-marked antebellum homes. The road then connects via La. 121 to La. 28 at Gardner – entry point to Kincade and Valentine Recreation Areas – as Nolan's hilly trail heads west through the Evangeline Unit of Kisatchie Forest to Leesville. A good first stop there is the newly enlarged Ft. Polk Museum at 7881 Mississippi Ave.
Thanks to history-minded activists like Mayor Robert Rose and tourism director John Crook, the lore and landmarks of Leesville are being preserved and promoted, and the past blends nicely, here, with a forward-looking and cosmopolitan citizenry – a mix of generations-old families that never leave and many military families from across the country who come and stay.
If you stay overnight in the 1905 Queen Anne-style Booker-Lewis House (1 (800) 726-7090), centerpiece of a B&B/restaurant/lounge complex at 102 E. North St. in the Historic District, you'll awake within walking distance of the picturesque Old Courthouse at 201 S. 3rd. There, along with the city's Welcome Center, you'll find paintings of the Louisiana Maneuvers, military scenes of WWII-era Leesville and an incredible display of "Louisiana opals" unique to this area. The Post Office at 303 S. 3rd boasts a WPA bas relief by Duncan Ferguson of a farm couple receiving "The Letter," and nearby the town founder's 1850 Smart House is being restored at 301 S. Smart. Gallery One Eleven at 111 3rd St. hosts art walks, two major annual competitions and changing exhibits by local and guest artists; and the collections of the Museum of Western Louisiana fill the old KCS depot and other railside structures at 803 S. 3rd (Tues.-Sun. afternoons).
A highway marker honoring Nolan's Trace and the Louisiana Colonial Trails network will be unveiled Nov. 3 at the Vernon Library, 1401 Nolan Trace, from which La.8 heads west, passes between Vernon and Anacoco lakes and skirts Clear Creek WMA on its way to the community of Burr Ferry. Just short of the Sabine is a park filled with breastworks where CSA artillery once guarded the river, and the original trace crosses the property a few yards off today's highway. The village, 1937 iron bridge, former ferry and a remote family cemetery all derive their names from Dr. Timothy Burr, second cousin of vice president and infamous conspirator Aaron Burr.
For Colonial Trails maps and information, visit lacolonialtrails.com or call the Kisatchie Delta Agency at (318) 487-5454. Happy trails.