Traveler: Double Down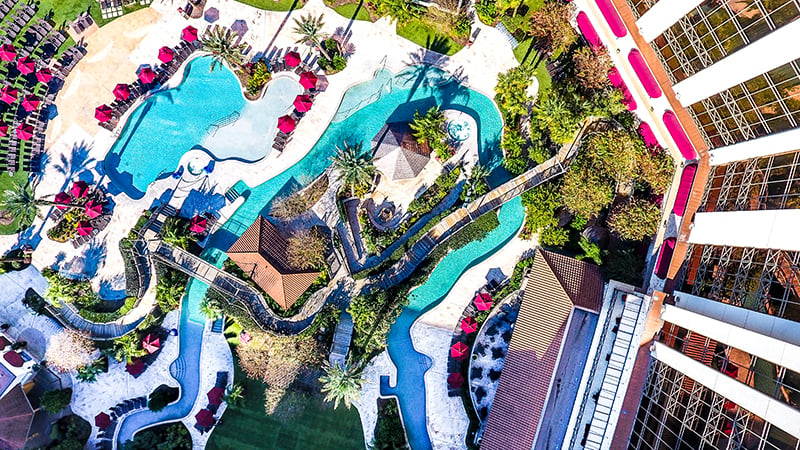 Casinos are now scattered liberally across Louisiana's landscape and cityscapes, offering entertainment of many kinds. Since the actual gambling part of gaming houses is pretty much the same everywhere — you do split 8's against dealer's 10; you don't get 50-50 odds on red/black roulette bets — but the variety of other diversions to be enjoyed at most of those establishments might surprise you.
To start with, think of the expanded roster of posh accommodations in cities large and small that casino-hotels provide, and when two or three of them appear in a single town, with the resulting cluster of lavish pools, golf courses, spas, shops and restaurants, they can transform the place into bona fide resort town.
Consider Lake Charles. September in Louisiana is really just August gone to overtime, so take a cool plunge in that shady pool at Isle of Capri, order an icy beverage from atop one of the Golden Nugget's "floating daybeds" or enjoy a lazy river float around the tropical garden and pool complex at L'Auberge.
Come evening, let the others gamble into the wee hours. Better to turn your attention to the all-you-can-eat crab legs at Isle of Capri or grilled red snapper in the "Favorites Southern Kitchen" at L'Auberge. Or combine the pleasures of blackjack, music, dining and imbibing at the Golden Nugget's H2O outdoor pool and lounge or Blue Martini Lounge. Nightclubbing and dining, in fact, have become prime attractions at many casinos around the state. So has entertainment. There's a live band playing right now in practically every Louisiana casino, whether it be in a gaming area or a big show in one of the many major spaces designed for music and stage presentations.
Because of Louisiana's original requirement for casinos to be floatable vessels (some looking much like steamboats of old), most are still to be found in river cities, the exceptions being the slots-only facilities at pari-mutuel racetracks (the Fair Grounds Race Course in New Orleans, Louisiana Downs in Bossier City, Delta Downs in Vinton and Evangeline Downs in Opelousas), and the three full-fledged casinos owned and operated by Native Americans in Charenton on Bayou Teche, Kinder in Allen Parish and Marksville in Avoyelles.
High and handsome hotels have sprung up beside most of the original boats, a half-dozen of which line the Shreveport-Bossier riverfront with names like Sam's Town (318-424-7777, samstownshreveport.com), Boomtown (318-746-0711, boomtownbossier.com) and Diamond Jack's (318-678-7777, diamondjacks.com), all boasting dining and dancing at spots like Eldorado Casino's Celebrity Lounge (318-220-0981, eldoradoshreveport.com) and the Horseshoe Casino's Riverdome stage (318-742-0711, horseshoebossiercity.com). Best of all, wherever the evening might lead, you can bet fun and fancy dining spots like the World Tour Buffet at Margaritaville Casino (318-698-7177, margaritavillebossiercity.com) will never be far away.
Downtown Baton Rouge boasts two of the original steamboats, the Hollywood Casino with its Center Stage music (225-381-7777, hollywoodbr.com) and the nearby Belle of Baton Rouge with concerts in its Belle Atrium and dinner from the Captain's Kitchen (225-378-6000, belleofbatonrouge.com). The L'Auberge Casino just below town on River Road has quickly become popular for its big-show presentations in the 1,600-seat Event Center, the Bon Temps Buffet and, above all, the rooftop pool with its cabanas, full bar and dramatic view of the Mississippi (225-215-7777, lbatonrouge.com).
Near Morgan City on the bank of the Atchafalaya River's Avoca Island Cutoff, the stately Amelia Belle steamboat offers restaurant, music, slots, video poker and multiple poker varieties (off U.S. 90 on Parish 33, 985-384-6044, ameliabellecasino.com).
And New Orleans? Well, New Orleans is actually the birthplace of craps, steamboat gambling is certainly no stranger there, and those traditions live on at Kenner's Treasure Chest Casino on Lake Pontchartrain (504-443-8000, treasurechest.com) and Boomtown Casino and Family Arcade on the Westbank's historic Harvey Canal (504-366-7711, boomtownneworleans.com).
Finally, standing proudly at the head of Canal Street with two football fields of Carnival-decorated gaming space, plus 10 name-dropping dining rooms representing the city's best and most generous spaces for jazzmen to strut their stuff, Harrah's New Orleans (504-533-6000, caesars.com/harrahs-new-orleans) remains the grande dame of modern gaming in Louisiana. And forever, it seems, the old river with its ruffle-shirted gamblers and the town where the Cincinnati Kid lost his shirt will remain eternal symbols of life's most vexing element: chance.
---
GO
Native American tribes that own and operate casinos in Louisiana are noted for efforts to preserve and share their cultures and histories — an aspect that sets their hotels and grounds apart in terms of décor, activities and captivating exhibits. Furthermore the popular golf courses have not only proved individually successful, but also significantly buttressed our reputation as a golf state (earned by the acclaimed statewide Audubon Golf Trail) and inspired greatness in newer links like designer Tom Fazio's Contraband Bayou course at L'Auberge (open to the public) and the Golden Nugget's Country Club course, both in Lake Charles.
Another major golf hotel, Cypress Bend near Many in Sabine Parish (318-590-1500, cypressbend.com), also offers tennis, a fitness center and a spa in a setting of lakes and hardwood forests irresistibly close to the trophy-bass-fishing waters of Toledo Bend Reservoir (a perennial favorite of Bassmaster Magazine and now celebrating its 50th anniversary).
The Chitimacha tribe's Cypress Bayou in Charenton (337-923-7284, cypressbayou.com) is known for its spacious gaming areas and crowded calendar of concerts at its ROX and Pavilion stages, and just upstream from the casino, on the bank of Bayou Teche, the Chitimacha Museum (337-923-4830, chitimacha.gov) tells the story of the tribe through paintings, vintage garments and artifacts, oral history and nationally-renowned basketry.
The Tunica-Biloxi tribe's Paragon Casino-Resort in Marksville (318-253-1946, paragoncasinoresort.com) is surrounded by its par-71 Tamahka Trails Golf course, elevated swamp walk, nature trail and pathway through reservation grounds to the famed Tunica Treasure museum.
Visitors to the Coushatta tribe's Coushatta Casino Resort on U.S. 165 in Kinder (318-738-7300, coushattacasinoresort.com) are torn between the giant Events Pavilion (concerts, pow wows and even rodeos), the Seven Clans resort hotel with its Dream Pool and endless gaming, and its island-hopping Koasati Pines golf course.
---