Traveler: Exploring Afoot at LSU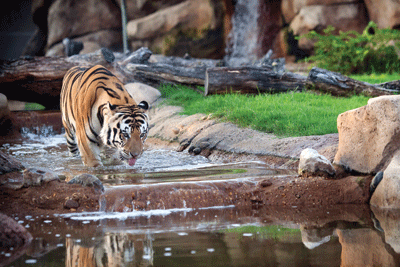 You might feel inclined to hibernate till September, but look at the end of football season as a chance for some hang-out time at our college campuses, enjoying points of personal nostalgia and public interest as you just can't do on game days. We've visited every college in the state at one time or another – even LSU's birthplace at Pineville and its first Baton Rouge location (where the Pentagon Barracks on the Capitol grounds served as dorms) – but we're overdue for a good look at what's old and new at the 1926 "new" campus of the flagship.
From one of the three original gates of Louisiana State University and Agricultural and Mechanical College (previews of the school's distinctive Mediterranean architecture), drive to the Visitor Center by Highland Road's north gate for advice and brochures on campus attractions. Get a visitor parking pass, too, and a campus map showing visitor-friendly lots; my favorite parking spot is the hidden lot behind the old Faculty Club at the corner of Highland and Raphael Semmes roads, just past that grand old Supreme Court look-alike, the LSU Law School. The club, built in 1938, is not only a small hotel (worth thinking about; call (225) 578-2356) but also offers swell white-linen lunches and inexpensive all-day parking.
If you expect to find LSU in a lull after the NCAA's toughest schedule and two grueling playoffs, forget it! The place will be jumping as always. Driving tours, despite your visitor pass, involve guards and lift-gates till 4:30 every weekday, so it's better to take bikes or hiking shoes.
Construction of an aesthetically appropriate parking building on Highland begins this year, just past the Faculty Club, replacing LSU's ultra-Mediterranean first President's Home (1923). The new structure will contain 750 spaces (half for visitors), a large bookstore replacing the current Student Union store and such LSU Library Special Collection offices as the Civil War Center (cwc.lsu.edu) and T. Harry Williams Oral History Center (lib.lsu.edu/special/Williams).
The union stands directly across from the doomed President's Home, but first head a half-block down Highland to see Evangeline Circle, a drive lined by five vintage dorms (named for such notables as 19th-century historian/novelist Grace King), and another block to the great old French House (1935), used first for French studies, later as LSU Press and now as LSU's Honors College and the pleasant Café Vieux Carré.
At the union students can dine, shop, enjoy an art gallery, get mail, catch a movie and even get a trim, and its second-level porches provide great views of the historic LSU Parade Ground. From the building's west side, walk a few steps left on Tower Drive to Nicholson Hall (1937), seat of astronomy and physics.
The Geoscience Complex (1938) in the next block of Tower greets you with a gee-whiz display of Louisiana minerals and a reconstructed allosaurus, but it's best known for its second-floor Louisiana Heritage Museum of Indian pottery, tools, jewelry and models of villages depicting the lifestyles of Louisiana's prehistoric residents from the Paleoindian and Poverty Point eras (9500 B.C. to 1100 B.C.) to Tchefuncte and Troyville times (800 B.C. to 700 A.D.).
Next down Tower, in the old Home Economics Building (1947), the Human Ecology Department's Textile and Costume Gallery rotates exhibits from its collection of historic and modern apparel, along with special exhibits such as the current display of Louisiana funereal clothing of the 1800s.
Return to Geoscience, and walk through or past it to the Sculpture Park with its works by students and nationally acclaimed artists. The little park borders the back of Atkinson Hall (1924), which forms the south end of the old quadrangle of original classroom buildings. From Atkinson's northwest corner, take the passageway to and through a small courtyard to the Art and Design Building (1984), with its third-floor atrium and gallery of student and faculty works in interior and landscape design, and then begin your quadrangle walk at the Agricultural Administration Building (1935), worth walking through to see the old harvesting scene in bas-relief at its west entrance. Next come Audubon Hall (1924, now the Psychology Building) and Dodson Auditorium (1924), whose façade is dominated by a handsome fountain. After Stubbs and Prescott halls (both 1924) comes O.K. Allen Hall (1932), where history profs such as Pulitzer-winner T. Harry Williams and author Jane Lucas De Grummond once lectured packed classrooms that overflowed into "remote" rooms served by TV monitors. Now the Department of English and home of the Southern Review (famed literary journal founded by Pulitzer winner Robert Penn Warren and Cleanth Brooks in the 1930s), Allen is still adorned with scenes of Louisiana's agriculture, shipping, fishing, trapping and oil industries created by students of WPA muralist Conrad Albrizio.
The quad was actually a cruciform of lecture halls till that configuration was bisected by LSU's "new" Middleton Library in 1958. Named for World War II general and LSU president Troy Middleton, it's now the repository of 4 million volumes and 12 million manuscripts. Directly west is its predecessor, Hill Memorial Library (1924), dedicated to special collections such as the McIlhenny Natural History Collection, with its original four-volume set of Audubon's Birds of America.
Directly behind Middleton, Foster Hall (1923) offers two of LSU's most popular attractions, the gallery of the School of Art (its annual Juried Student Show set for Feb. 3-17) and the incredible Museum of Natural Science, filled with big dioramas and mounted specimens of indigenous fish, fowl, mammals and insects. There's also a display of American Indian basketry, pottery and weapons, and the push of a button beside the taxidermied form of our first Mike the Tiger sets off his actual recorded roar, which brings a chill even though we know he's on our side.
At Tower Drive, east of Middleton, are two administrative buildings named for LSU founders David and Thomas Boyd, their walls lined with student art for sale.
Between them rises the 175-foot Memorial Tower, or Campanile, erected in 1924 to honor Louisianians who died in World War I, and it remains, with Tiger Stadium, one of the school's most recognizable symbols. On the Parade Ground in front of the old clock tower stands a new LSU War Memorial, erected in 1998 to honor casualties of World War II and thereafter.
The Faculty Club (directly across the Parade Ground from the old clock tower) is a good starting point for a driving tour, so begin by driving south on Highland Road, crossing South Stadium and parking on the right at Miller Hall (1948), home of the South's first horticulture school to offer a doctoral program. Pause here to gather Louisiana Extension Service literature on farming and gardening, and it's an easy one-block walk up South Stadium to the Dairy Store, with its ice cream and shakes featuring products of the LSU dairy and creamery.
Continuing south on Highland, notice the big copper-topped Parker Coliseum (1937) on the left, site of countless rodeos, graduation exercises and basketball games of years gone by.
GOOD SPORTS
A block past the South Highland Gate, turn right on East Boyd and then right on Nicholson Drive, where a short drive will provide views of new Alex Box Baseball Stadium on the left and, on the right, Tiger Stadium, Bernie Moore Track Stadium, the Carl Maddox Field House and LSU Natatorium. U-turning back on Nicholson, turn right on Skip Bertman Drive (named for the coach who steered Tiger baseballers to five national championships in a decade), followed by a quick left on the driveway of the Football Operations Center. This building's atrium/lobby has become football fan heaven, carefully cluttered with championship trophies and major individual trophies, from Billy Cannon's 1959 Heisman, Jerry Stovall's 1962 Back of the Year and Bert Jones' 1972 Player of the Year trophies to such current-era awards as Glenn Dorsey's 2007 National Defensive Player of the Year and Patrick Peterson's 2010 Best Defensive Back.
From Bertman cross Nicholson and drive up South Stadium Road, where you can park for a walk beside Huey Long's legendary football stadium (with dorm rooms lining its curving corridors) to see the historic LSU Sugar Factory (1925), a sugar kettle from the de Bore plantation where sugar was first granulated and the Military Science Building (1957) with its brace of cannon from Fort Sumter presented by William T. Sherman (commandant at LSU's pre-war birthplace in Pineville) to LSU Superintendent David Boyd.
Double back here, and turn right on Nicholson and right again onto North Stadium Road, which will take you through a lift-gate to street-side parking spots at the big Tiger Gift Shop. Here, where a small house and cage for Mike the Tiger (1937) once stood facing Death Valley, there now stands the new 15,000-square-foot palace and personal water park of venerable Mike VI. The art deco football player frieze from the old abode is now safely stored for display in some future facility, perhaps an LSU Hall of Fame.
After a shopping spree in the Tiger Store and a visit to Mike, pause next door to see the new 20-foot statue of Shaquille O'Neal at the Maravich Assembly Center – the famed "Pete's Palace" basketball arena named for all-time top collegiate scorer Pete Maravich – and next up the North Stadium hill is the 1925 Gym Armory, now an academic center for student athletes.
At Fieldhouse Drive walk a few steps left to the famed Huey P. Long Field House, built in 1932 with its 180-foot pool (longer than Olympic because Huey wanted the largest in the nation), and rising from the green space across the street are LSU's two famed Indian mounds, erected on the lip of the Mississippi floodway 5,000-plus years ago, older than the pyramids.
South along Fieldhouse are the recently restored 1934 Journalism Building and a row of 1940s dorms, including Hatcher Hall, where the lobby's frieze bears the words of the alma mater.
Return to the Tiger Store, and, despite the lift-gates, drive back up North Stadium, and turn left on Fieldhouse, which curves around the Indian mounds to the Visitor Center. You'll pass the wonderful old Greek amphitheater (1926) and Music and Dramatic Arts Building (1932), but park at the Visitor Center, and hike back to sit awhile in the amphitheater (where the Tiger Band gathers on game day) and to visit Music and Dramatic Arts with its frieze composed of ancient symbols of the performing arts and its main theater boasting heavily ornate art deco wall details.
A drive along University Lake is a good way to end your tour, so depart the Visitor Center on Dalrymple Drive, noticing, as you cross Highland, old Christ the King Catholic Church and St. Alban's Episcopal Chapel on your left and right, followed by several survivors of LSU's original Fraternity Row. Turn right on Lakeshore Drive, which passes the new Cook-Andonie alumni complex and a dozen-plus grand old sorority houses facing the lake.
Surrounded by the Cook Alumni Center, Conference Center and Hotel (www.thecookhotel.com), the Andonie Museum (andoniemuseum.org) is open Tuesdays through Fridays and game days, using film, television, Xbox technology, art and memorabilia to present the story of LSU sports and all facets of the university's development.
More time on your hands? Don't forget LSU's fine off-campus attractions, Hilltop Arboretum at 11855 Highland Road, the galleries and performances of LSU's Shaw Center downtown and the incredible Rural Life Museum with an entrance at the Essen Lane exit of I-10.