Traveler: Staying Neutral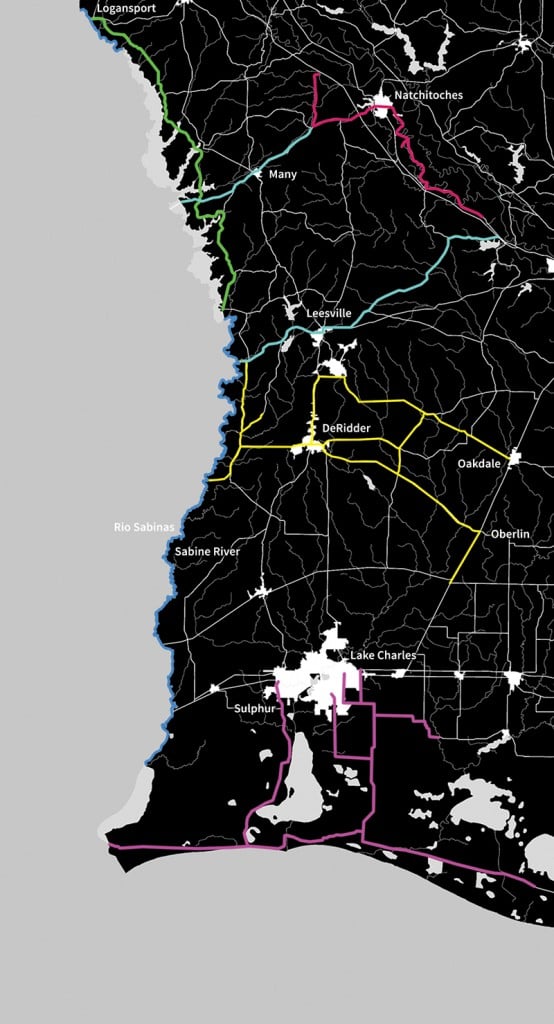 The Bicentennial celebration called "No Man's Land, Becoming Louisiana" is now entering its second year of festivals, special events and driving tours through Sabine River territory (for decades cursed with border disputes and rampant crime). The 24-month observance is a salute to the treaty that made it Louisiana's. For an events calendar plus a timeline tracking the No Man's Land story (courtesy of Rebecca Blackenbaker of the Cane River National Heritage Area) visit visitnomansland.com.
Shortly after the Louisiana Purchase the old No Man's Land, aka Sabine Free State, earned a third title, "Neutral Strip," when U.S. and Spanish military commanders signed a formal agreement in 1806 to avoid the place rather than fight over it. That made settlers and travelers easy prey for the region's "land pirates" for 15 years until the Sabine was finally established as the U.S.-Tejas border by the Adams-Onis Treaty, signed by Secretary of State John Quincy Adams and Spanish envoy Luis Onis on Feb. 22, 1819, and ratified by both governments 24 months later.
The banditti remained a factor, of course, and other varieties of violence would appear soon enough, like criminal "Jayhawkers" in the Civil War years and labor union clashes in the "Timber Boom" era. Visitors seeking related landmarks in that eight-parish spiderweb of highways need guidance, so it's good to know that of Louisiana's 19 "Trails & Byways" charted by the State Office of Tourism (byways.louisianatravel.com), five trails are dedicated to the historic, cultural and recreational attractions of the Neutral Strip.
The Sabine River marks the northern tip of the Strip and becomes our state line at the point of its arrival in DeSoto Parish, a place of picturesque villages like Keatchie and the old battleground town of Mansfield, and an 1840 border marker placed in nearby Logansport still stands. Downstream the river soon swells to become the South's largest manmade lake, 50-year-old Toledo Bend Reservoir, and the Toledo Bend Forest Byway follows the reservoir along hilly Highway 191, crossing LA 6 and passing bike trails and golf resorts on its way to North and South Toledo Bend State Parks.
LA 6, better known as El Camino Real (Spain's beaten path from Mexico and now a National Historic Trail), begins at the Pendleton Bridge, starting point of the Colonial Trails Byway, where the Sabine River Authority shares quarters with a welcome center (318-256-4114). Just east in Many a Sabine Parish information center (318-256-5880) is a source of directions to landmarks like the well-preserved sawmill village of Fisher (3 miles down U.S. 171), and the byway continues east to future-president Zachary Taylor's 1922 Fort Jesup and the excavated site of Spain's 1719-72 Los Adaes presidio (actually capital of Spanish Texas 1729-72).
Costumed guides "occupy" a stunning replica of France's 18th-century Fort St. Jean Baptiste in nearby Natchitoches, and the welcome center at 708 Front St. (318-352-8072) provides information on the Cane River National Heritage Trail, a byway leading east on Highway 6 to a Corps of Engineers' museum atop Red River's Grand Ecore Bluff, with another leg heading downstream along Cane River to Melrose Plantation, historic St. Augustine church and the two restored plantation complexes of the Cane River Creole National Historical Park.
From Leesville in Vernon Parish with its Museum of West Louisiana, Museum of the New Llano Colony and Fort Polk Military Museum, LA 8 leads west along the lower leg of the Colonial Trails Byway to Burr's Landing on the Sabine. Also known as Nolan's Trace, it was the favored (and final) trail of horse and cattle smuggler Philip Nolan, captured and executed by Spanish cavalry for "filibustering" activities favoring Texas independence. A riverside park at the crossing preserves earthen Civil War breastworks and swales remaining from the original trace.
The Myths and Legends Byway scours the central portion of No Man's Land. From DeRidder, known for its Beauregard Parish Museum and haunted "Hanging Jail," it's a short drive west on U.S.190 to Merryville's museum of vintage logging items and regional history (by appointment, 337-340-0785). In the shadow of that museum stands the tiny jail where the hated gunfighter and strikebreaker Leather Britches was laid out before being buried just outside the town cemetery, face down.
Heading east the byway leads to points of interest like Sugartown, with its blackberry farms and sweet-sweet watermelons; the city of Oakdale with its Leatherwood Museum of Allen Parish history (housed in a former sawmill village hospital); the Allen Parish Tourist Center in Oberlin where they tell the "Legend of the Money Trees" (involving hidden Jayhawker loot); and, near Kinder, the Coushatta tribe's casino and Koasati Pines golf course.
Many No Man's landmarks are waiting in Calcasieu and Cameron parishes, like the Railroad Museum in DeQuincy and, upriver from Vinton, Niblett's Bluff Park where artillery batteries discouraged encroachment by Spanish troops and, later, Union gunboats. Lake Charles boasts the Charpentier Historic District and Imperial Calcasieu Museum, and historic Bilbo Cemetery marks the lakeside location of Cantonment Atkinson, fortified by Zachary Taylor to guard the border and protect travelers on the Old Spanish Trail (U.S.90).
In Sulphur the story of Frasch-method sulfur mining is told at the Brimstone Museum, and kid-friendly Adventure Point serves as trailhead of the Creole Nature Trail Byway. That stretch of LA 27, designated an All-American Road, leads to four marshland and Gulf Coast wildlife refuges with trails and interpretive centers, where Jayhawker gangs once plundered at will.
Touring the Neutral Strip today means safe bike trails beside Toledo Bend, hiking in Kisatchie National Forest, Native American powwows, bayou crabbing and marshland birdwatching, golf courses and casinos, "Greco-Deco" courthouses, white sand creeks and paddling adventures, hotels and historic B&B's — a far cry from traveling those hills and dales in days of old.
---