Traveler: Still Standing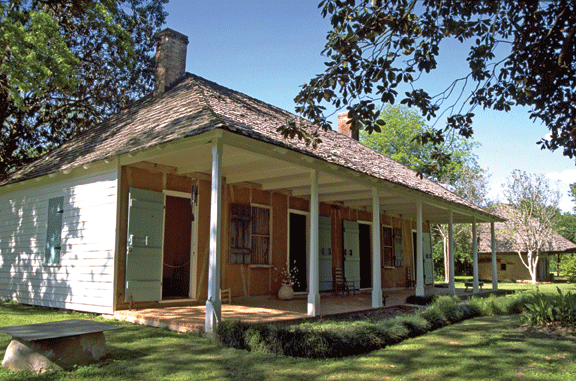 It was a short nine years from the Louisiana Purchase transaction of April 30, 1803, to April 30, 1812, when the prime cut of that vast Louisiana Territory became our 18th state (see related feature, p. 48) – precious little time for dealing with governmental infrastructure, not to mention coping with citizen reaction among the least homogenous population of any state. Would Spanish and French land grants be honored? Would Kaintucks overrun the place? Would the "peculiar institution" be tolerated? Would Creoles de couleur retain their special status? Would the border dispute between Louisiana and Spanish Texas be settled? Would a state so remote from Washington, D.C., even be seriously defended?
That last concern would be tested almost immediately because statehood meant Louisiana had entered a nation embroiled in an LSU-Alabama sort of rematch with England, loser of the Revolutionary War, in a bowl game called the War of 1812. As in all rematches, the previous loser had little to lose, the previous winner, everything. In January 1815, though, with the guys in red planning a drive straight up the Mississippi Valley, Coach Andy Jackson and his U.S. Army showed up, dug in at New Orleans and won it in overtime.
So Louisiana survives, still crazy after all these years, and our April 30 birthday deserves all the fanfare we can conjure. Regular "Traveler" readers might recall that my family observes La-La Day (Louisiana Purchase/Louisiana Statehood Day) by ingesting stunning quantities of Louisiana foods while flying a big pelican flag at home or a smaller one at some worthy restaurant. This year's, of course, will be the biggest La-La Day of our lives, and we hope you too will celebrate it proudly. But don't stop there! Extend your commemoration right through the year with a few "1812 Tours" – finding, exploring and appreciating places that a traveler could have seen here in 1812.
Consider the American Indian tribes of that era. They are with us still, so it would be quite appropriate to visit, for instance, the Choctaw of Jena at their October powwow. The Adai branch of the Caddo not only shares its crafts and customs at a cultural center north of Robeline (Highway 485) but also operates a crafts shop in Natchitoches. Chitimacha craftsmen can be visited on Bayou Teche near Charenton, the Coushatta invite you to their new museum and cultural center near Elton, and the Tunica-Biloxi of Marksville have just opened their rebuilt cultural center near the ancient mounds of the Marksville State Historic Site.
Speaking of mounds, a sightseer of 1812 would have been as dazzled as we are by the ages of our prehistoric earthworks, such as the 1,500-year-old mound remnants in downtown Jonesville, the 3,000-year-old ridge/mound complex of Poverty Point (on Bayou Maçon, West Carroll Parish) and LSU's 5,000-year-old twin mounds in Baton Rouge.
EARLY SETTLEMENTS
Imagine the early morning activities of April 30, 1812, in our older communities, most born as French or Spanish military outposts. Volleys would have been fired, no doubt, as the new state flag was raised at Natchitoches, New Orleans, Baton Rouge, Pointe Coupee, Opelousas, St. Martinville, Monroe, Donaldsonville and Spanish Isleño settlements on the bayous. Not coincidentally, those areas are now prime hunting grounds for landmarks that have survived since 1812, and here are a few of my favorites.
At the old Poste des Natchitoches you can tour an amazing replica of Fort St. Jean Baptiste – essentially a log village girdled by a palisade – by entering through the state park's interpretive center at 155 Jefferson, and you can tour the 1790 bousillage mansion at 446 Jefferson called the Prudhomme-Rouquier House (by appointment, (318) 352-6723). The 1776 Tauzin-Wells House (private) faces Cane River Lake at 607 Williams St., directly across from the 1803 Roque House (now the Adai crafts shop).
Below town, follow the Cane via highways 494 and 119, passing circa 1800 Beau Fort (private) on your way to tour the landmarks of Cane River National Historical Park: Oakland Plantation and famous Melrose with its original dwelling, the Yucca House.
In Alexandria the circa 1795 Kent House on Bayou Rapides is now a museum filled with period household belongings and surrounded by a cluster of vintage outbuildings, and it's an easy drive down Interstate 49 to see the circa 1770 brick-and-bousillage manor in Opelousas called Ringrose (private, 1152 Prudhomme Circle) and Lafayette's circa 1800 Gov. Mouton House (1122 Lafayette St.), now the city museum.
In St. Martinville, which sprung up around the Poste des Attakapas on Bayou Teche, the great oaks of Longfellow-Evangeline State Historic Site surround the park's museum, a perfect early-1800s Creole raised cottage. Ten miles downstream, the pre-statehood era in the old Isleño settlement of New Iberia is represented by the bust of founder Francisco Bouligny at a bayouside plaza on Main Street, and a 1788 plantation named Dulcito (private) is 5 miles north on Highway 182. South via 182 in nearby Jeanerette, cross the Teche, and drive just upstream to see the most beautiful of our surviving hip-roofed West Indies-style raised cottages. Once called Fusilier and now Alice (bed-and-breakfast only, (800) 330-8393), it was built in the Teche village of Baldwin in the 1790s and moved here by barge in 1961.
A tour of the River Road might start in West Feliciana, where Audubon painted many of his Birds of America while living and tutoring at 1799 Oakley House (centerpiece of Audubon State Historic Site). The St. Francisville Visitor Center at 11757 Ferdinand provides maps to such homes as the 1809 masonry beauty called Propinquity (private) on Royal Street and to such landmarks along U.S. 61 as the 1796 Myrtles Plantation (restaurant, tours, bed-and-breakfast and ghosts, (800) 809-0565); the 1795 Cottage Plantation that continued to be enlarged through the 1850s (tours and bed-and-breakfast, (225) 635-3674); and the circa 1790 Butler Greenwood Plantation (tours and bed-and-breakfast, (225) 635-6312).
Cross the Mississippi on the new Highway 10 bridge, and head down False River on Highway 1 to 1750 Parlange, a National Historic Landmark. The huge raised cottage is open by appointment (call (225) 638-8410), and the nearby Pointe Coupee Museum occupies an unusual colonial notched-log cottage.
In Baton Rouge, just up Nicholson from LSU, Magnolia Mound Plantation (open for tours) has stood atop its impressive ridge since the 1790s. A drive down Highway 30 to St. Gabriel, plus a few hundred yards down River Road (Highway 75), will take you to circa 1770 St. Gabriel Church, and farther downriver on Highway 942 stands Houmas House (open daily), whose late-18th-century original cottage forms the rear of the mansion.
Cross the river on the nearby Sunshine Bridge, and follow Highway 18 down the west bank to 18th-century St. Jacques de Cabanocey Cemetery, perhaps the first burial place of Cajun exiles on the river's Acadian Coast. It's then 2 miles to the circa 1790 Graugnard Farms Plantation House (private) in St. James and 5 more to famous Oak Alley. The 28-tree allée here is well over our age requirement of 200 years, but the mansion is a mere 173. Stop next for tours and Senegalese (Br'er Rabbit) folk tales at 1805 Laura Plantation in Vacherie, and then take Highway 18 past 1802 Glendale Plantation near Lucy and circa 1790 Homeplace above Hahnville (both private) to find and cross the handsome suspension bridge of Interstate 310.
One mile above the bridge on the east bank you'll find circa 1787 Ormond Plantation with its attached garçonnières (restaurant, tours and bed-and-breakfast, (985) 764-8544), and a half-mile below the bridge is 1787 Destrehan (open daily) with its 1840 Greek Revival façade.
The New Orleans French Quarter is itself a giant pre-statehood landmark, its centerpiece the ancient Cabildo and Presbytere that flank colonial St. Louis Cathedral at Jackson Square (site of the ceremonial transfer of the Louisiana Territory to the U.S. in 1803). Within walking distance are such landmarks as the original 1750 Ursuline Convent; Madame John's Legacy (burned and rebuilt in 1788, setting of George Washington Cable's 'Tite Poulette); the Historic New Orleans Collection's 1792 Merieult House; and the circa 1770 Lafitte's Blacksmith Shop. The most valid and vivid memento of that battle – perhaps the most significant Louisiana landmark of them all – would have to be the "field of Chalmette" itself, where the blood was shed and where a towering national monument marks the event that saved our state and, in fact, America as we know it.
DON'T MISS
Special bicentennial exhibits actually began last year with the Historic New Orleans Collection's The 18th Star: Treasures From 200 Years of Louisiana Statehood, but others will continue through 2012, beginning with the State Museum's salute to the steamboat era at the Cabildo. Not only did the first river steamboat, the New Orleans, first navigate the Mississippi in 1812, but it also launched a period of economic growth that quickly made the nation's newest state one of its wealthiest.
Exhibit of the Year honors go to Our Louisiana: Celebrating 200 Years of Statehood (opening March 21 at the State Museum's Capitol Park facility in Baton Rouge, using seldom-seen treasures from the museum's half-million-item collection to tell our story), but many cities are also hosting events of statewide interest. The West Baton Rouge Museum, for example, will feature the 200 most important (per opinion poll) Louisiana people, places and events from the Big Bang to Britney Spears (April 28-July 29); Lake Charles's Imperial Calcasieu Museum will present 200 Years: The Faces & Places of Louisiana as interpreted in the art of George Rodrigue (Sept. 14-Nov. 3); the Louisiana Political Museum and Hall of Fame in Winnfield offers 200 Years of Louisiana Governors; and University of Louisiana-Lafayette history professor Michael Martin will present a political, social, economic and demographic overview of Louisiana in 1812 at the South Regional and North Regional locations of the Lafayette Library, June 27 and 28 respectively.
A series of statewide "premiere events" for a Louisiana Public Broadcasting bicentennial documentary will begin April 27 at the Louisiana Art & Science Museum in Baton Rouge, and the biggest save-a-date of all is April 30 itself, the bicentennial birthday celebration at the Capitol, where festivities will include first-day postmarkings of the new Louisiana 200 postage stamp with its wetlands scene by early Louisiana Life photographer C.C. Lockwood.
For a calendar of all such events, visit louisianabicentennial2012.com.
BEST BETS
Best keepsake: All manner of desirable bicentennial mementoes have been created for your approval, but there's something special about commemorative coins, especially those with a great story connected. A centennial token was created in 1912 by venerable Adler's Jewelry on Canal Street in New Orleans, and the Adler family, still owners and operators of the 104-year-old establishment, have "miraculously" uncovered the old dies and minting tools after a century in storage. Distinctive pelican and state map images from 1912 have been adapted for 2012's bicentennial medallion, a real beauty, available in gold, silver, copper and platinum from Adler's and other authorized dealers listed at the bicentennial Web site.

Bicentennial trivia: An 18-star U.S. flag was never officially adopted when Louisiana became the 18th state because the law governing the matter in 1812 did not require it, but the Flag Act of 1818 added five stars to the previous 15 in honor of the new states of Tennessee, Ohio, Louisiana, Indiana and Mississippi. Several unofficial designs for an 18-star flag, however, were created in 1812 in hopes of adoption – some actually flown by municipalities and government buildings – and one dandy survivor of those is part of the State Museum's Our Louisiana exhibit in Baton Rouge.