Traveler: The River Roads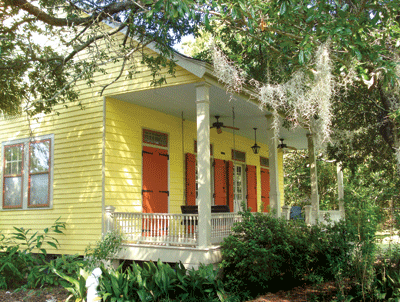 Next time you're in New Orleans with a day to spare, leave town. Yep. Drive to the bottom of the continent on the national parkway called the Great River Road, down the Mississippi west bank and back up the east, spiced with ferry rides and side trips. You'll follow the levees though Plaquemines and St. Bernard parishes, known as a paradise for easy-access fishing adventures but also as a land of beauty and surprises for sightseers. Take binoculars.
From the downtown bridge and Westbank Expressway, take the Lafayette Street exit and turn left for a 6-mile drive on Louisiana 23 to Belle Chasse, former site of Judah P. Benjamin's Belle Chasse Plantation. Called "the brains of the Confederacy," Benjamin served as the CSA's attorney general, secretary of war and secretary of state, later becoming a distinguished barrister in England. Forking away from Louisiana 23's sharp right curve in Belle Chasse, Avenue G, which leads to the ferry landing, marks the old upriver border of the plantation. A half-mile down 23, at the parish library, the plantation bell is set above a marble base (suggestive of Belle Chasse manor), memorializing that chapter of the city's history.
Just past the library, turn left to park at the parish tourist office (104 New Orleans St.) for tour literature and marina/charter lists, and then head downriver through Plaquemines' famous orange groves. Two miles down, a Navy "Blue Angel" marks the entrance of a Joint Reserve Base (Army, Marine, Navy, Coast Guard Air and Louisiana Air National Guard units), and across 23 you'll spy Becnel's Farmers Market. "Becnel" has come to be synonymous with Louisiana citrus, and the market offers fruits and veggies but specializes in everything citric, right down to orange blossom honey, orange-pepper jelly and a chance to buy orange and lemon trees of your very own.
It's another 8.7 miles to the big Becnel Citrus Nursery and Orchard.
It's 14.5 miles farther to big and beautiful Woodland Plantation, now a nine-guestroom bed-and-breakfast that you'll recognize from the 1871 Currier & Ives lithograph of the home that till recently graced the labels of the peach-flavored bourbon called Southern Comfort. You're welcome to drive in as far as "Spirits Hall" (an 1880s de-consecrated church that's now a casually stylish restaurant) for a closer look at the 1830s manor, soon-to-be-restored overseer's house and tree-shaded grounds.
Owner Foster Creppel, an aficionado of traditional Louisiana foods, plans fixed-menu lunches and dinners daily when B&B guests are about, and passersby can call (504) 656-9990 in advance to check the schedule or to arrange special seatings for groups of six or more. He "loves to spoil guests" with bounteous servings (seconds encouraged) of dishes such as his grandmother's distinctive étouffée.
It's 2 miles to the ferry landing at West Pointe à la Hache and another 30 to old Fort Jackson, which, along with Fort St. Phillip (on the east bank), met the Union invasion fleet on April 18, 1862, with a withering crossfire. Adm. Farragut, hellbent on occupying New Orleans but failing to overpower the forts after seven days, left his mortar boats to continue the barrage and surged through the firestorm of shot and shell with 13 surviving ships. New Orleans fell on April 25.
Significant remnants of Fort St. Phillip still protrude above silt and sawgrass alongside Bayou Mardi Gras, so named when the explorer Iberville encamped beside that little tributary on Shrove Tuesday of 1699. Fort Jackson, 190 years old, is open for tours 8 a.m. to 4 p.m. on weekdays and hosts the Plaquemines Orange Festival on the first weekend of December: rides, crafts, food, music and even helicopters to zip you over the river for glimpses of Fort St. Phillip.
THE CROSSING
Back upriver, enjoy the ferry ride to East Pointe à la Hache, whose 1915 courthouse, gutted by fire in 2002, still stands tall at the riverfront. Thus begins a casual upriver drive along the green and ever-curving levee, passing a surprising number of surviving landmarks of the 18th and 19th centuries. The first of these, 7 miles up Highway 15, is an 1840 Creole cottage called Harlem (private) – unpainted but sturdy – listed on the National Register of Historic Places.
When Highway 15 ends 3.4 miles upriver, the Great River Road (Louisiana 39) will lead you 11.7 miles to Promised Land (private), passing the Phoenix community where Iberville established his Fort de la Boulaye in 1700. That settlement was short-lived, but it was Louisiana's first.
Beautiful Mary Plantation (private), 1.2 miles upriver – a circa 1720 hip-roofed colonial with surrounding galleries (the side galleries were added a century ago) and 17-inch brick walls – is followed 1.3 miles upriver by the 19th-century Doric-columned home named Stella (private). Next comes the Belle Chasse Ferry's east bank landing, where Highway 39 curves off to shortcut a bend in the river, but this is no ordinary bend, so follow it via Louisiana 3137. Famous in our history and lore, it was the setting of an encounter in 1699 involving Iberville's little brother Bienville who was row-row-rowing his pirogue downstream when a British man-o'-war suddenly loomed above him. In a brief palaver with British Capt. Lewis Banks, however, he convinced the Redcoat that a veritable French armada was anchored upstream, and the ship departed, scared off by that fierce "fleet" consisting of two more canoes and five more Frenchmen.
When 3137 rejoins 39, drive 2.3 miles to one of the region's monolithic new post-Katrina floodwalls, then another half-mile to St. Bernard State Park (just above the St. Bernard line) – perfect, with its pool and bathhouse, for tent and RV campers (call (504) 682-2101).
TERRE AUX BOEUFS
A mile upriver, turn right on Louisiana 46 in Poydras, and drive 1.1 miles to a little jewel called Sebastopol Plantation at 721 Bayou Road, open for tours by appointment (call (504) 494-9350). This is a late example (about 1830) of a Creole-floor plan raised cottage – meaning no hall and two small rear rooms called cabinets flanking a loggia (often enclosed) – and its owner, Alberta Lewis, will happily show you the arts and antiques of her home as well as the peacocks, turkeys, chickens and indigenous herbs.
It's a half-mile farther on Bayou Road (passing the intersection where Louisiana 46 turns upriver) to the Old Plaquemines Courthouse,
built on Bayou Terre aux Boeufs (Land of Cattle) in 1915. It became a school in 1939 and is now enjoying a thorough restoration.
Next come the Ducros genealogy library and Museo de los Islenos Museum, inundated by Hurricane Katrina, but Ducros has been restored and the Museo rebuilt. Ducros, built in 1800 of brick-between-post construction, was once home of the region's first doctor, one of the nine Ducros siblings of Sebastopol Plantation. Together the genealogy library and Museo preserve the traditions of the Islenos, Spanish colonists from the Canary Islands resettled by Louisiana's Spanish Gov. Galvez to populate several villages – as a buffer to discourage British encroachment – on the river, Lake Borgne and bayous Barataria, Lafourche and Teche. Their customs and archaic Spanish language are examined in volumes from LSU Press (Canary Islanders of Louisiana by Gilbert Din and Language of the Islenos by John Lipski), and Isleno descendant Samantha Perez, in her new Islenos of Louisiana from History Press, recounts their adaptation here to unfamiliar peoples, climate and terrain. "To understand them," says parish historian William Hyland, "we have to understand the people of all nationalities who influenced them here, and thus we will actually become a cultural center for them all."
The Museo, with its old trapping and fishing displays and traditional garments (many given by friends in the Canary Islands), sells CDs of Isleno music, an Isleno cookbook and curator Cecile Robin's Remedies and Lost Secrets of St. Bernard's Islenos. The complex, including a row of original and replica Isleno dwellings and a marshland trapper's cabin, is usually open daily from 11 a.m. to 4 p.m., but it's best to call (504) 277-4681 in advance. Next year's annual Islenos Fiesta, highlighted by guest musicians and dancers from the Canaries, is March 17-18.
Driving farther down Bayou Terre aux Boeufs, note the location of Creedmoor Drive, but continue till you see the one-story, eight-columned Creedmoor Plantation (1830s, private) on the far side of the bayou next to a barn built for the filming of The Last Exorcism in 2010.
Due to road repairs ahead, double back here, and turn right on Creedmoor Drive, right again on four-lane Louisiana 46 and then right again on Leon Road (Louisiana 1245). Once back to Bayou Road, it's 0.4 miles left to Magnolia Plantation (private), the single-story brick home of a plantation established in 1794. Then turn right, 0.4 miles later, for a drive through St. Bernard Cemetery, with tombs dating to 1787. It's then 0.2 miles to beautiful hip-roofed Kenilworth (private), born as a single-story block house in 1759 and completed in its present form in 1818. The site of long-vanished Contraras, birthplace of Gen. P.G.T. Beauregard, is 1.4 miles down the bayou, marked by a distinctive monument.
A mile farther, jog left at the floodwall and right on Louisiana 46, and drive 1.5 miles to the Florrissant Highway, where you can follow Louisiana 300 to the remains of the Isleno fishing village of Delacroix, or fork left on 46 (Florrissant) to Yscloskey. If you cross the drawbridge at Yscloskey and drive to the dead end of 46 at water's edge, your reward will be a rare view of Fort Proctor, a masonry fort built on dry land in 1856 but now several football fields offshore. Got those binoculars?
Return to four-lane 46, and turn right to head a dozen miles back to four-lane Louisiana 39. Turn right, and drive 2.8 miles to Colonial Drive, which leads left to the Great River Road (Louisiana 46), known here as St. Bernard Highway. You'll soon pass through an arboreal tunnel called the Docville Oaks, planted in the 1930s by Louis Meraux, then continue through the Meraux community to see Pecan Grove Plantation (private) at the intersection of 46 and Archbishop
Hannan Boulevard.
It's now 2.3 miles to Paris Road in Chalmette (where a left turn leads to the Chalmette ferry). Immediately beyond Paris, in rapid succession along 46, come the brick ruins and great oak alley of De la Ronde Plantation (used as British headquarters during the Battle of New Orleans), famed Rocky & Carlo's restaurant (most plates and poor boys big enough to share) and the "new" Plaquemines Courthouse (an art deco treasure from 1936).
A mile later, the entrance to the Chalmette Battlefield park leads to a towering limestone national monument, a newly enlarged museum with film and high-tech displays, a battlefield driving tour and the high-columned Rene Beauregard House built on the old battlefield in 1832.
One mile upriver, turn left on Aycock and drive through the Arabi Historic District to the St. Bernard visitor center (409 Aycock), located in a pavilion where a lively Saturday morning seafood and farmers market (closed mid-December to mid-January) offers okra and such from "urban farm" groups, yard eggs from Sebastopol and giant shrimp. The tourist office provides advice and literature for sightseers and fishermen, plus maps of Old Arabi highlights like huge LeBeau Plantation (private) and, at the Domino Sugar Refinery, architect James Dakin's Greek Revival Cavaroc House (private, but for group refinery tours, call Pete Maraia at (504) 278-5109).
Here our tour ends, with "St. Claude Ave." and then "Rampart St." signs replacing "St. Bernard Hwy." along Louisiana 46, as it leads past the old Jackson Barracks and through the funky, jazzy Bywater and Marigny districts to the French Quarter.