Traveling Around Louisiana: Summer in Sportsman's Paradise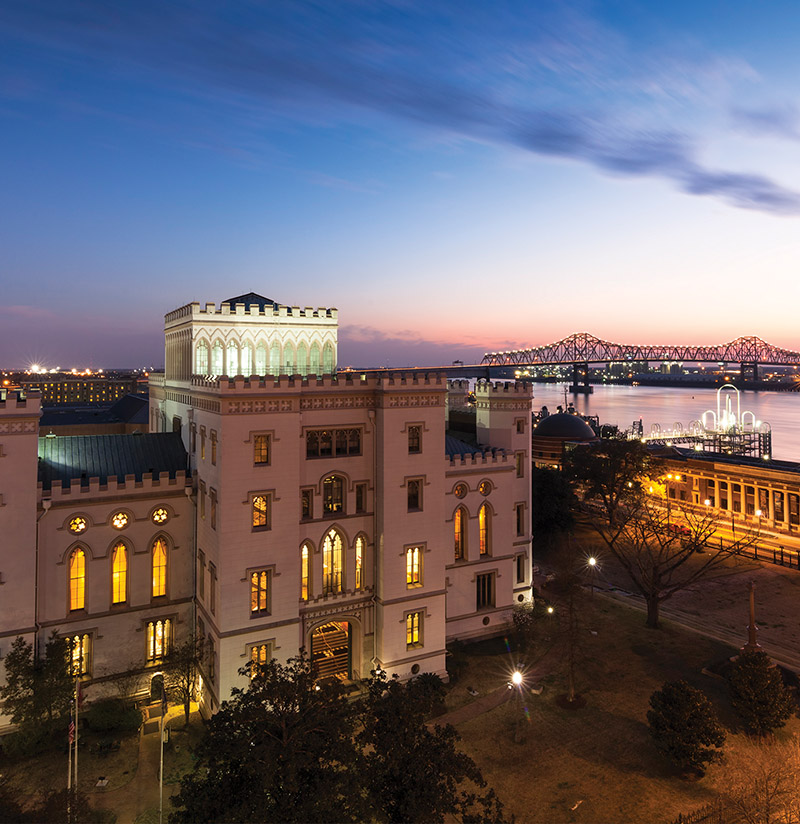 While no longer under spring's Stay-at-

Home order, you can still stay at home in Louisiana and experience a wealth of travel adventures that await just down the road.

The state offers a variety of experiences for vacationers, day trippers, and weekend warriors who want to take advantage of summer without worrying about the hassle of airports and long road trips. Louisiana's outdoor offerings are a dream come true for anglers, paddlers, cyclists, golfers, and folks just looking to relax with a cold beverage and scenic view to go with it. When it's time to retreat to the refreshing cool breeze of the A/C, resorts and spas offer a way to relax, while museums, historic sites, shops, and restaurants offer a taste of local culture. Embark on your next adventure by "staying home" this summer, and let Louisiana treat you with its natural splendor, Southern hospitality, and penchant for fun.

Moments of splendor define every visit to Cypress Bend Resort, from sunrises over the shimmering lake to birdies on its lush championship golf course or family stories around a glowing fire. Located on Toledo Bend Lake just 70 miles south of Shreveport, Cypress Bend Resort promises unforgettable memories for friends and families seeking a beautiful and tranquil respite. Cypress Bend offers the perfect locale for vacations, meetings, conventions, or weddings with its 95 guest rooms (including 14 two-bedroom golf suites). The resort also boasts a luxurious Spa at Cypress Bend, 600 acres of gardens and forests, 11,000 square feet of state-of-the-art conference facilities, a nationally recognized 18-hole golf course, and the top bass fishing lake in the country according to BassMasters.

Crisp, country air, serene views, and southern hospitality all combine to transform and elevate your experience—whether a meeting or golf game—into a communion with nature. The resort is conveniently located for residents of both Louisiana and East Texas. Discover the magic of Cypress Bend Resort with your loved ones. For reservations and information, visit CypressBend.com or call 318-590-1500.

Rediscover authentic Louisiana down in the Capital City. From soulful sounds to Cajun flair, Baton Rouge is the perfect place to explore Sportsman's Paradise and indulge in rich cultural experiences.

Take a stroll along the Mississippi River, explore Downtown attractions like the Old State Capitol, the USS Kidd Veterans Museum, and the LSU Museum of Art, and grab a bite from local restaurants around every corner. In Baton Rouge, you can rediscover your adventurous side at a variety of BREC parks, complete with swamp and nature trails, paddle boarding, fishing and biking. Mid-City's unique galleries, murals and shops line Government Street, making it a hidden gem for local arts and culture. And strolling under the shade of the Garden District's beech-magnolias and oaks, you can taste, hear, and experience authentic Louisiana.

Rediscover what authentic Louisiana means to you at VisitBatonRouge.com.

You are invited to rediscover the many reasons to love Louisiana Northshore, located 40 minutes from New Orleans' French Quarter and a world away—the destination where adventure and relaxation await.

Explore St. Tammany's pristine waterways and great outdoors with a paddle along the bayou, boat tour of Honey Island Swamp, fishing charter, bike ride along the 31-mile Tammany Trace, or tubing trip down the Bogue Chitto. Satisfy your taste buds with the deep and delicious Tammany Taste culinary scene. Abundant fine dining and mom and pop eateries combine all the flavors that Louisiana is known for in exquisite dishes featuring Gulf seafood, local produce, and hospitality that cannot be beaten. Wind down with the family at your choice of comfortable and affordable accommodations, luxurious B&B's or updated camping sites at either, Fontainebleau or Fairview-Riverside, state park.

Discover what it truly means to feed your soul on Louisiana Northshore. For more information and destinations, visit LouisianaNorthshore.com/10things.
---